Camden News
Staff Report
Arkansas State Police are investigating a shooting that occurred early Sunday morning and involved a Ouachita County Sheriff's Deputy.
According to a press release from the Arkansas State Police, around 2 a.m. Sunday, OCSD deputies respond to a domestic disturbance. The deputies began searching a wooded area near the residence for John Wesley Williams, 47, who had fled the home where he resided with two females.
Williams allegedly fired a shotgun twice at deputies. The deputies ordered Williams to drop the gun and he repeatedly ignored their commands, according to the ASP.
He then allegedly pointed the shotgun at a deputy who fired his service weapon, hitting Williams. Ouachita County Sheriff David Norwood did not disclose name the deputy involved in the shooting Sunday.
Williams was transported by ambulance to a local hospital with a non-life threatening wound, according to the ASP. He is currently incarcerated in the Ouachita County Detention Center on charges of aggravated assault, domestic battery, interfering with emergency communications and two counts of terroristic threatening.
The deputy that shot the suspect had been placed on administrative leave.
The Arkansas State Police will release a statement update after investigative concludes, Norwood said.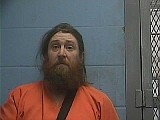 John Wesley Williams was shot by a Ouachita County Sheriff's deputy early Sunday morning after allegedly firing a gun toward deputies. (Contributed)