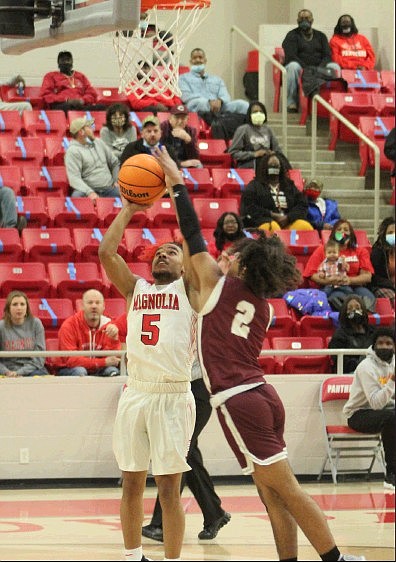 Magnolia junior Adrien Walker (5) has his shot blocked by Crossett's Jaylon Brown during 4A-8 Conference action Friday night. The Panthers won 86-39 and will travel to Monticello on Tuesday. - Photo by Chris Gilliam
There's no questioning the talent of the Magnolia Panthers (9-0, 3-0), but the endurance of the defending two-time Class 4A state champions will be tested this week.
After pounding Crossett 86-39 Friday for its 40th consecutive win, Magnolia will play three games over a five-day period. The journey starts with a trip to Monticello Tuesday night, where the Billies (7-0, 3-0) got past Star City 59-54 Friday night. Magnolia will host Warren Wednesday and travel to Star City on Friday.
"At times, I preached to my guys that if you act like pro, you get treated like a pro. Well, this is more like an NBA schedule that's coming up for us, and we have to act like a pro. We will do more "walk through" and shooting during practices, because we need to be fresh. It's going to be a long week," explained second-year head coach Ben Lindsey.
The coach stated that Monticello lost two of its best three players from last season, but the lone returnee is good.
"They have a lot of young talented athletes on that team. They will be very athletic and we have to be up for the challenge," said Lindsey.
As for the milestone 40-game winning streak, Lindsey said he's really happy for the players and the community.
"I am also proud for all the guys who came before me and played with me. Especially for those who played for Coach (Dyun) Long and my dad (Marvin Lindsey Jr.). I am just so proud to be part of Magnolia basketball," he added.
Against Crossett, Lindsey said his Panthers shot the ball well and play great on defense.
"We were good in transition on offense and our on-the-ball defense was outstanding. We switched on screens, which is something we haven't done well this season," said Lindsey.
The Panthers opened an 18-2 advantage and led 20-5 after one period.
A barrage of 3-pointers during the second quarter allowed Magnolia to take complete control. After six long-range jumpers during the period, the Panthers led 50-17 at halftime. The attack was led with three 3-pointers by Colby Garland, two by Derrian Ford and one by Denevion Tell.
Magnolia built a 45-point, 66-21, lead midway through the third quarter and eventually won by 47. After only three quarters of action, junior Devonte Walker led in scoring with 19 points, while classmates Garland and Ford finished with 18 apiece. Derrick Luckey had 13 for Crossett and Jaylon Brown added 7.
The Panthers knocked down 10 3-pointers during the game.
"We passed the ball really well against their zone and got a lot of wide open shots. We were knocking them and probably had a really good shooting percentage before subbing their at the end," said Lindsey.
Sponsor Content