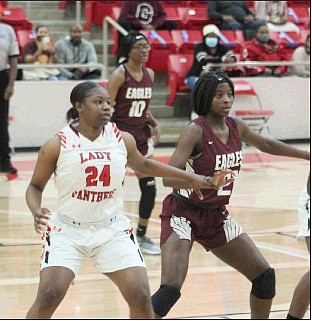 Senior Lady Panther Qua'najah (24) protects the lane during action against Crossett Friday night. Magnolia won 44-34 and will play at home Wednesday against Warren. - Photo by Chris Gilliam
Despite going 8-of-20 from the free-throw line, the Magnolia Lady Panthers (6-4, 3-0) still manged to defeat Crossett (6-4, 2-1) 44-34 and remain unbeaten in the 4A-8 Conference.
"I just don't know. Free throws are something we work on everyday, but it's whole different atmosphere when you're in a ballgame at that line. It's something each of our players have to figure out for themselves," explained Lady Panthers' head coach Donnell Ford.
Both teams missed free throws during the first four minutes and the game was scoreless until Magnolia's Kelcy Lamkin hit a 3-pointer at the 3:18 mark. She knocked down a pair free throws a minute later to put the Lady Panthers up 5-0.
After leading 7-3 to start the second period, Magnolia led 13-8 midway through the second quarter and was up 16-10 with two minutes left in the first half. A late bucket by Crossett's C.C. Gilliam made the score 16-12 at intermission.
The Lady Panthers used an 11-0 run to go up 27-14 late in the third and were ahead 33-18 when the buzzer sounded.
The lead stretched to 17 early in the final period, but Gilliam led the Lady Eagles back to within nine with a minute left.
Magnolia had three players score in double figures, led by Lamkin with 15. Keshunti Brantley and Beaunca Willis followed with 11 apiece. Gilliam finished with 15 for Crossett.
Because of COVID-19 within the Monticello girl's program, the Lady Panthers will not be playing Tuesday night.
"This will give us a chance to see what Warren is doing and get ready for them. We have them at home and we want to keep this little home winning streak going," said Ford, who added that he's in fifth season and has never started the conference 3-0.
Sponsor Content