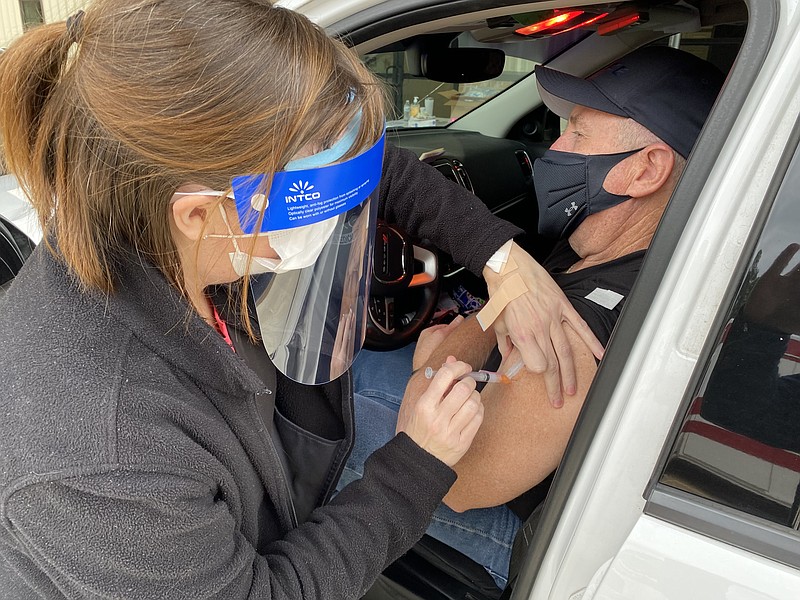 Magnolia Police Chief Todd Dew was one of the many first responders and health care workers who received their first round of the Moderna COVID-19 vaccine in Columbia County on Jan. 8. Sheriff Mike Loe and Fire Chief Greg Pinner and employees of their departments also received the vaccine. - Photo by Rhett Gentry
Health professionals and first responders in Columbia County received the Moderna COVID-19 vaccine on Jan. 8 in a drive-through clinic at Bethel Chuch, orchestrated by the Columbia County Emergency Management, Wilson-Bearden Pharmacy and health care workers who volunteered to administer the vaccines.
These vaccines were administered following the state's COVID-19 vaccination plan, which begins with health care workers and first responders before moving on to additional phases.
Recipients of the vaccine turned in paperwork to the volunteers, having completed necessary paperwork for vaccination prior to their arrival.
Much like a flu clinic, volunteers filled syringes on-site before administering the vaccine. Once administered, the recipients received a COVID-19 vaccination record card detailing the name of the vaccine, the date it was administered and the name of the administering clinic and a document from the United States Centers for Disease Control offering them the option to opt-in to a text messaging system to report the status of their health and whether they developed any side-effects of symptoms of the virus after receiving the vaccine.
Those who were vaccinated then parked their vehicles in the church parking lot and waited 15 minutes to check for symptoms before exiting the area.
"The county has really stepped up," said Ivy Moore, owner of Wilson Bearden Pharmacy, on Jan. 5. "I don't think anybody could take care of it without the county."
Wilson-Bearden was the local pharmacy that the Arkansas Health Department chose to receive shipments of the coronavirus vaccine. Moore said the local ambulance service called every health care facility in Columbia County to tell them about the drive-through clinic in the days prior to the event. The ambulance service also brought the paperwork for receiving the vaccine to all of the recipients prior to the event.
Moore said that all of the vaccine doses delivered to the pharmacy can be administered in the next week, as a new shipment of the vaccines will come in before the recipients are due for their second round.
"Once you get your first, make sure you get the second," Moore said.
Both the Moderna and Pfizer COVID-19 vaccines require two doses administered about a month apart.
Sponsor Content