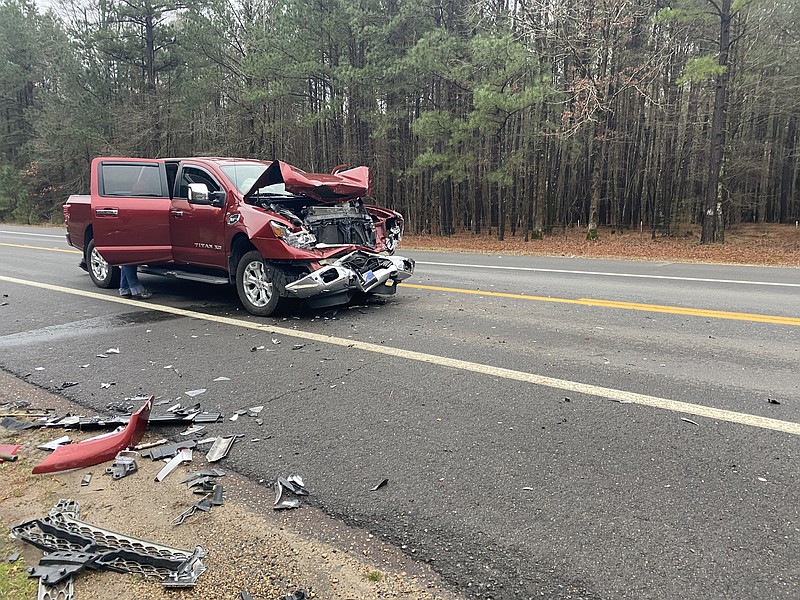 The driver of the white SUV stated that this red truck was the vehicle that initiated contact during the accident. - Photo by Rhett Gentry
A three car pile up caused a lane closure on Highway 371 Thursday afternoon.
Witnesses and drivers in the accident said a white SUV, a gray truck and a red truck were driving toward Waldo from Magnolia when the white SUV slowed to a stop with its left blinker on.
The driver of the white SUV stated that they slowed down to turn into their driveway and that oncoming traffic caused them to come to a full stop. The driver stated that the gray truck behind them stopped as well, but the driver of the red truck rear-ended the truck the middle vehicle, sending it into the back of their SUV.
Despite massive damage to the front of the red truck, the driver of the white SUV stated that everyone appeared to be okay. The white SUV and the gray truck were both operational and were able to move away from the incident. The driver of the grey truck removed what was left of his rear bumper, placing it in the bed before driving off. A wrecker arrived to tow the red truck out of the way at around 4:45 p.m. State police were at the scene around 4 p.m.
This is a developing story that the Banner News will update as more information becomes available.
Sponsor Content