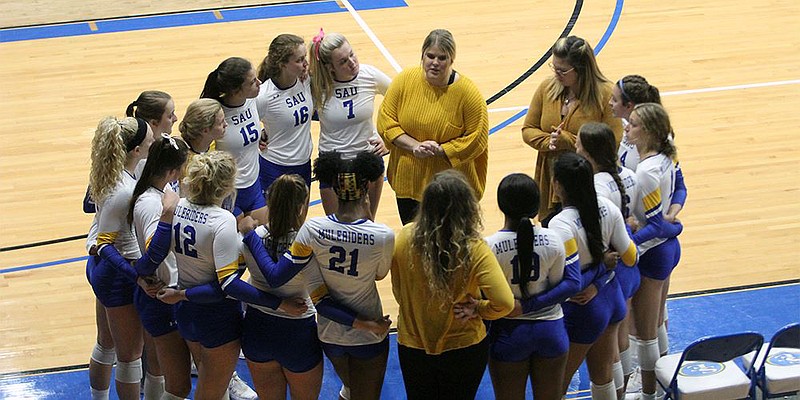 The SAU volleyball team huddles during a timeout last season. The Lady Muleriders won only one GAC game last season, but look to improve when a 10-game conference season starts on Jan. 26. - Photo by SAU/File photo
The Great American Conference announced earlier this week the results of its 2021 spring volleyball preseason poll.
Harding placed first in the Eastern Division while Oklahoma Baptist claimed the top spot in the Western Division.
The SAU Lady Muleriders were tagged to finish last in the GAC Eastern Division. SAU ended last season with a 3-24 overall record and 1-15 mark in the GAC. They snapped a 15-game losing streak on the road at East Central Oklahoma.
This season, second-year head coach Lindsey Parks and the Lady Muleriders will play 10 games against the other five schools in the Eastern Division. Games will take place every Tuesday, starting on January 26 against Henderson State in Arkadelphia.
The Lady Muleriders host their first game inside the W. T. Watson Center on February 2 against Ouachita Baptist.
Parks returns seven players from her first season, six freshmen and a junior college transfer.
Most notable among the returners are senior Morgan Gross and sophomore Morgan Schuster. Gross and Schuster are the only two returners who played in every match a season ago, with Schuster never leaving the floor in her freshman campaign.
Also returning for SAU is the only other senior on the team, Lauren Smith, as well as junior Abby Bermudez, who played in 26 matches and sophomore Bailey Kirk, who played in 25 matches a season ago.
In November, the GAC announced its spring volleyball regular season would consist of a 10-game division schedule. The league's head coaches ranked their division opponents.
Harding received five first-place votes, while Oklahoma Baptist took home four. The 12 head coaches also chose an overall champion. In that poll, Harding garnered seven of the 12 votes, followed by three for Oklahoma Baptist and two for Northwestern Oklahoma State.
In 2019, Oklahoma Baptist went 28-6 and captured its first GAC regular-season and tournament titles. They return All-Region honoree and GAC Player of the Year Malia Leatherland. She led the league in kills and points per set. Diana Carranza, an Honorable Mention All-GAC selection comes back after ranking fourth in the conference in both aces and digs per set.
Harding won 20 matches for the seventh time in eight years They bring back four sophomores that achieved All-GAC honors as freshmen. Logan Smith earned a place on the First Team after she ranked third in points per set and fourth in kills per set. Libby Hinton landed on the Second Team as she ranked third in blocks and sixth in attack percentage. Setter Sarah Morehead, who finished third in the conference in assists per set, and middle blocker Kelli McKinnon made the Honorable Mention team.
Southwestern Oklahoma State edged Northwestern Oklahoma State and Southern Nazarene for the second position in the Western Division. The Bulldogs bring back a pair of 2019 All-GAC selections in Maicee Morgan and Allie Hoang. Morgan took home the GAC Freshman of the Year honor after she ranked third in kills and fourth in points per set. Last season, Hoang finished as one of two players in the league to average at least 10.0 assists per set and she finished second in aces per set.
In the Eastern Division with SAU, Harding was picked to finish first. Henderson State is second, followed by Arkansas Tech (third), Ouachita Baptist (fourth), Arkansas-Monticello (fifth) and SAU.
In the Western Division, which consists of the Oklahoma schools, Oklahoma Baptist is first and Southwestern Oklahoma State second. The others included Northwestern Oklahoma (third), Southern Nazarene (fourth), Southeastern Oklahoma State (fifth) and East Central Oklahoma (sixth).
The 10-week, 10-match divisional schedule opens on Tuesday Jan. 26 and runs through Tuesday March 30.
Sponsor Content