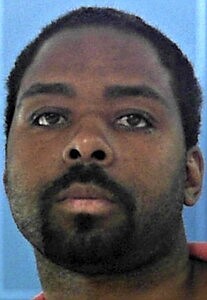 Jerry Pritchard, 31, of Magnolia.
"If I can't have you, then nobody will."
On the night of Saquanna Young's death, Regena Harris told Columbia County authorities that Jerry Pritchard, 31, had previously issued this threat to her daughter, Young, according to a probable cause affidavit of the incident.
According to the affidavit, at 9:55 p.m. on Oct. 19, 2020, Columbia County Sheriff's deputies responded to a report from Young that Pritchard was at her apartment and refused to leave. Deputies Johnny Hayes and Waller responded to the call; by the time of their arrival, Pritchard was no longer at the residence.
Hayes gave Young an affidavit to request an order of protection against Pritchard, according to court records. Young told deputies that Pritchard had an AR-15 and a 9 mm. Deputies were given a description of Pritchard's vehicle and began to patrol the area in search for it, the affidavit says.
At 11:24 p.m., deputies were dispatched back to Young's residence after receiving a call from Harris, who reported that there was a gun shot victim at the apartment. Officers found Veronica Smith lying in the apartment's bathroom with a gunshot wound to her left thigh and Young in a bedroom with two gunshot wounds and a faint pulse. Waller performed chest compressions on Young until paramedics arrived.
According to the affidavit, Investigator Kelly Blair asked Smith who shot her. Her response: Jerry Pritchard.
Blair went to obtain a search warrant and the area was roped off and declared a crime scene. Officers found five bullet holes in a V-shape pattern in a window and five 9 mm shell casings outside the window.
Officers spoke with witnesses about the incident, with Harris telling officers about the threat her daughter received. James Williams, who was in another bedroom of the apartment at the time of the shooting, told officers that Young broke up with Pritchard and had been going to see her new boyfriend in Kansas. Young just got back from her trip that day.
According to the affidavit, investigators and deputies made contact with a neighbor, who stated that Pritchard had arrived earlier and spoke with them, asking for Young. They said they told Pritchard that Young was not home and Pritchard subsequently left. The neighbor stated that they heard gunshots 15 to 20 minutes after that.
Officer Luke Talley located Pritchard's vehicle in the area near the address it was registered to with Pritchard behind the wheel. Pritchard was placed under arrest and transported to the Columbia County Sheriff's Office.
According to the affidavit, Pritchard was read his Miranda rights form before signing it, then agreed to answer questions from Blair and Lt. Josh Miller, with both audio and video of the conversation recorded.
The affidavit reports that Pritchard admitted to being at Young's apartment earlier in the evening to try to return some personal belongings to her. He also stated that he owned an AR-15 and a Smith and Wesson 9 mm, the latter of which he said had been misplaced. He denied going back to McNeil and being involved in the shooting, according to the affidavit.
Pritchard was advised after the interview that he was under arrest for first-degree murder, first-degree battery and terroristic act. According to the affidavit, stalking was later added to Pritchard's charges.
The following day, Blair received a call from the jail stating that Pritchard wanted to speak with him again, according to the affidavit.
He was interviewed by Blair and Corporal Todd Scott and, according to the affidavit, stated that he lied during the first interview. Pritchard told officers that he picked up an unknown man on the west side of Magnolia, who had asked for a ride to the apartments in McNeil to see Williams. Pritchard said the man took his pistol, pointed the gun at Pritchard's head and took his keys before running around the house, according to the affidavit.
Pritchard said he heard gunshots, then the man came back and got into his car, according to the affidavit. Pritchard stated that he drove the man to the Dixie Mart and Carwash on Main Street, where his passenger threw the gun in the backseat of the vehicle and walked away from the area. He stated that he received a call from Investigator Leroy Martin to turn himself in and was on his way to do so when he was pulled over and arrested.
According to the affidavit, during the second interview, Pritchard said, "I would never hurt her" with regard to Young.
The affidavit says Blair told Pritchard he had previously received information that Pritchard had stated that he would go to Texarkana and dig up Young's dead baby and bring it back and put it on her porch. When asked by Blair, Pritchard agreed that he did say that, but only said it in anger.
The probable cause affidavit states that it should be noted that on Sept. 28, 2020, deputies received a call about Pritchard stealing Young's clothes, and that on Oct. 8, 2020, deputies responded to a report from Young that Pritchard had flattened all her tires and busted out the windows in her car.
Pritchard has been held at Columbia County Jail since his Oct. 20, 2020 arrest. He is not listed for a hearing in the court dockets for the month of January.
Sponsor Content