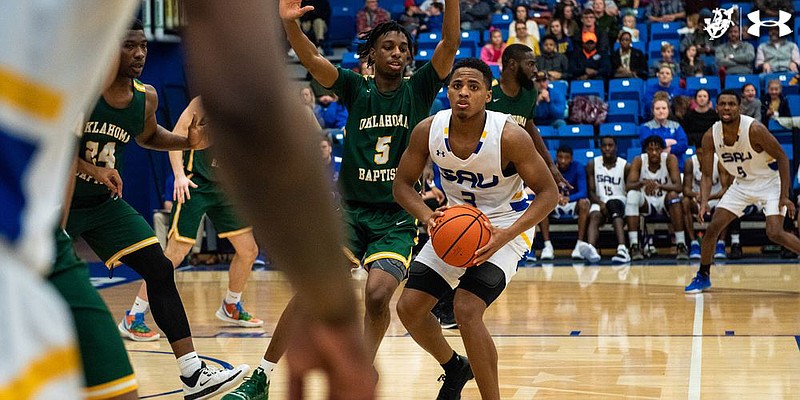 Aaron Lucas (3), SAU's leading scorer from last season, battles on the court against Oklahoma Baptist. SAU's home opening games Saturday against Ouachita Baptist have been canceled during to positive COVID-19 tests within the OBU women's program. - Photo by SAU/File photo
The Great American Conference will tip off its basketball season tonight with the top two teams in the Eastern Division squaring off at the Duke Wells Center in Arkadelphia.
Preseason Eastern Division favorite Andy Sharpe and the Muleriders will travel to Henderson State to battle the preseason No. 2 Reddies in a 7:30 p.m. game. SAU has lost its last four meetings with the Reddies, including a 95-80 setback on Feb. 6 before COVID.
In 2019, the Muleriders fell to the Reddies three times, including a GAC Tournament game in Bartlesville, OK.
The Lady Muleriders, picked to finish tied for third with the Lady Reddies, will play first at 5:30 p.m.
On Saturday, the Muleriders will host Ouachita Baptist at 4 p.m. inside the W.T. Watson Athletic Center. The Lady Muleriders were scheduled to host the Lady Tigers as well, but the contest has been canceled due to COVID-19.
The GAC released a statement saying, "Due to a combination of positive tests, contact tracing and subsequent quarantining of individuals within the Ouachita women's basketball program, the Lady Tigers will not be able to begin regular-season play as scheduled. Ouachita plans to resume play on Thursday, January 21 with its home game against Southern Arkansas."
The GAC's preseason coaches poll for the two six-team Eastern and Western divisions was formed as a result of the COVID-19 pandemic shortening the 2020-21 campaign to a conference-only, spring slate of 20 games.
Topping the GAC's Eastern Division as a result of receiving 24 total points and four of six first-place votes was Southern Arkansas which also garnered a single vote to win the league title.
SAU edged Henderson State for the top spot in the east as the latter placed second with 22 total points and the remaining two first-place votes in addition to claiming a single vote to capture the league championship. Arkansas Tech and Arkansas-Monticello each received 14 total points, while Ouachita (11) and Harding (5) rounded out the eastern division.
In the Western Division, Southeastern Oklahoma is first, followed by Oklahoma Baptist (second), Southern Nazarene (third), Northwestern Oklahoma (fourth), Southwestern Oklahoma (fifth) and East Central (sixth).
SAU's return to play basketball protocols require for teams to have seven healthy players to compete. Teams must play 50 percent of their scheduled games to gain eligibility for the GAC Championships.
No fans will be allowed for the first two weeks and the league will reconsider following the games played on Jan. 16, when up to 25 percent of the venue capacity will be allowed.
Sponsor Content