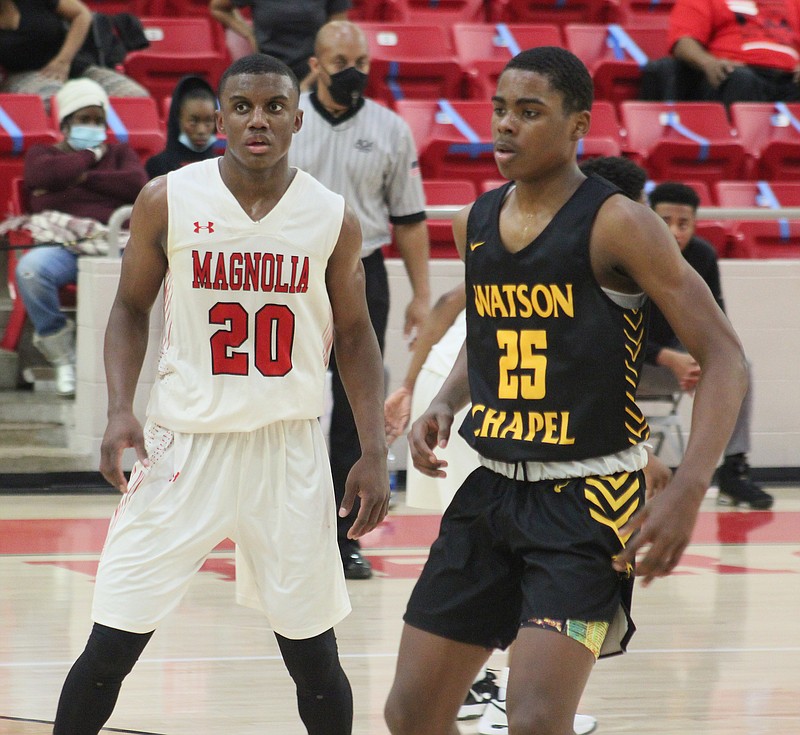 Magnolia's Derrian Ford (20), who finished with a game-high 27 points, guards Watson Chapel's Khamani Cooper during Tuesday action at Panther Arena. The Panthers won 58-47 and will host Crossett Friday night. - Photo by Chris Gilliam
Defending two-time state champion Magnolia had trouble with Watson Chapel's size Tuesday night, but was able to hold off the Wildcats and win its 39th consecutive game.
During 4A-8 Conference action at Panther Arena, the Panthers (8-0, 2-0) used a strong fourth quarter to down the Wildcats (2-5, 0-2) 58-47.
Junior Derrian Ford paced the Panthers against Watson Chapel with 27 points, while 6-7 junior Antwon Emsweller had 23 points and 11 rebounds for the Wildcats.
"He (Emsweller) was a very big, athletic joker. We played great defense on him at time, but he simply went and got a lot of possessions, and put thent back in," said Magnolia head coach Ben Lindsey. "Hats off to them for going inside to him."
The Panthers fell behind 6-3 early, but a 3-pointer by Colby Garland tied the game at 6-6. Garland had 13 points for Magnolia. A 9-2 run over the final four minutes gave the Panthers a 12-8 lead after the first break.
A 9-2 spurt to start the second period put the Panthers up 21-10 at the midway point. Ford had a one-handed slam and Denevion Tell nailed a 3-pointer during the run. Garland's 3-pointer with under a minute to play in the first half gave the Panthers their biggest lead, 25-12.
Pounding the ball inside to Emsweller, the Wildcats managed to cut the lead to five, 33-28, late in the third quarter. A pair of buckets by Ford and a 3-pointer by Devonte Walker pushed the lead up to 12.
The Wildcats trailed by 7, 41-34, after three periods.
Following an Emsweller two-hand slam to start the final period, the Wildcats were back to within three, 43-40, at the 5:20 mark.
A 10-3 run over the next four minutes put the Panthers up 53-42 and the Wildcats didn't get any closer.
Kamron Wilkins added 13 for Watson Chapel, while Hampton Hall finished with 12.
"The defensive play from our guards was outstanding, while Devonte and Derrian battled inside. We played great defense on several possessions," said Lindsey. He also noted that Ford rolled his ankle and later received a swollen, bloody lip, but appears to be okay.
With Crossett up next on Friday and three more league games next week, Lindsey said the Panthers will simply take them one at a time.
In other conference action Tuesday, Monticello defeated Crossett 57-36 and Star City downed Hamburg 55-42.
Sponsor Content