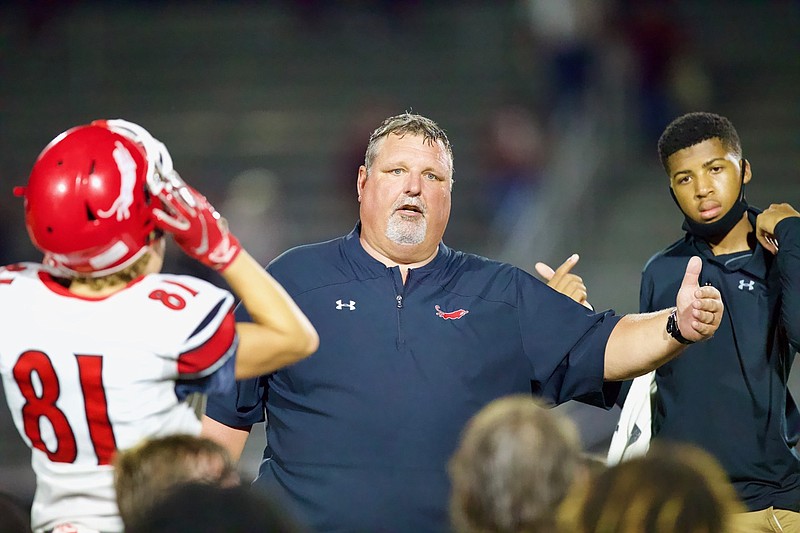 Magnolia head coach Mark King talks to his players after the game. The Panthers (2-1) will play at home for the first time this season Friday night against the El Dorado Wildcats (0-3). Kickoff at Panther Stadium is set for 7 p.m. - Photo by Southern Arkansas University
LITTLE ROCK – Win or lose, Mark King says a team will always benefit from playing a tougher opponent.
After letting a victory slip away to the third-ranked team in the state three weeks ago, his Panthers gained statewide attention last week with an impressive victory over the second-ranked team in Class 5A.
"I am extremely proud of the way our kids played. It really does say something about your program when you beat the No. 2 team at their place," King said, following Friday's high-scoring 52-49 victory over Little Rock Christian. "I really think our defense was the story tonight." LR Christian had played in back-to-back state finals, winning the title in 2018.
Magnolia (2-1), after battling two of the top teams in Class 5A and one in Class 4A, must now get prepared for Class 6A El Dorado at Panther Stadium Friday night.
Kickoff for the home opener is set for 7 p.m. The Wildcats (0-3) are winless so far, but King said he challenges his team to play everyone as if they are the best in the state.
"We can afford and don't overlook anyone. When you do that, bad things happen," he said.
In the battle against the Warriors, Magnolia's defense had four interceptions. Two were by senior Jordan Davis, who returned one for a touchdown.
Offensively, sophomore Garrion Curry had a huge night, finishing with 280 rushing yards and four touchdowns. He also caught a touchdown pass. Quarterback Tanner Nielsen threw a couple of touchdown passes.
"Hats off to my kids. They played hard, even when LRC got the onside kick and tied the game in the second half. It would have been real easy for us to go south, but we didn't and hung in there."
King added his Panthers were able to pass the ball a little, which opened the defense. The coach also noted the Panthers went on fourth down several times.
"That was the game plan coming in, which was finding a way to keep their high-powered offense off the field," he said.
After the Panthers punted on the game's first possession, LRC gave the ball to Arkansas State commit Corey Platt four consecutive times. After runs of 15, 22 and 11 yards, he crossed the end zone from the 8 at the 10:02 mark to make it 7-0.
The Panthers marched from their own 20 to the LRC 2 in 12 plays on the next possession. A mistake on the exchange resulted in Titus Colquitt taking the ball for the Warriors and returning it 98 yards for a score, making it 14-0 with 3:14 to play in the opening period.
"We were running the triple option to the left, quarterback misreads it and tried to pull. That's high school football," said King, but added his Panthers bounced right back and scored.
Nielsen threw a 53-yard touchdown strike to Kendrick Carey and Jay Todd Baker's PAT made 14-7.
The Panthers drove the Warriors' 20 on their next possession, but turned the ball over on downs after coming up inches short.
Davis got his first interception with 8:30 left in the first half and Curry later scored from the 4 to tie the game at 14-14.
Five plays later, LRC's Colin Cooper threw a 42-yard TD pass to Isaiah Hankins, making it 21-14 with 3:28 on the clock.
With 52 seconds remaining in the first half, Davis returned his second interception 52 yards to tie the game at 21-21.
Early in the third quarter, Robert Mack intercepted a pass and returned it to the 4. Javorrea Murphy carried it in and gave the Panthers their first lead, 28-21.
After the defense forced a punt, the Panthers increased their lead to 35-21 on an 80-yard TD run by Curry.
Dalen Blanchard then came up with Magnolia's fourth interception, but an offensive fumble resulted in Platt picking up the ball and returning it 62 yards for a score. The Panthers' lead was 35-28 with 3:40 remaining in the third quarter.
Curry answered a minute later with a 67-yard touchdown run, making it 42-28.
The Warriors kept coming back, eventually tying the game at 42-42 with back-to-back scores.
Cooper scored from the 24 and Ben Ridings also crossed from the 24 following a successful onside kick recovery.
With the game tied with 10 minutes to play, the Panthers mounted a 10-play drive that was capped by a Baker 25-yard field goal, putting them in front 45-42.
After the defense got the ball back on downs late in the game, Curry's 10-yard scoring run gave the Panthers a 52-42 advantage with 2:14 remaining.
With 1:12 left, Warriors' Hankins caught an 11-yard TD pass from Cooper that made it 52-49.
"I knew we could move the football on them. I didn't know if our defense would stop them as consistently as we did. If we don't turn the ball over, we will be a hard team to beat because we control the ball, and we play great defense behind that," said King.
The coach said the victory over LRC was big for his team and huge for the program.
King praised his offensive linemen for their effort, as well as all of his running backs.
"Hopefully we will get James'Darius (Smith) back this week. Carey and Curry have been running well. You throw in Jacob Hebert and Kemarion Adams, we have about five guys who can deliver the ball," said King.
"Derayln Williams and Javorrea Murphy are bruising fullbacks, but we needed Javorrea more on defense tonight and he was chasing that quarterback," stated the coach. "These are two quality guys."
Also defensively, it was the second game this season the Panthers have returned an interception for a touchdown.
Regardless of the record, King said the Magnolia/El Dorado game Friday night should be a good one.
"It's 6A vs. 5A. Two teams where the kids know each other.
"Two schools that are not far apart. It will be a good and tough home opener for the Panthers," he mentioned.
Sponsor Content