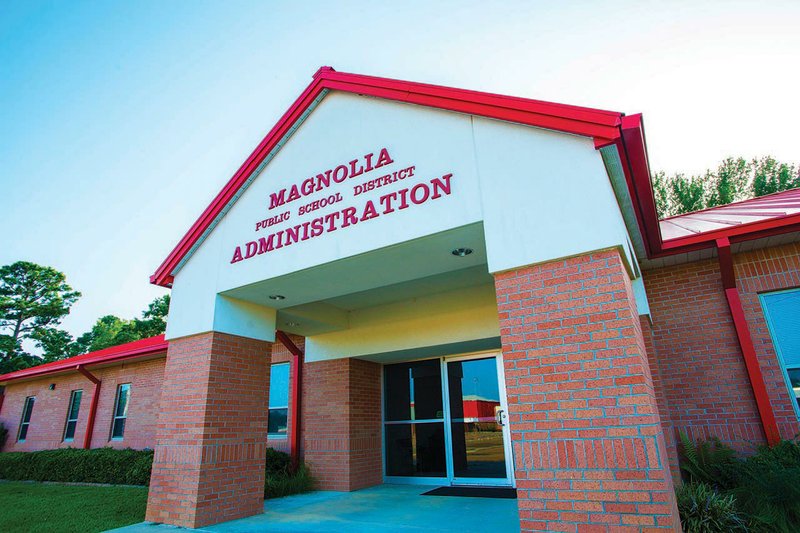 The Magnolia Public Schools Administration building on High School Drive in Magnolia. - Photo by J.D. Bailey
The Magnolia School District is offering free breakfast and lunch to its students until Dec. 31. An East Side Elementary Facebook post on Thursday morning spotlighted this, stating that parents would not have to worry about paying for meals until January and that they were thankful to receive the grant to make this possible.
"The program is an extension of the Seamless Summer Program that is offered by the United States Department of Agriculture (USDA)," Ward said in an email to the Banner-News. "It is a great opportunity for our students and for the district. There is no additional cost to the district and ALL students 0-18 years of age are eligible for meals."
The USDA website explains that once a school is approved for the Seamless Summer Program by their governing state agency, School Food Authorities can serve meals to students 18 years and under, free of charge. Sites that are allowed to participate in the option are open sites with at least 50% of the students eligible for free/reduced lunches, restricted open sites that meet open site criteria but are later restricted for safety, control or security reasons, closed enrolled sites which may be in any community for an enrolled group of low-income students that meets the 50% criteria and migrant sites where children of migrant families are served and camps.
Ward stated that in addition to the Seamless Summer Program, the Magnolia Junior Charity League (MJCL), through a food bank helps with a backpack meal program on the weekends. The MJCL website states the backpack program provides children from kindergarten to sixth-grade food items to help with hunger over the weekend and holidays. The children are given a bag of kid-friendly foods that they are easy to open and prepare by themselves. Donations can be made to the backpack program by going to magnoliajcl.com and clicking on 'Backpack Sunday' under the 'Fundraisers' tab.
Sponsor Content