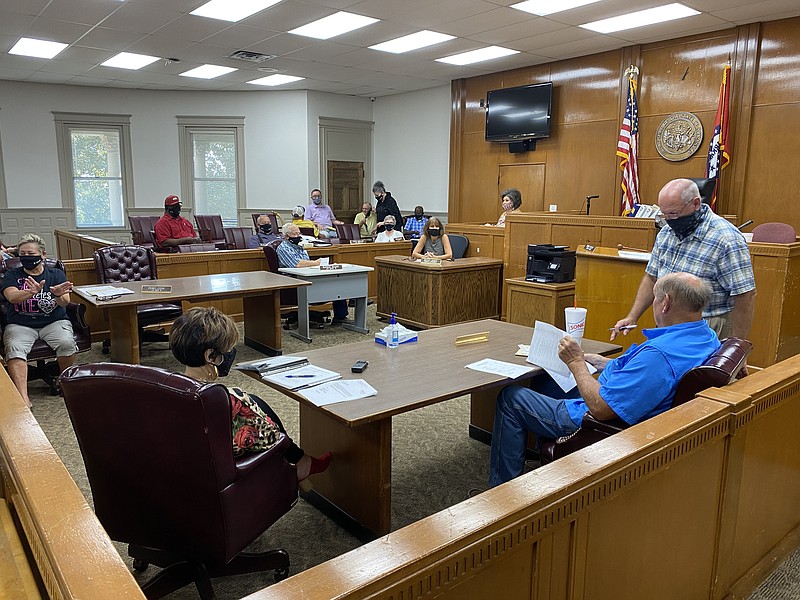 Members of the Columbia County Quorum Court exchanged pleasantries before the meeting began. Court members wore masks when social distancing was not applicable, with few taking off their face coverings to speak when the meeting began. - Photo by Rhett Gentry
A reoccurring discussion among Columbia County Justices of the Peace has been over trash pickup within the county.
Busted wheels and broken trash can lids have become a common report to Waste Management officials, with JP Jason Ray stating there were 32 calls made in a two-day period in August requesting repairs on trash cans.
Of those 32 calls, 16 were for busted wheels, nine for broken lids, six for missing or damaged cans and one for a trash can that had the solid steel bar to its wheels broken.
"This is an expense to the county that we have no control over," said Ray. "What's enough?"
JP Penny Cook asked the Court how the cans were being damaged, and Columbia County Judge Denny Foster said that it was caused by slamming the cans on the ground. The Court discussed whether the trucks were the cause for the damage to the cans or if it was due to misuse from the trash truck operators.
Cook asked if the process was automatic for the trash trucks, which for her, was a determination on whether the truck needed adjustments or the driver. Foster said he would find out.
Ray said he's had a broken can three times this year that had to be repaired, and JP Steve Lee said that he has seen operators slam the cans down in his area.
Back in June, the Court discussed Waste Corporation of Arkansas' (WCA) actions in the community. Foster stated that from January to May, 322 bins had to be repaired at a cost of $11,781.98.
The cost to repair a single trash bin is $6.95 per wheel, $6.95 for an axle and $19.95 to replace a lid, Foster said. These costs are attributed to damages caused by WCA.
According to the official website for Columbia County, the county provides for county-wide residential curbside trash pick-up through a contract with WCA. This is provided by a dedicated 1 cent sales tax that citizens passed in March of 1992.
Nearing the end of Tuesday's meeting, Foster spoke about the "stump he ran into with the rescue truck" and subsequently requested JPs Jason Ray, Oliver Thomas and Ricky Waller to serve on the Rescue Truck committee, which will research the costs to purchase and operate a rescue truck in the county.
Sponsor Content