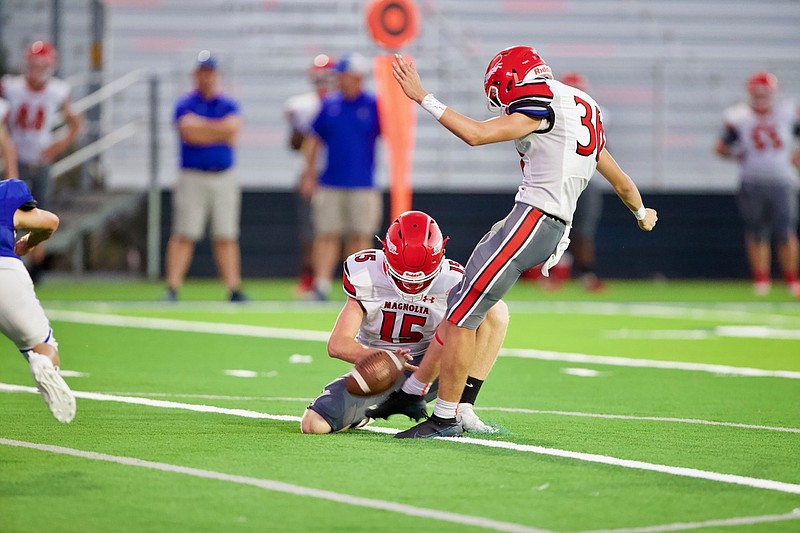 Magnolia junior Jay Todd Baker (36) kicks a field goal while senior quarterback Tanner Nielsen holds. The Panthers (1-1) will travel to Little Rock Christian Friday night to face the Warriors (2-0).
CROSSETT – After a season-opening seven-point loss to the third-ranked team in Class 5A, Magnolia bounced back this week with a solid 16-6 win over the third-ranked team in Class 4A.
Things don't get any easier as Mark King takes his Panthers (1-1) back to Little Rock to face a Warrior team that's ranked No. 2 in Class 5A.
"I keep saying it, but I do believe we the toughest schedule in Class 5A football. We started out with a great, tradition-rich Harrison team and I thought we should have beaten them. We come to the No. 3 or 4 team in Class 4A to their place. They were a semifinal team last year. Now, we go to play a two-time state finalist, who won one and lost one," explained King.
Magnolia's game at Little Rock Christian will kickoff off at 7 p.m.
With Class 6A El Dorado visiting Panther Stadium for the home opener, King said the schedule was done on purpose.
"I believe the better the competition you play, the better your team gets. I don't think you get much out of beating up on a team you're supposed to beat," he said.
"Even in a loss to a great football team, I think you get better."
During the battle against the Eagles, both teams managed to move the ball on their opening drives but suffered special team mistakes when attempting field goals.
The Panthers moved from their own 29 to the Eagles' 15 before the drive stalled.
A low snap from center couldn't be handled by holder Tanner Nielsen and Jay Todd Baker wasn't able to attempt a 35-yard field goal.
Crossett mirrored the Panther drive, marching from its own 25 to the Magnolia 15. A low snap from center prevented a 32-yard field goal late in the opening period.
After the teams traded punts, the Panthers got on the board with 6:56 to play in the second when a snap went over the Crossett punter's head and into the end zone.
Following a Magnolia fumble on the ensuing drive, the Eagles took a 6-2 lead at the 4:54 mark when quarterback Tyric Jones scored from the
The PAT attempt failed.
The Panthers answered by marching 80 yards in 11 plays, going up 9-6 on a 1-yard run by Garrion Curry with 23 seconds remaining in the first half.
Kendrick Carey had a 38-yard run on the drive.
Another time-consuming drive in the second half gave the Panthers their 16-6 advantage.
Curry scored from 14 yards out on the first play of the fourth period and Baker provided the PAT.
Defensively, Jakeim Warren came up with an interception, while Ja'Kamaron Zachery recovered a fumble and had two quarterback sacks.
"We got better, but we got to quit turning the ball over. I think if we do that, we will be a tough team to beat," said King.
The coach said he was proud of the way the Panthers played, especially in the second half.
"We came out and played smash-mouth football, especially offensively. We just pounded it them and didn't try to get too fancy," he said. "We let our offensive line just try and take control."
The coach praised fullback Javorrea Murphy, who finished with a tough 84 yards rushing.
On one drive in the fourth period, Magnolia handed the ball off to Murphy five consecutive times. It resulted in runs of 5, 5, 11, 5 and 12 yards.
"He was a beast all night long and he's got good vision, which allowed him to get that extra yard," said King. "He never went down on first contact and it was a great effort by him."
The coach said it was a total team effort on defense.
"We kept rotating guys and trying to keep them fresh," he said. "We are a little thin on the defensive line and some of the guys have to play on both sides of the ball."
King said if it wasn't for the turnover after the safety, the defense had a shutout.
"We gave them that short field and they scored. Our defense really played outstanding against a very athletic and talented team," he noted.
As for injuries, King said senior running back James'Darious Smith rolled his ankle during the season opener and couldn't go against the Eagle.
"It felt good and he tried to make a cut on that first play and re-aggravated the injury," said the coach. "We are going to get him a lot of treatment this week and hopefully he will be ready for Little Rock Christian."
Kicking game
King calls his junior place-kicker/punter a weapon for the Panthers who has grown tremendously as a player and person since last season.
"He's a weapon. He can turn a field around with his points and has little trouble getting the ball to the end zones on kickoff. He also has good range on field goals and we are never afraid to use him," said the coach.
In the opener against Harrison, Jay Todd Baker kicked three ball to the end zone, had a 60-yard punt and landed another punt at the 2-yard line.
His special team efforts earned him the Brandon Burlsworth Award recognition, given out by the Harrison Athletic Department.
Against Crossett, Baker another ball to the end zone and had a 56-yard punt.
"He's been to a couple of kicking camps. We don't like kicking to people, but I'm not afraid to let him turn one loose because we are athletic enough to get down and cover," said King. "With his punts, he is going to turn things around and give our defense great field position."
The coach said if the defense keeps playing the way it has during the first two games, the kicking game is definitely going to be a huge weapon later in the season.
"The players were begging me to let him (Baker) kick them all deep against Crossett, but the Eagles' return guys are scary. But in the second half, we kicked them all deep and had excellent coverage," King.
Sponsor Content