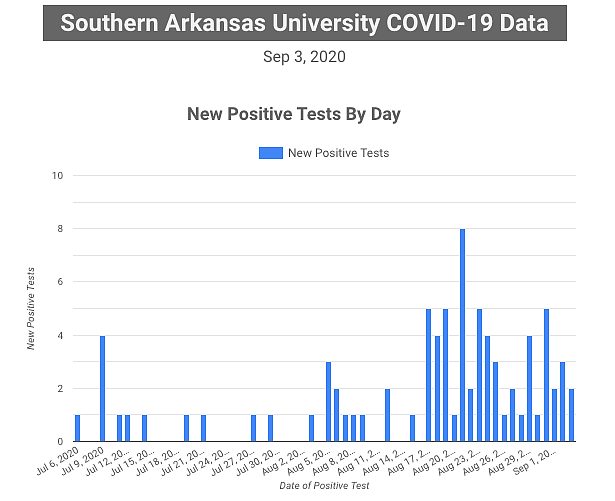 Southern Arkansas University keeps track of how many active COVID-19 cases are among its students and staff members and publishes the data online each day. This data is from Sept. 4 at 8 a.m. To view SAU's COVID 19 data, go to web.saumag.edu/coronavirus/guide and click the Data tab. - Photo by SAU
Southern Arkansas University (SAU) has entered its second month with students on campus since classes began on Aug. 11.
The University is celebrating a record-breaking student enrollment of 4,107 students, an increase of 55 students compared to 2019's enrollment. Graduate enrollment increased to 985 compared to 888 last fall, bringing the total fall enrollment this semester to 4,432.
However, among the growing number in enrollment, the University is currently facing a small growth in COVID-19 cases among students and faculty on campus.
According to the live data from the "Southern Arkansas University COVID-19 Data" website that was released by SAU, the University has not completed a day without at least one new positive case being recorded since August 17. Eight new cases were recorded on August 21, the highest the University has recorded in a single day, with a sporadic development of new cases each day after making a total of 59 cases in the last 18 days. This brings an average of around 3.2 students testing positive for the virus a day.
The University has given a total of 1,248 tests since July 6, with SAU staff and faculty members tested the weeks prior to the beginning of classes. The number of employees listed in the Campus Directory is 423, which brings the campus total to 4,855 persons. This means that SAU has administered COVID-19 tests equal to 25.7% of the campus total.
According to the "Coronavirus cases at Arkansas colleges" data table from the Arkansas Democrat-Gazette, SAU currently has the third-highest number of cases among Universities in the state. Arkansas State University (ASU) in Jonesboro has 112 active cases and University of Arkansas (UA) in Fayetteville has 399 active cases. The data table shows both universities' enrollment from 2018, with ASU having 13,709 students and UA having 27,778 students.
SAU has implemented policies in their Return to Campus Guide to ensure the safety of students and faculty on campus, most noticeably, the campus face-covering policy. The guide states that all persons must wear an appropriate face covering while inside campus facilities and outdoors where six feet of social distancing is not possible. The policy states that face coverings must cover the mouth and nose and may not contain any holes or vents. The policy also states that face coverings are not a substitute for social distancing and repeated refusal to comply with the face-covering requirements may result in disciplinary action.
Compared to other Universities of similar size, SAU has an influx of cases. Henderson State University (HSU) in Arkadelphia is a Division 2 school in the Great American Conference with a student population listed at 3,594 students during Fall 2019. Across the street from HSU is Ouachita Baptist University (OBU), with a Fall 2020 enrollment of 1,704 students. Arkadelphia's two Universities currently have a combined student enrollment of around 5,298 students with six active cases; one from HSU and five from OBU.
Both Magnolia and Arkadelphia have similar university student populations in their communities as well as similar populations in their cities. As of the 2010 census, Magnolia saw a population of 11,577, while Arkadelphia was slightly behind at 10,714.
Sponsor Content