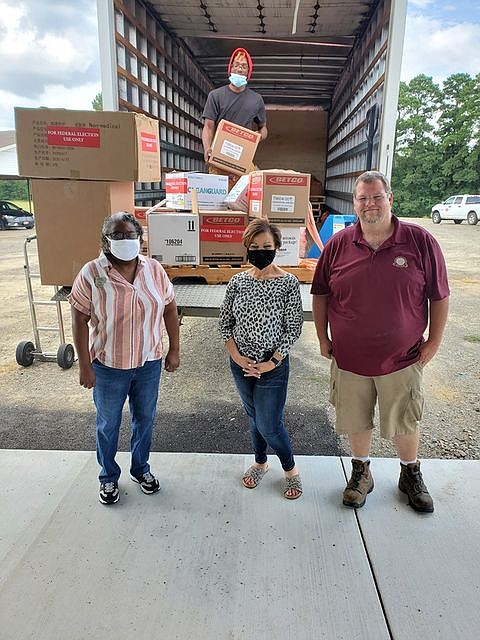 The Columbia County Clerk's office received personal protective equipment (PPE) from the Secretary of State's office on Wednesday to help keep voting centers clean as well as volunteers and voters safe from the COVID-19 virus.
The Clerk's office received 280 AN95 face masks, 22 hand sanitizer gallon containers, 29 cans of disinfecting spray, three gallons of disinfecting cleaner, five 35-count and 10 100-count canisters of disinfecting wipes, 90 face shields, 39-pint containers of 70% ISP alcohol to clean voting machines, 132 washable microfiber towels, 95 social distancing floor decals, 28 plexiglass table top shields and eight hand pumps for sanitizer.
County Clerk Tammy Wiltz messaged the Banner-News, stating that she believes there will be a large turnout due to it being a Presidential election.
"We are doing everything in our power to make this election a safe and smooth process," Wiltz messaged. She stated that the election workers will wear face masks or shields and everyone will be spaced at least six feet apart.
Voters will also be provided with a disposable stylus to sign in and make their selections with on the Express Vote machine. Wiltz also expressed that the office wants voters to wear masks, but cannot force them to.
As a reminder, the voting center at the Columbia County Library has been moved to Calvary Baptist Church. Wiltz says that the Church will give the community a large space to spread out.
Wiltz stated that she encourages people to vote early in case they are unable to attend the presidential Election. She also stated that if a person does not feel safe voting in person, they can request an absentee ballot.
If voters have any questions or would like to request an absentee ballot, they can call the County Clerk's office at 870-235-3774.
Sponsor Content