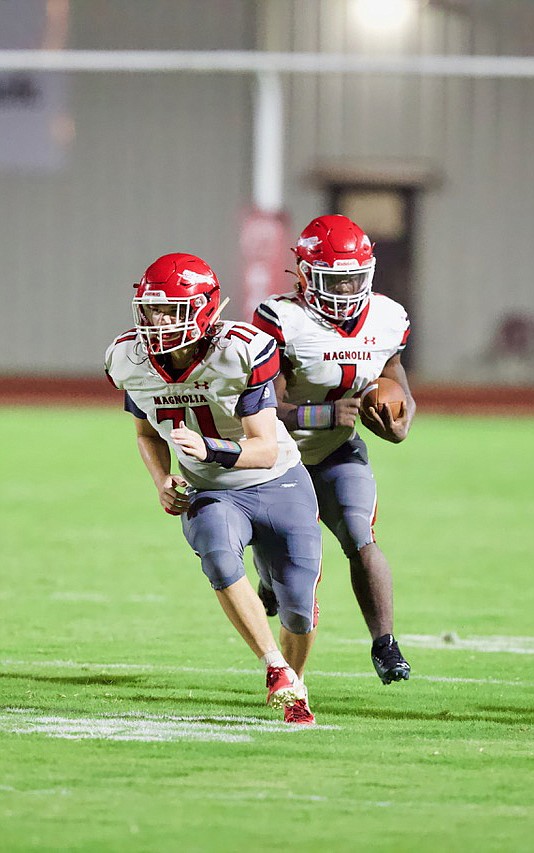 Magnolia running back Garrion Curry (1) follows blocker Peyton Creech (71). The sophomore had 141 receiving yards, 137 rushing yards and accounted for three touchdowns during a 52-33 win over Hot Springs Friday night. - Photo by Bill Nielsen
HOT SPRINGS — Magnolia's flexbone offense piled up 330 rushing yards Friday night, but it was the passing game that caught Hot Springs by surprise.
"I don't know how many passing yards we had, but we had some success throwing the ball," Panthers' head coach Mark King said following the 52-33 5A-South Conference win over the Trojans. It was Magnolia's (4-2, 1-1) first league win and the first setback in league action for Hot Springs (3-3, 2-1).
"We came out a little sluggish on offense, but cleaned it up at halftime. We finally got back on track and playing like we were before being closed down for COVID," said the coach. Magnolia finished with 520 yards of total offense, with 190 coming through the air.
King said he couldn't be more proud of the way the Panthers played. He noted mistakes such as a scoop-and-score by the Trojans and a blocked punt that led to another score didn't help their cause.
"But as for as the passing, we tell our people that defenses have to bring their safeties up in order to stop our run. When they do that, we must be able to pass. That's what we did. They wouldn't take their safeties back and we were able to hit some big pass plays," explained King.
Sophomore Garrion Curry had touchdown catches of 67 and 74 yards, while also scoring on a 52-yard TD run. He finished with 137 yards rushing and 141 receiving, while senior Derayln Williams rushed for 110 yards on 16 carries and a touchdown.
"Like I said, the running game got started in the second half, but our defense has been playing excellent all year long," said King. "However, we've had some high-scoring games but give people two or three scores off turnovers."
The Panthers are still without several players because of COVID.
"We are hoping to get everyone back soon. We still have six or eight out that play a lot. We had third and fourth team interior defensive linemen all night. We only had one starting defensive lineman that played the last two weeks."
Both teams traded punts to start the game, but the Trojans struck first on a 3-yard touchdown run by Devin Johnson to make it 7-0. Hot Springs used an up tempo offense with several passes to get the score.
Magnolia responded quickly on a 52-yard TD run by Curry, followed by Jay Todd Baker's PAT to tie the game at 7-7.
The Panther defense was able to keep the Trojans out of the end zone following a block punt that was recovered at the 9.
Magnolia took over on downs at the 4 and traveled 96 yards to take a 10-7 lead early in the second period a Baker 30-yard field goal. Hot Springs quickly regained the lead on a 47-yard TD run by Johnson's run up the middle, making it 14-10 with 7:43 remaining in the first half.
With under three minutes on the clock, Hot Springs Anthony Island picked up a Magnolia fumble and raced 45 yards to make it 21-10. A minute later, Magnolia quarterback Dalen Blanchard threw a 67-yard TD pass to Curry, closing the gap to 21-17.
Blanchard played most of the night at quarterback, but starter Tanner Nielsen did enter the game and threw a touchdown pass.
"He (Blanchard) makes our offense a little bit more dynamic. Tanner does a great job of reading things and making good decisions, but don't have the athleticism as far as running the ball as Dalen has," said King. "I'm excited for both of these guys and what they bring to the team."
The second half was dominated by the Panthers.
Following a 33-yard run by Williams and 39-yard burst by Curry, Blanchard crossed the goal line from the 4 to put Magnolia back in front. Baker's PAT made it 24-21. A 74-yard touchdown pass from Nielsen to Curry put the Panthers up 31-21 with 5:36 to play in the third. On the first snap of the fourth period and following an eight-play drive, Williams scored from the 1 to make it 38-21.
The Panther defense got in on the scoring when Jase Carter scooped up a Trojan fumble and raced 73 yards to make it 45-21 early in the fourth. Hot Springs got a break when its recovered a punt that hit a Panther. Four plays later, Issac Cheatham scored on a 2-yard run that that made it 45-27.
With 4:49 left, Kendrick Carey scored from the 6 to make it 56-27. Williams had a 21-yard run on the drive and Curry rambled for 16.
Hot Springs had the game's final score on a 66-yard run, making it 52-33.
The Panthers are scheduled to be open this week, but King said he rather play a game.
"Right now we don't have anyone, but I'm going to get on the phone and see what I can find. We need to play and don't need another weekend off. If someone calls us on Wednesday, we will play," said the coach. "We are going to practice and be ready if someone wants to play."
The Panthers are scheduled to travel to De Queen on Aug. 30 and close the regular season at home against Hope on Nov. 6.
Sponsor Content