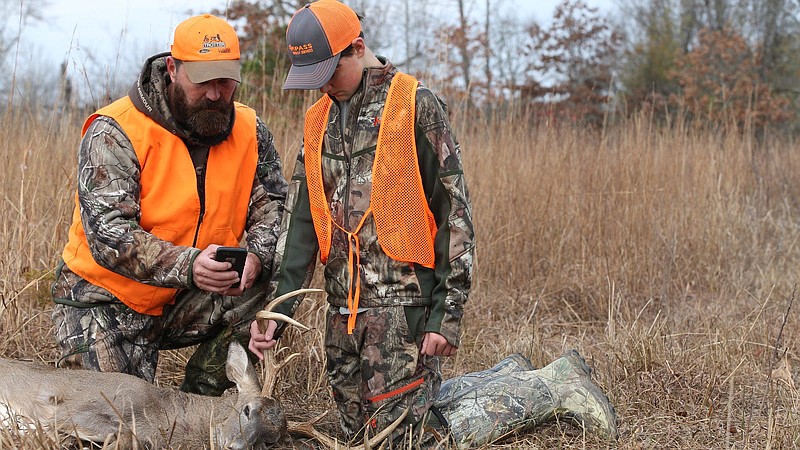 - Photo by Arkansas Game and Fish Commission
The 2020 deer season in Columbia County kicked off with a warm Sept. 26 morning opening of the Archery season. Now, cooler weather is expected for Saturday morning as the muzzleloader season begins.
Columbia County is situated in the Arkansas Game and Fish's (AGFC) Zone 12 for Deer hunting, which has a muzzleloader season from Oct. 17 - 25. During this time, Arkansas hunters will be required to wear at least 400 square inches of hunter orange, chartreuse or blaze camouflage above the waist and a head garment of the same color. Bowhunters will also be required to wear orange garments during the muzzleloader season.
Hunters in the state must have a hunting license with deer tags available on their person once they procure a deer. Hunters in the county have a five deer bag limit, with no more than two bucks allowed. The statewide limit is six deer, which means that a sixth deer can be taken by Columbia County residents as long as it is within another hunting zone.
Hunters during this deer season will need to update the AGFC mobile app on their phones if they have not done so already. In a press release from the AGFC, they request hunters to refresh the app to reflect on the new hunting regulations and deer zone changes in the state.
"It just takes a minute if you have good reception, and it will help us keep all of the data clean so we can make the best recommendations possible for the deer and hunters of Arkansas," said Ralph Meeker, Deer Program Coordinator for the Arkansas Game and Fish Commission.
The AGFC app allows for hunters to Check Game they have hunted, which can be done with or without a cell signal. It also allows for Digital License storage, fishing and rut reports, AGFC news and Wildlife Observation reporting. The app is listed in the Google and Apple app stores as AgfcMobile and shows the AGFC seal as the art for the app.
Sponsor Content