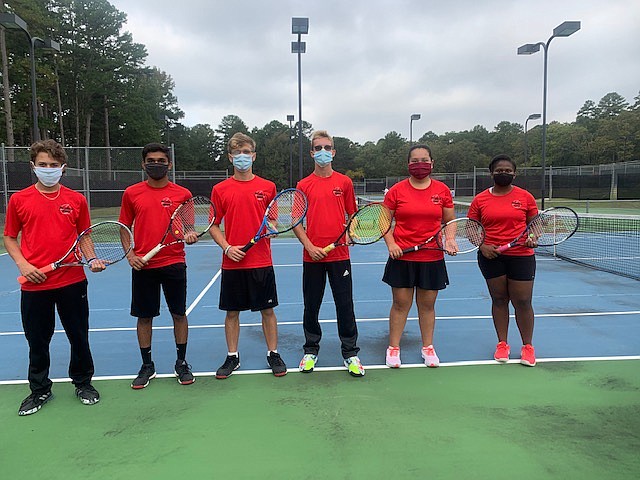 Magnolia athletes who competed in the state tennis tournament this week were (from left) Tristan Malone, Rushang Patel, Sam Trout, Jake Nielsen, Angie Saldana and Sierra Putney. - Photo by Contributed photo
NORTH LITTLE ROCK – Magnolia's tennis came to an end earlier this week at the Class 4A State Tournament at Burns Bark in North Little Rock.
"Although it's over, the Magnolia Panthers and Lady Panthers did on outstanding job this season," said head coach Shelly Malone. "The players and I are so thankful to have had an opportunity to start and finish our season with little to no setbacks, and understanding attitudes towards a lot of required changes."
Overall, the Panthers finished with six wins, one loss and four ties. They were 4-0-1 in 4A Region 8 Conference play and dominated the district tournament, winning their third consecutive district title.
The Lady Panthers recorded five wins, four losses and two ties on the season. They were 4-0-2 in league action, also claiming the district championship.
"I want to say thank you to all the supporters of Magnolia tennis, including parents, faculty, students, administrators, and staff. I am also thankful Southern Arkansas University for letting us use their. Thank to to Coach Owen, SAU tennis team, and Coach Browning for rearranging their schedules to accommodate all our home matches," explained Malone.
Following is how the Panthers and Lady Panthers fared in the Class 4A State Tennis Tournament:
• Senior Jake Nielsen – First round win against Omar Quran of Farmington (6-2, 5-7, 6-3). Loss in second round to Brandon Nguyen of Pulaski Academy (1-6, 3-6).
• Senior Tristan Malone – Defeated Aiden Smith of Nashville 6-1, 6-2 in first round. Lost 2-6, 0-6 to Anthony Tran of Pulaski Academy 2-6, 0-6 in the second round.
• Juniors Sam Trout and Rushang Patel – Lost in first round to Byrd/Rogers of Pulaski Academy (0-6, 0-6).
• Senior Angie Saldana – Lost to Bella Tan of Pulaski Academy 2-6, 1-6 in the first round.
• Senior Sierra Putney – Lost to Journey Pope of Nashville 6-4, 4-6, 3-6 in the first round.
Malone said her seniors will be greatly missed and that they displayed true sportsmanship throughout the season.
"I can't wait to see what the future holds for them because I know they will be successful in whatever they choose to do. They are definitely a wonderful group," she said.
Sponsor Content