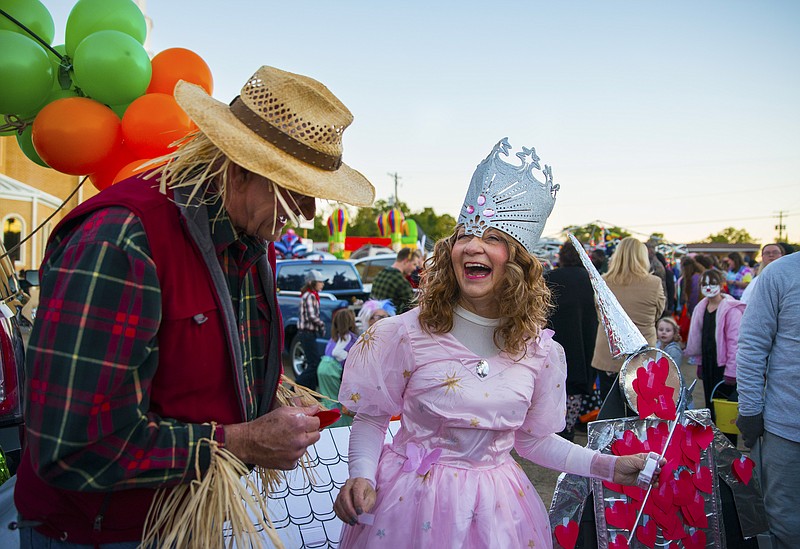 In this Nov. 1, 2019 File Photo, Members of First Baptist Church, dressed as Glinda the Good Witch of the North and the Scarecrow from "The Wizard of Oz," oversee a station at the church's annual Trunk-or-Treat on Halloween night at the corner of Pine and E. Main Street. ADH guidelines have placed trunk-or-treat events as a Moderate Risk Activity this year, as long as the treats are not passed out by hand.
As Arkansas reaches its seventh month of COVID 19 restrictions, the Arkansas Department of Health (ADH) has released a Halloween guidance during the pandemic. The ADH strongly encourages Arkansans to take the precautions they list to protect themselves and others from the spread of COVID-19.
When it comes to masks for Halloween participants, the ADH recommends wearing a mask that is made of two or more layers of breathable fabric that covers the mouth and nose and doesn't leave gaps around the face. They state that attempting to circumvent this by wearing a protective cloth mask underneath your costume mask could be dangerous if the costume mask makes it hard to breathe. They suggest wearing a Halloween themed face-covering instead.
The ADH lists Halloween activities into three categories: low risk, moderate risk and high risk. To prevent further spread of COVID 19, the ADH recommends avoiding high-risk activities.
Low-Risk Activities:
■ Carving or decorating pumpkins with members of your household and displaying them
■ Carving or decorating pumpkins outside, at a safe distance, with neighbors or friends
■ Decorating your house, apartment, or living space 2
■ Doing a Halloween scavenger hunt where children are given lists of Halloween-themed things to look for while they walk outdoors from house to house admiring Halloween decorations at a distance
■ Having a virtual Halloween costume contest
■ Having a scavenger hunt-style trick-or-treat search with your household members in or around your home
Moderate Risk Activities:
■ Participating in one-way trick-or-treating where individually wrapped goodie bags are lined up for families to grab and go while continuing to social distance
■ Having a small group (no more than 10 people), outdoor, open-air costume party or parade where people are distanced more than 6 feet apart.
■ Having a trunk-or-treat event where masks are worn and social distancing can be assured, such as in a large parking lot where treats can be funneled through a PVC pipe or placed in treat bags for participants to pick up instead of handed out directly.
■ Going to an open-air, one-way, walk-through haunted forest where appropriate mask use is enforced, and people can remain more than 6 feet apart.
■ Visiting pumpkin patches or orchards where people use hand sanitizer before touching pumpkins or picking apples, wearing masks is enforced, and people are able to maintain social distancing.
High-Risk Activities:
■ Participating in traditional trick-or-treating where treats are handed to children who go door to door.
■ Having trunk-or-treat where treats are handed out from trunks of cars lined up in large parking lots where social distancing between participants can't be ensured.
■ Attending crowded costume parties held indoors or large outdoor gatherings.
■ Going to an indoor haunted house where people may be crowded together and screaming.
■ Going on hayrides or tractor rides with people who are not in your household.
Sponsor Content