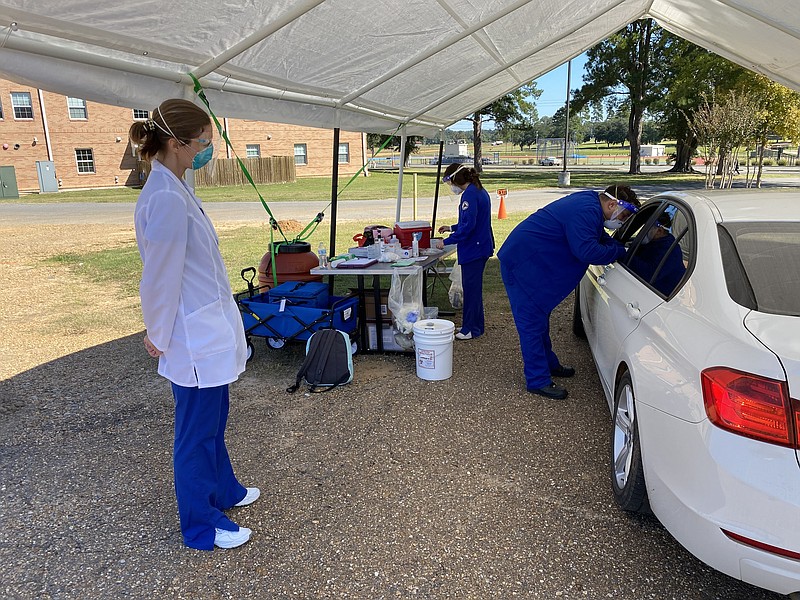 SAU Nursing and Public Health students provide vaccines during an ADH sponsored drive though clinic. - Photo by Rhett Gentry
Southern Arkansas University Nursing and Public Health students will be working with the Arkansas Department of Health (ADH) to administer flu vaccinations to the campus today from 9 a.m. to 3 p.m.
On Monday, students could be seen filing towards the Childs building parking lot where the Mobile Flu Clinic was held. Large tent-like structures allowed for students to remain in the shade while vehicles drove in for vaccines.
Columbia County Health Unit Administrator Twana Hendricks was on the scene with SAU Nursing Faculty Member for Community Health Tara Almond, supervising students as they gave out forms and administered vaccinations.
Hendricks said the ADH works with local health units to create drive-in flu clinics, but these are not the only opportunities to receive a flu vaccine. The Columbia County Health Unit is open from 8 a.m. to 4:30 p.m. on weekdays except for Tuesday, when it is open from 9:30 a.m. to 6 p.m.
"Flu shots are administered all day and you don't need an appointment", said Hendricks. She said those with health insurance will need to bring their insurance cards, but there are no out-of-pocket costs for flu vaccines at the Columbia County Health Unit.
ADH officials have urged all Arkansans who are able to get their flu shots this year to avoid a potential "twindemic", with high levels of both the seasonal flu and COVID-19, which exhibit similar symptoms, occurring simultaneously.
Sponsor Content