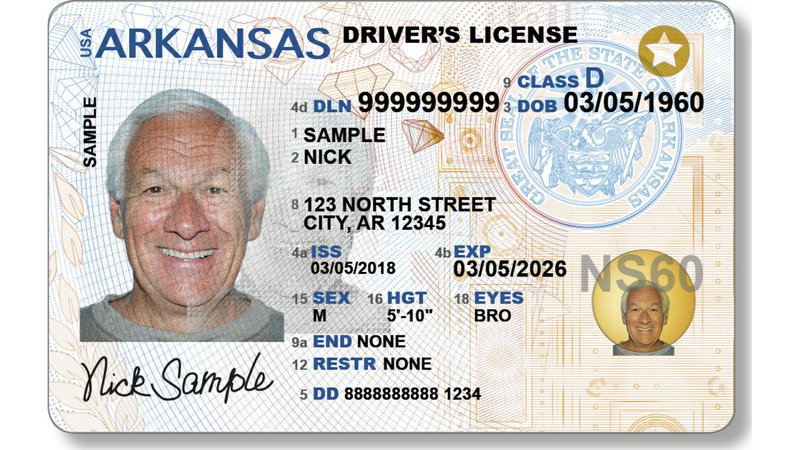 Sample: According to the Arkansas Department of Finance and Administration, the REAL IDs, like this sample, should improve the security of state-issued identification cards and driver's licenses.
Open up your wallet and pull our your Arkansas Driver's License. Look at the top right corner of the ID. If you see the phrase "Not For Federal ID", that means you will have have to make a trip to the DMV to purchase a "Real ID."
According to the Department of Homeland Security, the REAL ID Act was passed by Congress in 2005 from the 9/11 Commission's recommendation that the Federal Government "set standards for the issuance of sources of identification, such as driver's licenses." This act sets minimum-security standards for state-issued driver licenses and IDs and prohibits federal agencies from accepting IDs from states that do not meet these standards. The purposes for Real ID are boarding federally regulated commercial aircraft, entering nuclear power plants and accessing federal facilities.
There are several restrictions that one could run into without having a Real ID. Without a Real ID or passport, residents will be unable to fly commercial aircraft after the Real ID enforcement date. This goes for both foreign and domestic flights. Without a Real ID, residents will be unable to access federal facilities such as military installations - which means that family visiting military kin must have Real ID to get on base.
The Real ID enforcement date is Oct. 1, 2021. Proof of legal presence, proof of identity, proof of social security number and two proofs of residency are needed in order to receive your Real ID. Go to www.dfa.arkansas.gov to find the full list of required documents and other applications needed to receive a Real ID.
Sponsor Content