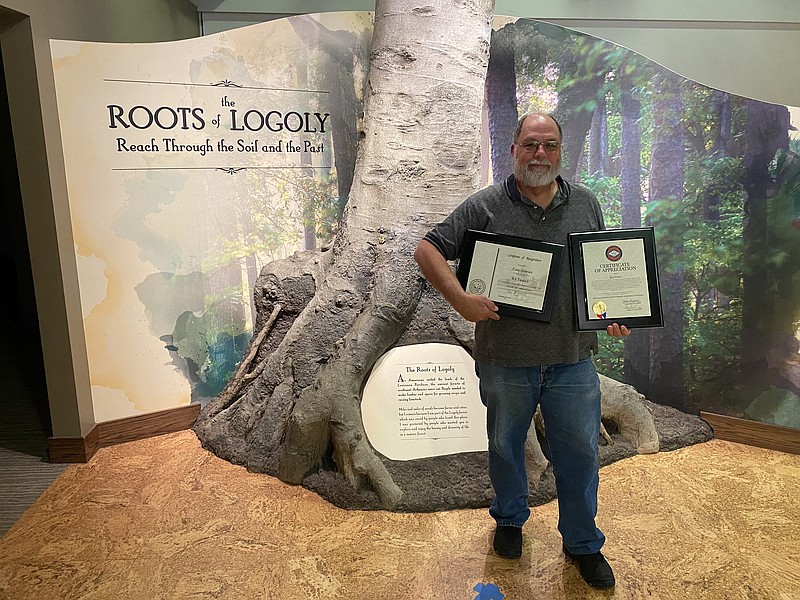 Jim Gann holds up two certificates he received during his retirement party. Gann began work at Logoly State Park in 1977 and has served as the park's Superintendent since 1991. - Photo by Rhett Gentry
"It's hard to believe its been 43 years," Jim Gann said with a waver in his voice.
The former Logoly State Park Superintendent sat inside the break room among coworkers and friends to celebrate his last day of work, sharing stories and joking about memories of their collective service to Arkansas State Parks. Gann was recognized during the luncheon, receiving a Certificate of Appreciation from the Arkansas Department of Parks, Heritage and Tourism and a Certificate of Recognition in appreciation of his 43 years of service to the State of Arkansas.
Gann began working at Logoly State Park in September of 1977 as a Naturalist, with the title later changing to Interpreter. He had finished seasonal work at Daisy State Park that summer and was looking for a full-time job when Logoly State Park opened.
"What in the world is an Environmental Education State Park?" Gann reflected. "I asked my boss and he didn't know either!"
Gann applied for the Naturalist position at Logoly State Park and got the job. Logoly was brand new then, and Gann worked with then then-Park Superintendent to develop the environmental education program for the park.
They developed education programs that were offered to local schools and in turn, each town in the area would make field trips to Logoly. Gann said this caused the park to become well attended as they continued to create more educational groups and grow the program.
"We ended up being one of the first visitor centers to have an exhibit room designed by an exhibit team in the state," said Gann.
In '91, Gann became the Superintendent of Logoly State Park. Married with kids, he remained at Logoly State Park to support his family and live in an area where he was able to return to his parents and other family members to visit and help them out when needed.
"In the year 2000, we started talking about building a new building," Gann said. He explained that Amendment 75 had been passed and established a 1/8 cent conservation tax to repair, renovate and improve the state parks. Gann explained that the potential funding for a new building that gave him the incentive to stay, because he wanted to see it through.
In the following years, Gann said that the building project continued to be pushed back due to other large projects coming up. As the other projects were completed, the original design for the visitor center underwent changes, he said, and it wasn't until 2015 that construction on the visitor center finally began. It was completed in 2016, at a total cost of $88,000.
"A lot of changes and thought went into this building," said Gann. He explained that the exhibits and plans for the building were all created to further environmental education.
"Environmental education is what we learn about the environment and how our interactions affect it," Gann said. "One does not stand alone. We both interact with each other. When one gets sick, it affects the other."
Gann plans to take his retirement on his feet. He stated that he and his wife have made plans to see the Northern Lights and, once the pandemic ends, travel and experience the world. He also plans to continue work on his family farm, finish work projects on his home and take some fishing trips.
Gann said that his former position was advertised on Sept. 1 and interviews for the new Superintendent had already been completed.
He says that no decision has been announced yet, but he has already offered to come back to answer questions for the new superintendent whenever they arrive.
Sponsor Content