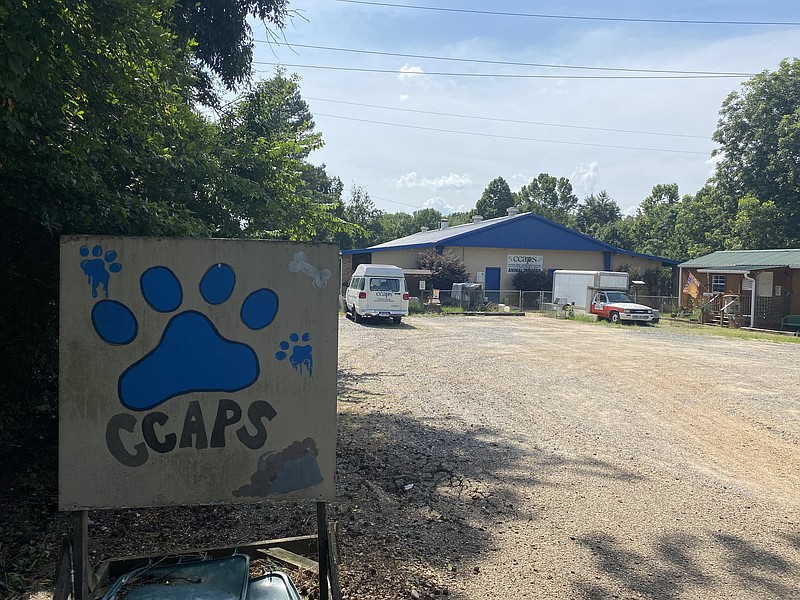 The Columbia County Animal Protection Society is located at 506 West Columbia, Magnolia, AR. Their website is ccapspaws.com. - Photo by Rhett Gentry
The Columbia County Animal Protection Society (CCAPS) houses over 100 cats and dogs and takes in over 1,000 unwanted animals each year, with a mission to provide temporary human care, food, water, shelter and medical attention to stray, homeless, abandoned and neglected animals in south Arkansas. While there is an upfront adoption fee for those seeking a pet, it isn't the only expense a potential pet owner should expect when adopting a pet to their family.
"It's a lifetime responsibility," said CCAPS Manager Jamie Baker. "You are responsible for that dog until its last day. It's like having a child; it's a lot of responsibility."
CCAPS provides potential pet owners with a guide before adopting titled, "Things to consider before getting a dog." For potential pet owners seeking a puppy, CCAPS reminds them that they must take into consideration on how big the puppy may grow, if owners will be able to forego other activities in order to tend to a puppies needs and if owners can afford the necessary vaccinations and visits to the vet.
For residents seeking an adult dog, the guide asks if the owner can provide sufficient exercise routines for the dog, if they can provide for any special dietary needs for the dog and if the owner can financially prepare for potential pet health problems that will require a veterinarian's attention. The guide also instructs potential pet owners that these responsibilities will last for the lifetime of a dog, which is about ten to fifteen years.
Baker stated that around one out of every twenty dogs that are adopted from CCAPS makes its way back to the shelter. These dogs, as well as others, are surrendered from families who often state that they had issues with other pets, that the dog chewed too many things or that the family was moving to a location where they could not have a pet. Most issues that lead to families surrendering their pets can be prevented or fixed through time spent training the animal, Baker said.
Baker said that some families have attempted to surrender their pets due to job loss and concerns that they can no longer afford to feed the pet. She said that CCAPS will always work to provide food to these pet owners for their pets in these times of need and that they will not have to surrender their pets due to hardships.
CCAPS also provides a foster program for potential pet owners. The foster program allows for the family to foster the pet to better understand what it is like to be a pet owner, understand what areas of care that the pet needs and allows for the family to choose whether they would like to adopt the pet that's in their care.
Sponsor Content