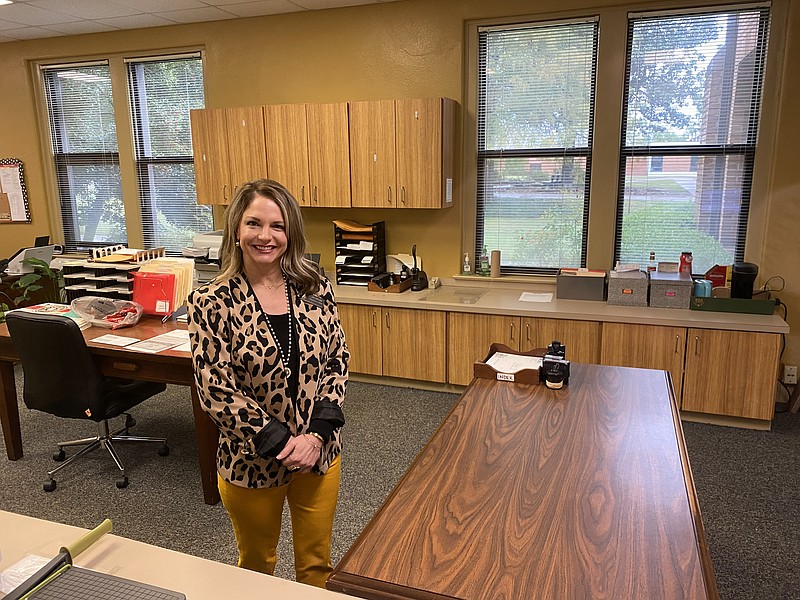 Navy Veteran and now the Veteran's Affairs Certifying School Official for SAU, Jill White has a lengthy career in supporting veterans. - Photo by Rhett Gentry
Inside the Nelson building of the Southern Arkansas University campus is an office with a window for students to seek help with academic issues. This office serves as the one-stop for veterans seeking help with many academic issues, including scheduling classes, certifying credit hours from the military and performing credit hour audits for SAU classes. Yet, despite the glass barrier between students and staff, Assistant Registrar Jill White has always given students and veterans a warm welcome when they come to the window of her office.
White is no stranger to the men and women in uniform, having served five years in the United States Navy herself. She graduated from the University of Tennessee Martin with her Bachelor's in Agriculture Business and stepped into interviews in the private sector with the same question asked by every interviewer: "What experience do you have?" With a family history of military service, White decided that she would gain work experience by serving as well.
"I knew I didn't want to sit behind a desk, I didn't want to be a paper pusher," White said. "With engineering, you are constantly doing something. You never get to sit and relax. I loved it though. We had so much fun."
White entered the service in 2004 as an engineer in the Navy, referring to herself and other engineers as 'Snipes'. She served on the USS Bainbridge and USS Nitze. Engineers labored in the 'belly' of ships, with their work ensuring proper maintenance and repairs to ships while out at sea. During her service, she deployed to the Horn of Africa during a time of rising piracy on the coast of Somalia.
After leaving the Navy as a DC-2, White became a mother and went back to college for additional classes before becoming a stay at home mom to two children. She returned to the workforce as the District Registrar for the Magnolia School District for almost four years before she stepped into her roles on the SAU campus, holding the titles of Assistant Registrar, Office Manager and Veteran's Affairs Certifying School Official.
"I love it," said White, referring to working with Veterans on campus, "I didn't know I was missing something - I get that camaraderie again. Just knowing that they are in that position now that they are going into an uncertain time - and I get to be a part of it. I get to answer questions and calm nerves."
White stated that it was the biggest honor for her to serve her fellow veterans and that the commitment she made under oath to her brothers and sisters in arms when she first joined the Navy did not come with an expiration date.
"We are all still in this together. If I can help them in any way - if I can help one, then every bit of it is worth it," said White.
For veterans seeking the opportunity to continue their education at SAU, Jill White will take the time to support her fellow brothers and sisters in ar
Sponsor Content