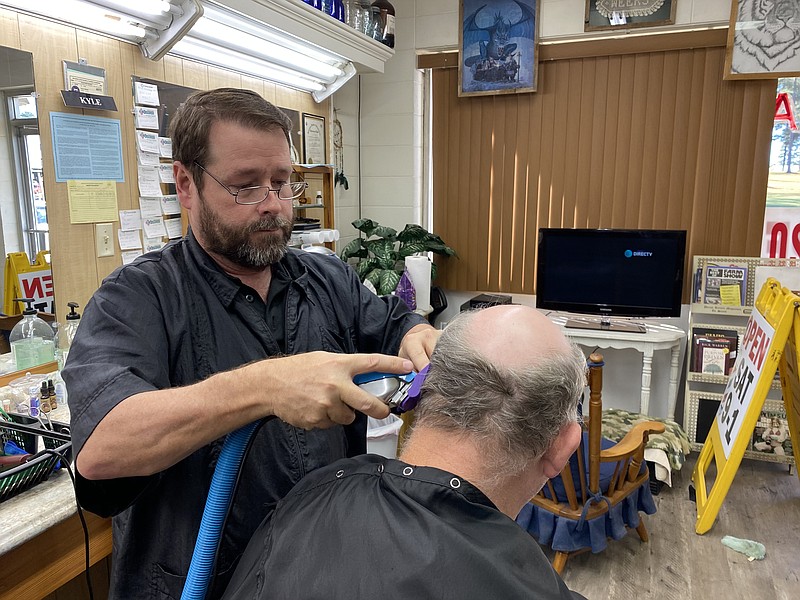 Kyle Weeks served in the Magnolia Unity of the Arkansas National Guard in the Mid-90s while attending college at Southern Arkansas University. - Photo by Rhett Gentry
Back in the mid-90s, local barber Kyle Weeks decided it would be his turn to join the military. Weeks, of the College Barber Shop on North Jackson, was not the first in his family to have committed to military service. His father, Joe Weeks, served in the Air Force before owning the College Barber Shop next to Southern Arkansas University. Kyle's uncles had also served in the military, so it was no shock to his family when Kyle spoke to them about joining the National Guard.
Weeks served in the Arkansas National Guard while attending business classes at SAU. During that time, he was assigned to assist recruits entering the service in preparation for basic training. This included teaching the recruits their general orders, marching instructions and 'breaking down' M16s for cleaning purposes. As part of an always-ready service, Weeks' drills encompassed training for potential deployments and periods of instruction where Weeks would receive certifications during the summer months.
"(Service instilled) a great work ethic, it helped me be a better leader and I learned that you didn't have to know everything, but at least know where to look it up," Weeks said of his service in the National Guard.
Weeks graduated from SAU with his Bachelor's in Business Management and Computer Information Systems. He jumped through different supervisory and management positions in different businesses before he decided to become a barber. He went to barber school in Shreveport and after graduating he answered a job advertisement in the newspaper for a position in Barksdale Airforce Base. After some time, he decided to open his own barbershop in Springhill, LA, which he stated was the best move he ever made. Weeks moved his business to Magnolia after his father retired, setting up shop in his father's barbershop.
"You never know what's going to happen. You talk to a different person every day and you never get bored," stated Weeks. "I have never got up and said 'I don't want to go to the barbershop.' You get a broad range (of knowledge) that comes in handy talking to people every day."
Weeks also runs a Tang Soo Do Moo Duk Kwan dojo in Springhill, LA, instructing young students in the community structure and discipline. He explained that this was not something that was achieved physically but by teaching the students to be courteous and respectful. He said that part of this process is being a role model for students, something that some students do not have in their own homes.
A common theme among barbershops, Kyle Weeks cuts hair Tuesday through Saturday. Positioned across the street from campus, it is only a short walk from Weeks' shop to the campus that he attended as a student and served on as a soldier.
Sponsor Content