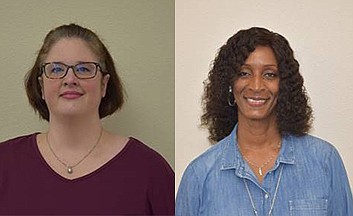 Laura Camp (left) and Beverylyn Rowden (right).
The Magnolia School District would like to recognize the new faculty members for the 2020-21 school year. This week's Teacher spotlight includes:
Laura Camp
Laura Camp teaches ninth grade physical science and accelerated biology at the Freshman Academy on the campus of Magnolia High School. She is a native of Magnolia and graduated from MHS. Laura attended Oklahoma State University and Louisiana State University where she earned a Bachelor of Science Degree in Animal Science/ Biotechnology and a Master of Science Degree in Animal Science/Nutrition.
Prior to returning to Magnolia, Laura was employed with the Emerson School District from 2002-2006 where she taught biology, physical science, chemistry, anatomy and physiology, and physics. From 2006-2020, she worked at SAU Tech where she taught biology, chemistry for nurses, anatomy and physiology I and II, and microbiology.
Laura enjoys reading, watching movies; loves animals; and dreams of being on Jeopardy one day.
Beverlyn Rowden
Beverlyn Rowden is a ninth grade business and EAST teacher at the MHS Freshman Academy. She is a graduate from Waldo High School and attended Southern Arkansas University. While at SAU, she earned a BBA Degree in Finance, a Master of Arts in Teaching in Finance, and completed the P-12 Principals Licensure Program.
Prior to coming to Magnolia, Beverlyn taught business at Norman Middle School in Crossett from 2008-2009. She instructed students at Bradley School District from 2009-2011, and most recently she was employed with the Lafayette County School District from 2011-2020
Sponsor Content