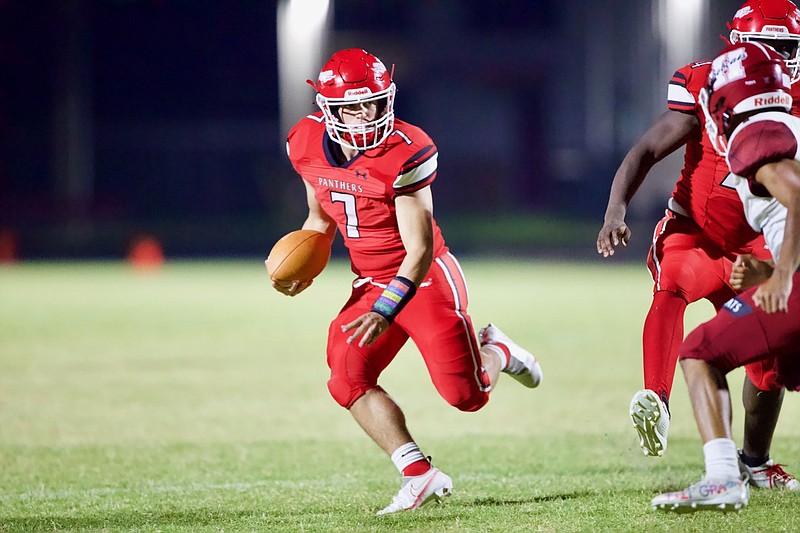 Magnolia sophomore QB Dalen Blanchard picks up yards Friday against Hope. He had 7 carries for 102 yards and a touchdown. He also threw a TD pass. In three consecutive wins, Magnolia's flexbone offense is averaging 49.2 points per game and 324.0 yards rushing. - Photo by Bill Nielsen
Magnolia will make its second state playoff appearance in 10 years this season and will host the Pea Ridge Blackhawks this week at Panther Stadium.
According to Magnolia Athletic Director Dyun Long, all tickets will be sold online and the Arkansas Activities Association should provide the link this week. The Blackhawks have only one win on the season, which was an overtime victory over Farmington. They fell 49-28 to 5A-West leader Harrison Friday night.
During this COVID-19 pandemic season, second-year head coach Mark King said following Friday's 42-7 win over Hope that he's pretty sure the Panthers (6-2, 3-1) will be the 5A-South Conference's second seed behind Hot Springs Lakeside. King broke Magnolia's playoff drought last season when he led the Panthers to the playoffs and finished with a 7-4 overall record after losing in the first round to Pulaski Academy.
"I don't have any idea who we will be matchup up against, but I believe we will play at home. We will get a seventh seed in here some somewhere, but we don't know where," King said following the regular-season finale.
Because of the coronavirus and many teams having to cancel games, all teams in the conferences qualified for the playoffs. They could opt of playing in the postseason, but had until this past weekend to do so. The seeds were determined by the number of games played and a point system.
Unbeaten Arkansas High's (5-0, 3-0) final game Friday against De Queen was canceled by the Leopards.
"We knew that as long as we won and got our points, the worse we could do was second seed. If Hot Springs Lakeside had lost to Hot Springs, that would have given us a top seed after factoring in the point system," explained King. "You have to feel for Texarkana because their canceled games were not their fault. They go from being top in the league to third or fourth and having to travel to play."
King figures if Magnolia wins win at home this week, their second playoff contest will also be played at Panther Stadium. A second victory would put the Panthers on the road, which King predicts would be at top-ranked Pulaski Academy.
The coach again repeated the team's recent motto, "Why not Magnolia?
"We are telling ourselves that someone has to win it (state title), why not Magnolia. If we don't beat ourselves, we will be a tough football team to beat no matter who we play," said King.
Other than a botched opening kickoff and giving up a touchdown late in the second half, the Panthers really had no trouble with the Bobcats.
"Other than that drive, our defense played outstanding," said King. Several Hope offensive possessions resulted in negative yards, while seniors Ja'Kamron Zachary and Mike Jones recorded quarterback sacks.
It was sophomore running back Garrion Curry and classmate quarterback Dalen Blanchard who sparked the Panther offense against Hope. Curry had nine rushes for 99 yards and two touchdowns, while Blanchard finished with seven carries for 102 yards and a score. The duo also connected on a touchdown pass.
Senior Jakeim Warren came up with an interception on Hope's first drive and the Panthers moved 51 yards in nine plays for their first score. Senior Javorrea Murphy scored from the 2 and junior place-kicker Jay Todd Baker added the PAT to make it 7-0.
Behind the running of Murphy, Curry and Blanchard, the Panthers doubled the score when the sophomore QB burst into the end zone from 18 yards out. Baker's PAT made it 14-0 with less than a minute to play in the opening quarter.
Junior Kendrick Carey, on his only carry of the night, ran 36 yards early in the second quarter to make it 21-0.
After the Bobcats managed to score on a 2-yard run with 2:27 to play in the second period to make it 21-7, Blanchard later hooked up Curry on a 28-yard touchdown pass to make it 28-7 at halftime.
"With homecoming going on and the things that go with it, our kids came out focus and with their minds on the game. We played really well on both sides of the ball," said King. "We had a little mental lapse there at the end of the first half that gave them a score. We gave up a long pass on third down. Our corner was right there, but the bigger receiver just made a play on the ball."
The Panthers wasted little time putting the game completely out reach during the first seven minutes of the second half. Following a 32-yard run by senior JamesDarius Smith, Curry scored from the 20-yard line to make it 35-7 with 8:05 on the clock. Three minutes later, he galloped 41 yards for another score to push the margin to 42-7.
Midway through the fourth period, Magnolia's Jake Munn scored a courtesy 44-yard touchdown run. There was no PAT and the points were not added to the final score.
Magnolia had six different running backs that had runs 18 yards of more. Other carries went for0 20, 36, 32, 41 and 44 yards.
"All of our backs are special and having a good season. We are not afraid to give it to any of those guys. Dalen, like I've said before, just give a little extra at the QB spot. He's a hard runner and that's not a knock on Tanner (Nielsen), because he has done some wonderful things for us this season as well," explained King. "The beauty of this thing (offense) is that you just can key on one person."
The Panthers were still without a few players because of COVID-19, including at least three on the defensive side of the ball.
"We had two defensive backs (Robert Mack and Dario Sargent) out. Both have been regulars in our secondary, but hopefully both will be back this week as well as the others. I think we will be full strength with whoever we are matched up with," stated King.
The Magnolia coach said he's constantly reminding his players to be smart, and do the things to keep themselves and others safe.
"In normal times, you would have the homecoming parties and bond fires. But these are not normal times," said King.
In the past three games, the Panthers have rushed for 330 yards against Hot Springs; 336 against De Queen; and 306 against Hope. They put up 52 points against the Trojans, 55 against the Leopards and 42 against Hope.
Magnolia has scored 42 or more points in five of its eight games this season, including 50 or more in three of them.
Sponsor Content