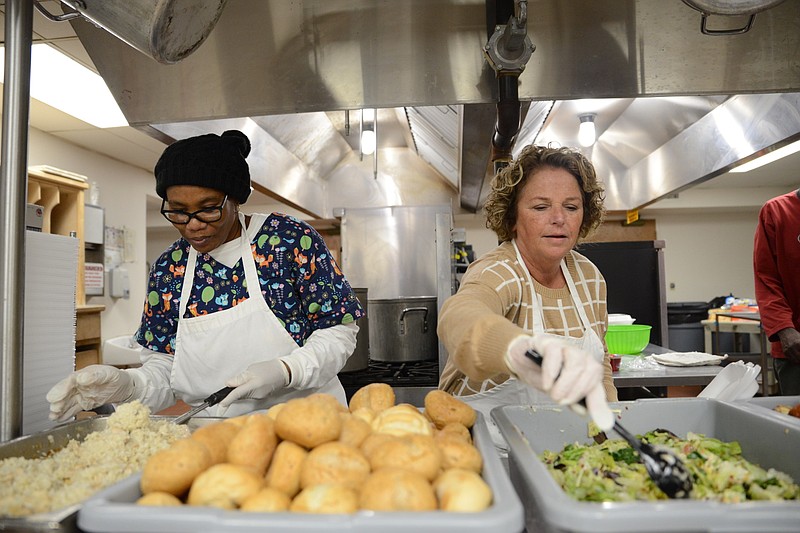 File Photo: Elizabeth Gilbert (left) and Marie Tosh prepare food plates at the Stewpot ahead of large serving at First United Methodist Church in Magnolia. Not pictured is George Gilbert. - Photo by Banner-News/J.D. Bailey, FILE
As the winter sets in, some households across the United States will be asking the same question: Do I keep the heat on or do I buy groceries?
Ozark Food Harvest, a nonprofit organization in Southwest Missouri, detailed in a statement last February that 67% of the people their food bank served reported having to choose between paying for utilities and purchasing food. This is not a statistical anomaly only present in Southwest Missouri, with multiple studies ranging from the Journal of Nutrition and the United States National Library of Medicine National Institute of Health indicating a trend of higher food insecurity during the winter months.
With COVID-19 cases steadily increasing and an unemployment rate in the State of Arkansas that has remained above 7% since July and the upcoming winter months, food insecurity is a real danger for citizens of the county and State. Below is a list of events and locations to combat food insecurity in Columbia County:
The USDA Columbia County Commodities Distribution will be held Nov. 19 -20, starting at 9 a.m at the C.W. Easter Center in Waldo. Food items may include canned applesauce, canned kidney beans, beef chili, chicken in a pouch, dry plums, instant potatoes, rice, diced tomatoes, vegetable soup, canned peaches, spaghetti and canned salmon. All participants must show ID, with photo ID preferred.
Asbury United Methodist Church's USDA Commodity Agency Pantry is open every third Thursday from 1 to 3 p.m..
The Magnolia Senior Center's Soup Kitchen is open Monday through Friday from 11 a.m. to 1 p.m.
The Stewpot at the First United Methodist Church holds a soup kitchen on Mondays, Tuesdays and Thursdays from 4 to 5:30 p.m.
Unity Church Magnolia's food pantry is open every first Thursday from 10 a.m. to noon.
The Unity Methodist Church in Taylor hosts an 'honor system' food pantry for those facing food insecurity and those that are able to donate to it.
For Magnolia School District students facing food insecurity, their parents may contact the school counselor of their school for food assistance for their children.
Updated to remove Abilities Unlimited from list. Abilities Unlimited was listed on harvestregionalfoodbank.org as a food assistance location, but their soup kitchen has since been discontinued.
Sponsor Content