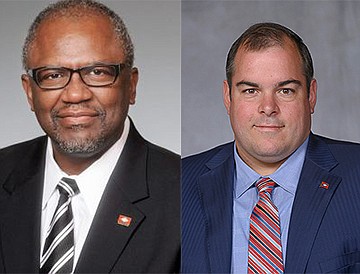 Representative David Fielding (left) and Republican candidate Charles Beckham (right) won their races in the AR State Congress. Fielding is the Democratic incumbent for House District 5 and has served as a state representative since 2011. Beckham won State Senate District 12 against the Democratic incumbent, Senator Bruce Maloch. Maloch has served in the State Senate since 2013.
The Banner News reported live on Facebook Tuesday night and subsequently called several races after reviewing election results from Columbia and surrounding counties.
Republican newcomer Charles Beckham bested incumbent Sen. Bruce Maloch (D), where the race in Columbia County saw Maloch leading by 555 votes but trailing behind in the rest of District 12, where Secretary of State records indicate a Beckham win with 16,696 votes over Maloch's 12,894.
In Columbia County's House District 5 results, Democrat Rep. David Fielding held a 363 vote lead over the Republican candidate Chase McDowell. Fielding's lead stayed true throughout the election, with Secretary of State election results indicating a Fielding win with 4,690 votes over McDowell's 3,664.
Presidential election results were not finalized in every state, but a clear winner was shown for the State of Arkansas with Secretary of State records showing President Donald Trump (R) with 750,790 votes over former Vice President Joe Biden (D) with 415,435. Columbia County residents voted overwhelmingly for the incumbent president, with 5,469 ballots cast for Trump and 2,781 votes cast for Biden.
Senator Tom Cotton (R) won his race against Ricky Dale Harrington Jr. (L), with a Cotton lead of 783,317 votes over the 391,924 ballots cast for Harrington Jr. Columbia County election records indicate overwhelming county support for the Republican incumbent, with Cotton receiving 5,750 votes over Harrington Jr.'s 2,292 votes.
In the election for US State Congress District 4, Representative Bruce Westerman came out on top with 187,170 votes over the 103,966 ballots cast for William Hanson (D) and the 12,832 ballots cast for Frank Gilbert (L). Westerman saw a win among Columbia County voters, who gave the incumbent 5,559 votes. Hanson trailed behind with 2,672 along with Gilbert receiving only 164 votes.
State Issues One and Two were passed by Arkansas voters, while Issue Three failed to follow through. Columbia County voters shared a common interest with the State majority on Issues One and Three, yet deferred to vote against Issue Two.
For Emerson residents who participated in the 2020 General Election, a potential 1% Sales and Use Tax to be levied on the town fell short in the vote, with 88 voters in support of the tax and 109 votes against.
A table showing election results for local elections in Columbia County is listed below:
JP District 2
Stephen K. Stroebele (D) 230 Sam Sharp (R) 600
Magnolia Constable 3 City
Dr. Randall H. Adams (R) 1,861 Justin L. Sneed (I) 200 Kevin 'Murph' Murphy (D) 1,329
Waldo Alderman Ward 1, Pos. 2 City
David Baird (I) 216
Ramon Scarber (I) 167
Waldo Alderman Ward 3, Pos. 1 City
Katrina Deshuan Finely (I) 133 La Wanda Gail Robinson (I) 253
Waldo Alderman Ward 3, Pos. 2 City
Patricia Doss Glover (I) 159 Dedrick Young (I) 230
Waldo City Recorder
Beverlyn Rowden (I) 272 Darla Longino 110
Alderman P3 Town
Gregory Carter (I) 190 Milly Lindsey (I) 214
Magnolia City Clerk
Shakamree L. Roy (I) 2,934
Sponsor Content