The Columbia County Fairgrounds in Magnolia will host a coronavirus screening Thursday, March 26, from 10 a.m. to 4 p.m. - Photo by J.D. Bailey
With a local health emergency declared by Columbia County Judge Denny Foster after the first case of coronavirus was confirmed in Columbia County on Sunday, a local drive-through screening has been scheduled from 10 a.m to 4 p.m. on Thursday, March 26, at the Columbia County Fairgrounds.
The event will be handled by local medical and nursing personnel and volunteers.
Only those who have cold or flu-like symptoms or believe they may have contracted or come in contact with someone with the virus are asked to attend.
"This is just not for those who just want to come out and get a test," said Dr. Fred Murphy, a Magnolia physician and Columbia County's health officer. "This is a screening with the need for potential testing as it may be indicated."
The mass screening event is designed to identify anyone locally with the virus and potentially reduce its spread.
The screening process will follow the CDC guidelines and not everyone will be administered the coronavirus test – which is performed by obtaining a nasal cavity mucus sample by use of a swab.
The screening is not free, according to Greg Pinner, Magnolia Fire Chief and president of the Columbia County Local Emergency Planning Committee, but insurance co-pay will be waived.
CRITERIA
Those screened should meet one or more of the following criteria:
• If you have had a temperature in the last 14 days of 100.4 degrees Fahrenheit or greater
• If you have had a cough or shortness of breath or show cold or flu-like symptoms
• If you have been exposed to anyone with coronavirus
• If you have traveled recently to a known coronavirus hotspot
"Those people are identified as 'at risk,'" said Amanda Newton, director and owner of Columbia County Ambulance Service and one of the primary organizers of the event. "We ask them to come through."
There is no local residency requirement. Each car will be limited to only two occupants. Children are eligible to attend, but should be accompanied by a parent or guardian.
ALL PERSONS MUST BRING A VALID PHOTO ID AND PROVIDE A WORKING CONTACT NUMBER.
SCREENING PROCESS
Cars will enter the Columbia County Fairgrounds at the southern end of the property and will form a line and will first come to a tent where either a local physician or nurse practitioner will be waiting for step one of the screening. This station will be known as Tent 1.
A check sheet for symptoms will be provided and then persons will be able to speak with a medical professional to see if they then need further examination.
"A physician or nurse practitioner is going to speak with them and ask them for clarity on any kind of questions to help determine if they need to have an actual test done," said Newton.
If a test is deemed necessary, the attendee will then be asked to enter into the fairgrounds for further examination. If the medical personnel feel the person does not meet the testing criteria, he will then be able to leave the property.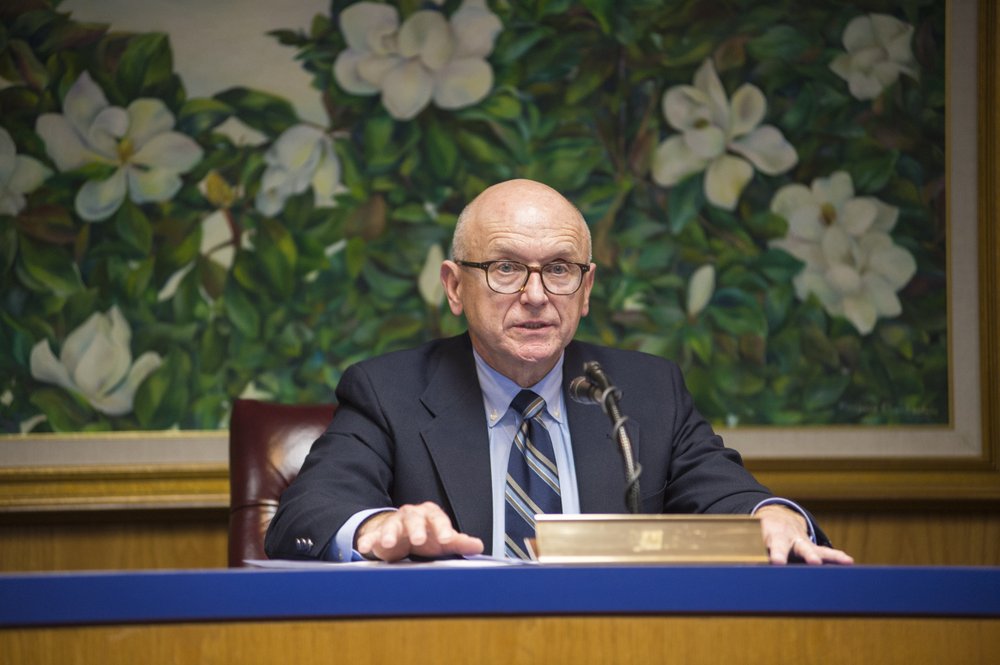 Magnolia physician and Columbia County Health Officer Dr. Fred Murphy speaks Tuesday night during a local press conference regarding coronavirus and a screening set to be held Thursday at the Columbia County Fairgrounds.
TESTING
Those who need to be tested will be asked to provide insurance information -- whether it be private insurance or government-backed Medicare or Medicaid. This will help the lab file an insurance claim and recoup some of the costs.
If a person does not have insurance, he will not be turned away, according to Newton.
Once the insurance and identification are collected, a person will then proceed to a testing station to provide a specimen.
RESULTS
Coronavirus tests have been taking around seven days to get results. A photo ID and working contact number are needed to contact anyone who may have a positive result, then steps can be taken, such as self-quarantine, etc.
"We need to be able to contact any patients that get tested to do any kind of follow up that may be needed," said Dr. Fred Murphy, a Magnolia physician and acting Columbia County medical officer. "… One situation we would not want to get into is to have a positive test and then have an inability to communicate the results with that person. That would be a problem."
ONLY ATTEND IF YOU NEED TO
Only those with signs of the virus or believe they may have contracted coronavirus are asked to attend the screening.
"This is not going to be a social event," said Pinner. "If you don't have any signs, don't show up."
He added: "You're showing up to a COVID-19 hotspot when you [go to the screening]. If you're feeling fine, you're going to be walking right into it."
There was some hesitation on Murphy's part to even hold the event due to very nature of the conglomeration of so many potentially infected individuals.
"You have a population that, by the very definition, are sick in some way," said Murphy. "So there was some controversy in even having the thing."
The local physician, though, did believe that, with the appropriate precautions and protective equipment measures in place, the event will be fine for those involved.
"Car windows will be up except only for the time that you need to communicate with data collectors and so forth," said Murphy.
When asked if there was any fear that vital local medical professionals administering the screenings or tests will be exposed to the contagious Wuhan, China-based virus that attacks the lungs similar to pneumonia and influenza, the doctor said that all attending the event will be dressed in more than adequate protection.
"They will be in full-bore personal protective equipment," said Murphy.
The event was organized also with the help of Twana Hendricks, Columbia County Health Unit administrator. The staff will be made up of local volunteers. Local health professionals will be on hand to oversee or administer any medical tasks such as testings or examination.
Sponsor Content