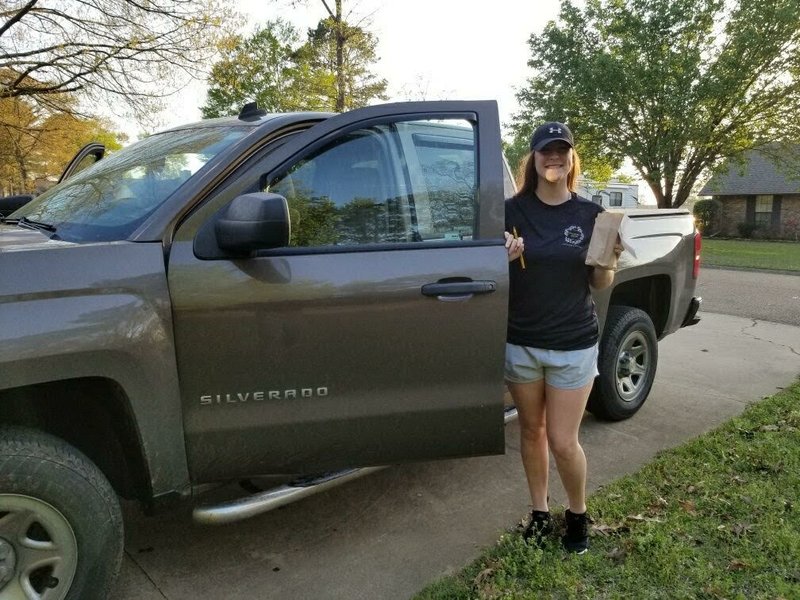 Deanna Johnson, an employee at Vine Street Liquor in Magnolia, makes the store's first home delivery on the evening of Tuesday, March 24. (submitted photo)
A Magnolia liquor store has made its first home delivery after the state's Alcohol Beverage Control (ABC) issued a new set of guidelines for restaurants and package stores on March 17 that allowed the service for certain licensed shops and establishments in Arkansas.
The new regulations will last through April 17 after Gov. Asa Hutchinson on March 17 declared a health emergency in Arkansas due to coronavirus. As part of the new measures, retail liquor stores were granted the ability to host curbside and delivery services for liquor, beer, and wine. Shops with drive-thru windows were also encouraged to utilize that method versus in-store shopping to cut down on close-proximity interaction that could further spread the highly-contagious virus.
Vine Street Liquor, located at 513 N. Vine in Magnolia, made its first liquor delivery Tuesday evening.
"We have been slowly advertising the service over the last couple of days, and we actually had somebody reach out to us last night," said Courtney Roberts, store manager at Vine Street Liquor.
The store's delivery is limited to addresses in the Magnolia city limits. Although there are no set limitations on the amount of product that can be delivered, Roberts stated that orders for home delivery at her store should be limited to a "reasonable" purchase size.
New state rules also allow alcoholic beverages to be delivered from permitted restaurants, microbrewery restaurants, distilleries, small breweries, small farm wineries, licensed grocery stores, and convenience stores. The service for most establishments is limited only to beer and wine, according to ABC regulations. The deliveries can only be made by an employee of a licensed establishment and not by a third-party.
Alcoholic beverages will only be delivered to those 21 or over.
Addresses in dry counties -- which Columbia County was until a 2014 vote that turned the county wet for the first time since the 1940s -- are not allowed to take or make alcohol deliveries, according to ABC rules. Private club permit holders are also banned from selling or delivering any alcoholic beverages.
After so many decades of Columbia County's borders being spirits-dehydrated, the thought and sight of home liquor deliveries still leaves even those in the business a little in disbelief.
"It's just a little odd to even see these [deliveries] in Magnolia," Roberts said as she laughed.
Sponsor Content