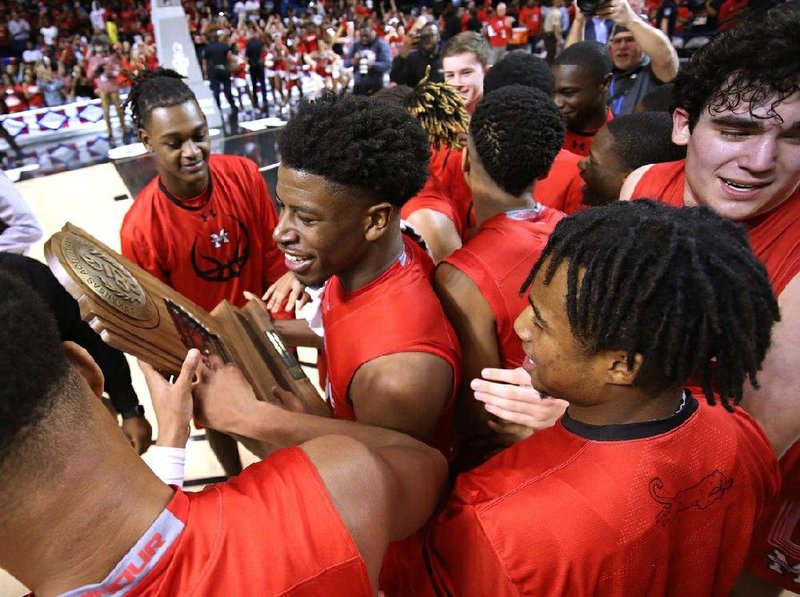 Magnolia players celebrate the Panthers' 78-76 win over Mills in the 2019 Class 4A boys basketball state championship on Saturday, March 9, 2019, at Bank OZK Arena in Hot Springs. - Photo by Arkansas Democrat-Gazette/THOMAS METTHE
The Arkansas State Basketball finals have been suspended.
A message on Thursday from the Arkansas Activities Association stated:
"Due to growing concerns over COVID-19 virus, following the conclusion of tonight games, the remainder of the AAA Basketball Finals are postponed until further notice."
The message was shared by Magnolia Public Schools.
The games were set to go after it was announced cleaning crews would sanitize the arena between games.
EARLIER
'The Arkansas Activities Association announced Wednesday night that the 2020 Arkansas state high school basketball championships are still scheduled to begin Thursday in Hot Springs despite the national spread of coronavirus.
The AAA said in a news release that it is working closely with the Arkansas Department of Education, the governor's office and the Arkansas Department of Health to ensure all appropriate steps are taken during the finals.
The athletic association and the Hot Springs Convention Center, which includes Bank OZK Arena, are working in conjunction to make sure that the building is sanitized and cleaned before every session.
According to a notice sent out Wednesday night, the steps the AAA are taking includes the following precautions:
-- Hand sanitizing stations at the entrances and throughout the building/arena.
-- Wiping down hand rails, handles, knobs and frequently touched surfaces constantly including meeting room tables, microphones, vending machines, escalator railings.
-- During the State Basketball Tournament, all surfaces will be wiped down during session breaks when the arena is emptied. AAA is using an all-surface cleaning machine in our restrooms and locker rooms. This is a no-touch process that cleans, rinses and dries all surfaces. It disinfects the entire area. We are in contact with the local health department and emergency management teams to stay informed.
-- For employees, HSCC has posted signage to remind staff of everyday precautions and adheres to thorough cleaning protocols.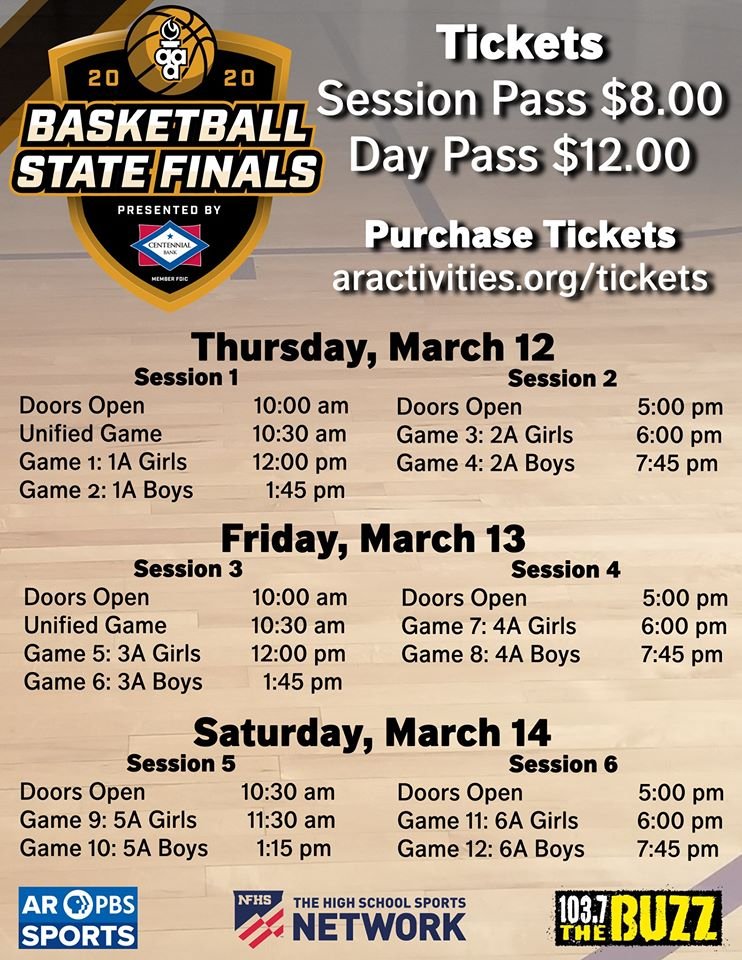 The schedule for the Arkansas State Finals in Hot Springs.
Thursday's schedule features four games, with the first game beginning at noon between Viola and Kirby for the Class 1A girls title. Other games on the slate include the Class 1A boys at 1:45 p.m. (Izard County vs. Nevada), the Class 2A girls at 6 p.m. (Quitman vs. Melbourne) and the Class 2A boys at 7:45 p.m. (England vs. Earle). Four games are scheduled for Friday and Saturday.
For Friday, Magnolia will attempt to win-to-back championships in a rematch of last year's Class 4A boys title game against Little Rock Mills. The game is slated to begin at 7:45 p.m.
Sponsor Content