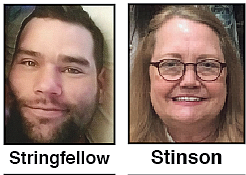 MAGNOLIA — ARVUNES DOSS
Arvunes "Arvis" Doss, 87 of Waldo, Arkansas, passed Thursday, June 11, 2020, at Life Touch Hospice House in El Dorado, Arkansas. Graveside Celebration of Life services will be held Saturday, June 20, at Smith Cemetery in Waldo at 11 a.m., under the direction of R.L. Reed Funeral Home.s.
WILMA BUSBY
Wilma D. Busby, 69, of Baton Rouge, LA, died Thursday, June 4, 2020. Funeral arrangements are pending with Marks Funeral Home in Magnolia, Arkansas.
HENRY EASTER
Henry Easter, 82, of Emerson, Arkansas died Saturday, June 6, 2020. Funeral arrangements are pending with Marks Funeral Home in Magnolia, Arkansas.
CALVIN JONES SR.
Calvin Jones Sr., 73 of Stephens, died June 11, 2020 at CHI-St. Vincent in Hot Springs. Visitation is today, between 2-5 p.m. at Marks Funeral Home. Services are under the direction of Marks Funeral Home.
ADONIS COLEMAN
Infant Adonis Rashad Coleman, 9 days old, was born May 19, 2020 at UAMS in Little Rock, Arkansas, to Natalya R. Clayton and Gregory L. Coleman, Jr. Little Adonis passed Thursday, May 28, 2020 at UAMS.
Little Adonis Rashad Coleman was laid to rest Friday, June 12, 2020, at 23rd Psalms Cemetery at 11 a.m., under the direction of R.L. Reed Funeral Home.
MINNIE FLAHERTY
Minnie May Flaherty, 98, of Magnolia, Arkansas, passed away Monday, June 8, 2020 at her home surrounded by her family.
She was born March 29, 1922 in Delight, Arkansas to the late Thomas Henry and Fannie Dozier Young. She was a Christian, and a beloved mother and grandmother. She was an avid seamstress and crafter, making clothes and donating handmade pillows to hospitals and various organizations. She was a talented gardener and admired beautiful flowers. She loved putting together puzzles, reading western books and the newspaper, and receiving greeting cards from loved ones. She was a member of the Magnolia Hospital Pink Ladies for 38 years, the Shiloh Ladies Auxiliary, and the Red Hat Society. She was a lifelong resident of Columbia County.
She was preceded in death by her parents, nine older siblings and her husband of 67 years, R.L. Flaherty. She is survived by her son, Robert 'Bob' Flaherty; her daughter, Rita Rhea and husband Eddie, all of Magnolia; five grandchildren, Dwayne and Anita Flaherty, Becky Biddle, Vicki Garcia, Jennifer and Damon Reed, and Shannon and Matthew Heath; 10 great grandchildren, Robbie, Stacy, William, Thomas, Wesley, Meagan, Jacob, Jonathan, Quade, and Zane; several great-great grandchildren; and multiple nieces and nephews.
A graveside service was held at 2 p.m. on Friday, June 12, 2020, at Shiloh Lamartine Cemetery in Waldo, Arkansas, with Dr. Eric Goble presiding under the direction of Lewis Funeral Home, Inc. in Magnolia.
The guest book will be available from 1:00 to 4:00 p.m. on Thursday, June 11, at Lewis Funeral Home, Inc. In lieu of flowers, donations may be made to the Shiloh Cemetery Fund, 1650 Columbia Rd 41, Magnolia, AR 71770.
To sign the guest book or to share a memory visit www.lewisfuneralhome.biz.
RICHARD STRINGFELLOW
Richard Joel Stringfellow was born on May 14, 1981 and went home to be with his Lord and Savior on June 1, 2020. Joel was a loving father to his two precious sons, and a man who loved his family and friends. He was a gift from God to us for 39 years.
Joel was preceded in death by his grandparents, Dr. Tom L. and Lib Dunn and Roger Mack Stringfellow and Doylene Driskell; and one brother Noel Bryce Stringfellow.
He is survived by his two sons Emmett Mack Stringfellow of Montrose Michigan and Braxton Bryce Stringfellow of Burton Michigan; his parents Rickey and Linda Stringfellow of Hampton Arkansas; two brothers Dax H. Henderson (Leslie) of Hot Springs Arkansas and Brandon G. Lane (Andrea) of Texarkana Texas; his Karla family and his Tiffany family; as well as a host of aunts, uncles, nieces, nephews, cousins and friends.
Joel was a sensitive person, creative, artistic, caring and compassionate. He loved Jesus, sunrises, sunsets and the beauty of the earth.
Joel was a 4th generation cement mason, who took a lot of pride in his work.
Having a great sense of humor, Joel laughed a lot and loved hunting and fishing, sports, trivia, his guitar, reptiles, and karaoke. Born and raised in Arkansas, he was known to his friends as "Big Country". He was fiercely competitive and fussy about his hair. He was a good person.
Memorials may be made to an account that has been set up for the benefit of his two minor sons Emmett Mack Stringfellow and Braxton Bryce Stringfellow at Generations Bank 302 Main Street Hampton Arkansas 71744.
MARY NORMENT
Mary Sue Norment. 79, of Magnolia, AR passed away Tuesday, June 9, 2020 at Wentworth Place Griffin House in Magnolia.
Mary was born January 28, 1941 in Statesbury, WV to the late Clarence Woodrow "Joe" Duncan and Mary Madaline Wees Duncan. She was a member of the First Baptist Church in McNeil, AR and was a retired housekeeper.
She is preceded in death by her parents; husband Herbert Norment; brothers Clarence Woodrow "Buddy" Duncan and James Howard "Jimmy" Duncan; sisters Barbara James and Nancy K. Duncan.
Mary is survived by her son William Herbert "Bill" Norment and wife Jackie of El Dorado; daughters Jeanette Beeson and husband Bob and Mary Chapman of Magnolia; brothers Billy R. Duncan and wife Donna, John Samuel "Sammy" Duncan of Mt. Hope, WV, and David Mikael "Mike" Duncan of Columbus, OH; sisters Connie Jo Craddock, Patty M. Logan and husband Sam of Mt. Hope, WV, and Ruby C. Swigart and husband Frank of Diamond, OH; grandchildren Michael R. Norment and wife Kerrie, Bobby H. Beeson and wife Nicole, Brena A. Ainsworth of Magnolia, Nicole Greer and husband Danny, Carlie B. Austin and husband Tyler of El Dorado, Brandi Melancon and husband Damian of Hester, LA, Kellie M. Randall and husband Jim of Benson, NC, and Tiffany A. Lowery and husband Casey of Coats, NC; eighteen great grandchildren; 23 nephews and nieces; and a host of extended family and friends.
Graveside services were held at 10 a.m. Saturday, June 13, at the Bistineau Baptist Church Cemetery in Heflin, LA with Bro. Ken Williams officiating under the direction of Lewis Funeral Home, Inc. in Magnolia, AR. Signing of the guest book and viewing will be Friday, June 12 from 9:00 a.m. to 4:00 p. m. at the funeral home.
The family requests memorial donations be made to First Baptist Church, 451 Gum, McNeil, AR 71752 or to Life Touch Hospice, 2301 Champagnolle, El Dorado, AR 71730.
To sign the online guest book to share a memory visit www.lewisfuneralhome.biz.
WENDY STINSON
Wendy Sue Smith Stinson, 66, died suddenly Thursday, June 11, 2020.
Wendy was born on April 20, 1954 in Magnolia, Arkansas to Marlene Jean Carlson Smith and Charles William Smith, junior. She graduated from Magnolia High School in 1972 and went on to attend Southern Arkansas University in Magnolia. While there, she married and moved to Shreveport, Louisiana to make her home. Wendy had one beloved son, Jason Smith Stinson.
Wendy's first job in Shreveport was as a secretary at Ogilvie Hardware. She took time off after the birth of her son but returned to work at New York Life when he was just four years old. She was a devoted employee and was promoted to the position of Office Manager and retired just this year on April 30 as Office Coordinator after 33 years. She was rightfully proud of her time there and made many lifelong friends.
An avid relaxer, no one knew how to put their feet up better than Wendy. She looked forward to retirement if only for the sole purpose of hanging out and watching her flower garden grow. She loved to draw and constantly had little projects going. Never afraid of a good deal, boxes from QVC and Land's End were delivered to her regularly, sometimes daily. These were, more often than not, gifts for her son, on whom she doted. She spent a lot of time watching HGTV and dreaming of improving her home. Wendy loved her pets and was never without a few cats at any given time.
Wendy was very close with her parents and three siblings. She relished her standing phone call every Saturday morning with her mother and was excited for the next family gathering almost as soon as she'd left the last one.
Her greatest joy was in her relationship with her son. She spent her time as a mother devoted to him and ensuring that he felt always loved and secure. He, in turn, took care of her daily and was committed to being there for her until the very end. Their friendship in adulthood was filled with laughter, care, and compassion, and she is sorely missed.
Wendy was predeceased by her father, Charles Smith. Left to cherish her memory are her mother, Marlene Jean Carlson Smith of Magnolia, Arkansas; son, Jason Smith Stinson, his girlfriend Becky Broyles and her son Ollie of Shreveport; brother Robert "Bobby" Smith and wife Bonnie of Prescott, Arkansas; sister, Candy Smith Adams and husband Rusty of Hot Springs Village, Arkansas; brother, Steven "Bo" Smith and wife MegAnn of Dover, Arkansas; and numerous beloved nieces, nephews, their children, and her countless friends.
A visitation will be held on Friday, June 19, 2020 from 4-6pm, at Osborn Funeral Home with a private family service to be held at a later date.
Sponsor Content