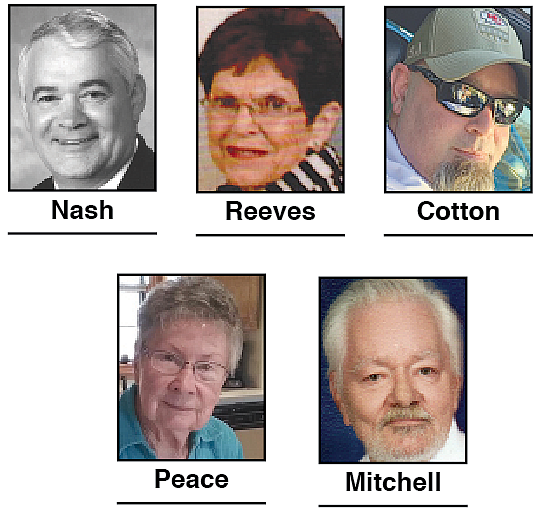 MAGNOLIA — RICHARD LANE NASH
Lt. Col. (Ret) Richard "Dickie" Lane Nash, age 74, passed on Sunday, May 17, 2020 in San Antonio, TX. He was born on April 14, 1946 in Augusta, AR to Rev. Charles W. Nash and Agnes V. Webb, LPN of McCrory, AR.
Richard had great affection for all of his family. He was a 1964 graduate of Magnolia High School; in 1971 received his B.S. degree at the USAFA in Economics and Political Science focusing on International Communications; in 1974 received an M.A. in Counseling and in 1978 an M.B.A. from Louisiana Tech University.
To highlight his early career, he was a member of the Daedalian Fellowship, an USAF Instructor Pilot, Flight Commander and Wing Chief of Inspections, Aircraft Commander, Aide de Camp, AWACS Squadron Commander, and retired as an USAF Lieutenant Colonel.
He had over 4500 military flight hours and received many honors for his service.
He then was a Boeing Aircraft Instructor pilot and assistance site manager, and held an FAA ATPL. He studied at the College for Financial Planning at Denver and received his CFP certification. Richard served as an investment advisor for USAA and for military families through Zieders, as well as serving on the Financial Planning Association of San Antonio and South Texas Board of Directors.
Richard was gentle, kind, and humorous as well as being an excellent mentor, teacher, friend, brother, grandfather, father, and adoring husband.
His greatest loves were studying God's Word, caring for his family and friends, spoiling his grandchildren and pets, researching genealogy, and tending his garden. His parents and his younger brother, Joseph G. Nash, preceded him in death.
Richard is survived and will be deeply missed by his loving wife of 48 years, Janie L. (Merritt) Nash; son, Christopher R. "Bear" Nash and wife, Alaina M. (Brown) Nash; daughter, Leigh Lain "Lolly" (Nash) Walker; four amazing grandchildren: A.J. Walker, Lauren E. Walker, Jackson P. Nash, and Harper Leigh V. Nash; as well as numerous other family members with whom he was very close including, three sisters, Joyce Nell (Lynwood Cathey), Smackover, AR; Camile (Don Lenderman), Dover, AR; Jacqueline (Dr. Daniel Ford), Washington, AR; three brothers, Dr. Horace Daniel Nash (Betsy Sakariassen), Seguin, TX; Dr. Dewayne Nash (Jo Ann Waldrip) Santa Barbara, CA; and Charles D. Nash (Joyce Faye Miller), Stephens, AR; sister-in-law, Darlene McAdoo, wife of Joseph Nash, Mt. Holly, AR; brother-in-law, Donigan Merritt (Holly Murten). Everyone who knew him says he was a well-respected and very good man.
Services will held virtually. Those wanting to participate, please reach out to the family for details.
In lieu of flowers or gifts, the family asks for donations in honor of Richard to be made at local food banks or to Northern Hills United Methodist Church (www.nhumc.org).
NELDA REEVES
Nelda Furlow Reeves, 82 of Magnolia, Arkansas passed away on Sunday, May 31, 2020 at her home surrounded by her family.
She was born on June 11, 1937 in the Rocky Mound Community in Columbia County, Arkansas to the late William Orland and Lenna Frances (Sanders) Furlow. She retired from Farmers Bank and Trust and was a member of the Daughters of the American Revolution. Nelda was an active and faithful member of First Baptist Church and the Faith Sunday School Class in Magnolia.
She is preceded in death by her parents, granddaughter, Whitley Lenna Reeves Barnard, and grandparents, Marvin and McLaurine Sanders and Henry and Judson (Hardy) Furlow.
Nelda is survived by her husband of 64 years, Barney Hugh Reeves of Magnolia; three sons, Gregory Jess Reeves and wife Sandy of Keller, Texas; Anthony Cris Reeves and wife Jane Marie of Camden, Arkansas, Samuel Marvin Reeves and wife Ashley of Bentonville, Arkansas; chosen daughter Nanette Reeves Hoyle and husband Bruce of Taylor, Arkansas; six grandchildren, Jeremy Jess Reeves and wife Kari of Benton, Arkansas, Benjamin Bryan Reeves of Keller, Texas, Samantha Reeves Thurman of Fayetteville, Arkansas, Lindsey Ruth Reeves of Charleston, South Carolina, Mallory Emma Reeves of Maumelle, Arkansas, and Marine Cpl Bradley Furlow Reeves of Okinawa, Japan; three great grandchildren, Emily Gracin Reeves and Mason Jess Reeves of Benton, Arkansas, and Henry Ames Thurman of Fayetteville, Arkansas.
A graveside service will be held at 2 p.m. on Saturday, June 6, 2020 at Memorial Park Cemetery with Bro. Dustin Wisely and Dr. Eric Goble officiating under the direction of Lewis Funeral Home, Inc. in Magnolia. The guest book and viewing will be available on Friday, June 5 from 9 a.m. until 5 p.m. at the funeral home.
Memorials may be made to the First Baptist Church Youth Building Fund, PO Box 456, Magnolia, Arkansas or to SAU Foundation, Nelda Ruth Furlow Reeves, PO Box 9174, Magnolia, Arkansas 71754.
Nelda's grandsons will serve as pallbearers.
To sign the online guestbook or share a memory visit www.lewisfuneralhome.biz.
MARTIN COTTON
Martin Allen "Marty" Cotton, 47 of Magnolia, Arkansas, formerly of Topeka, Kansas and Wichita, Kansas, passed away on Monday, May 25, 2020 in Globe, Arizona.
He was born on September 12, 1972 in Springfield, Missouri and was currently a Manager of Road Operations for Union Pacific Railroad and a former engineer for Union Pacific Railroad. Prior to working the railroad, he was a heavy equipment operator with Local 101 out of Kansas City Missouri. Marty proudly served his country from 1991 to 1994 in the United States Army.
Marty had recently gained a love for scuba diving and was set to get his solo diving certification and was looking forward to getting it. He was a certified open water diver. He loved hiking in National Parks, and wanted to go to all 62 of them. He also enjoyed traveling and wanted to visit Ireland and Scotland. He had been a Freemason for a number of years while living in Topeka. He had obtained a Federal Firearms License while living in Topeka and made it a priority to help others protect their rights.
Marty loved the company he worked for. When he moved to management, his love for Union Pacific became more apparent. He was involved in several organizations with the railroad and always went above and beyond. One in particular was the Courage To Care program, where he could console engineers and conductors in situations where they had faced hard times. He took great pride in being able to help them through their time of need. He was the best at what he did. Union Pacific was a huge part of his life and his families lives. He loved his job.
He loved his boys, he loved his wife, he loved his family. He would say he was the lucky one, but we were the lucky ones. He never met a stranger. If you were blessed to have met Marty, you loved Marty.
Marty is preceded in death by his brother Michael Allen Cotton; a sister Melissa Annette Spillman; and an aunt Sondra Hutchens. He is survived by his wife of 28 years, Crystal Cotton of Magnolia; two sons, Maxwell Cotton of Craig, Colorado, Mason Cotton of Magnolia; his mother Carolyn Combs and her husband Sam of Pittsburg, Missouri; three grandchildren, J.D. Padilla, Persephone Cotton, and Lochlann Cotton; mother in law Rebecca Kinsch and husband Tommy of Douglass, Kansas; father in law Larry Janssen and wife Rita of Baldwin City, Kansas; sister in law Evette Fuerniss and husband Kim of Henderson, Nevada; and a host of extended family and friends.
A memorial service will be held at 10 a.m. on Saturday, June 6, 2020 at First Baptist Church with Bro. Dustin Wiley and Lee Morris officiating.
A guest book will be available on Friday, June 5, 2020 from 4-8 p.m. and Saturday June 6 from 9 a.m. - 1 p.m. at Lewis Funeral Home, Inc. in Magnolia. Memorial Donations may be made to the National Park Foundation or to The Leukemia and Lymphoma Society.
To sign the online guest book or share a memory visit www.lewisfuneralhome.biz.
BARBARA PEACE
Barbara Kathleen "Bobbye" Peace, 94, of Emerson, AR, passed away June1, 2020 at the Summit Health and Rehabilitation Center in Taylor, AR.
Bobbye was born January 29, 1926 in Brister, AR to the late Charles Oren and Leslie Cardee (Swift) Kyle. She was a homemaker and a longtime faithful member of the Brister Baptist Church and was one of the strongest supporters of its building projects.
She was preceded in death by her parents; husband Merrell Peace, Sr.; and two brothers James Kyle and Charles Kyle. Bobbye is survived by one son Tommy Peace of Emerson; grandchildren Melanie Gary of Mt. Pleasant, TN and Matthew Peace of Memphis, TN; great grandchildren Magen Gary and twins Jackson Gary and Jenna Gary of Mt. Pleasant, TN; a host of nephews, nieces, cousins, and friends.
Graveside services will be held at 2:00 p.m. Friday, June 5, 2020 at the Memorial Park Cemetery with Dr. Eric Goble officiating under the direction of Lewis Funeral Home, Inc. in Magnolia. Signing of the guest book will be Thursday, June 4 from 9:00 a.m. until 5:00 p.m. at the funeral home.
In lieu of flowers the family requests memorial donations be made to Brister Baptist Church Building Fund, 3711 Hwy 79 South, Emerson, AR 71740.
To sign the online guest book or to share a memory visit www.lewisfuneralhome.biz.
JAMES MITCHELL
James Keith Mitchell of Springhill, LA, Mitchell was born on March 10, 1943 to Keith and Maxine Hebert Mitchell in Fenton, Louisiana and passed away on Monday, June 1, 2020 in Springhill, LA.
He was a veteran of the United States Army and served in the Korean War, and also worked as a cross country truck driver for 35 years during which he also worked as a contract supervisor for KBR in Baghdad, Iraq.
He was a devout Christian and faithful member of Open Door Fellowship in Springhill, who enjoyed hunting and fishing, and was a devoted husband and father who loved spending time with his family.
He is survived by his wife of 55 years, Theresa K. Mitchell of Springhill, LA; daughter, Gail Manning of Magnolia, AR: son, Rusty (Misty) Mitchell of Magnolia, AR: two brothers, Irvin of Iowa, LA, Paul of AR; four granddaughters, Audri (Tim) McGready of Ruston, LA, Jai Wolf of Tulsa, OK, Alexa (Charlie) Wardlaw of Bossier City, LA, Megan Mitchell of Magnolia, AR; grandson, Ryan (Edna) Mitchell of Magnolia, AR; four great-granddaughters, Morgan McGready, Molly McGready, Madison McGready, Mallory McGready; as well as a host of nieces, nephews, and cousins.
Mr. Mitchell was preceded in death by his parents; a son, Terry Dick; a daughter, Lisa Emerson; and brothers, Jack and Spencer.
Sign our online guest book at www.baileyfuneralhome.net.
SHIRLEY NELSON
Shirley Jean Nelson, a loving wife and mother of two children, passed away at age 84 May 29, 2020.
Shirley was born on December 27, 1935 in Houston, TX, to Earl and Velma Byrd. On March 29, 1954, she married Scott Nelson. They raised two daughters, Pat and Sherry, and a loving niece Gloria.
She was a lifelong homemaker and caregiver to many of her nieces and nephews throughout the years. Shirley and Scott were members of the Humble Optimist Club. Shirley was a member of Strawbridge United Methodist Church in Kingwood, TX, where she was involved in many volunteer activities. She was known as a person who was always there to help at any time.
Shirley was preceded in death by her father, Earl; mother, Velma; husband Scott; and daughter Sherry.
She is survived by her daughter Pat and husband David Terlip; special niece Gloria and husband James Whitefield; brother James Byrd and wife Peggy; son-in-law Brad Stanley; and five grandchildren, Courtney, Megan, Alan, Jordan and Joe. She is also survived by five great grandchildren Ashlyn, Avery, Owen, Noah and Sloane and many other nieces and nephews. Donations may be made to the Alzheimer's Association at www.alz.org or to Strawbridge United Methodist Church at 5629 Kingwood Dr. Kingwood, TX 77345.
TORY JOHNSON
Tory Johnson, 37, of Waldo, Arkansas died May 26, 2020 at his home in Waldo. Funeral services were pending with Marks Funeral Home in Magnolia.
DOROTHY ROY
Dorothy Bess Roy, 84 of Little Rock, Arkansas, passed Monday morning, June 1, 2020, at her home. Graveside Celebration of Life will be held Saturday, June 13, at Lakeside Cemetery in Stamps, Arkansas at 1 p.m., under the direction of R.L. Reed Funeral Home.
ROBERT PRICE
Joe Robert Price, age 90, of Stephens, Arkansas, died Wednesday, June 3, 2020 at his home.
Mr. Price was born October 29, 1929, in Stamps, Arkansas. He was a faithful member of Corinth Missionary Baptist Church for 64 years and a retired oil field pumper with Marathon Oil Company.
He is survived by his wife Ethel of 70 years, of Stephens, Arkansas, two sons and daughters-in-law, Richard and Jackie Price, of Magnolia, Arkansas and Ronald and Debra Price, of Bella Vista, Arkansas, one sister, Arraminta Webb, of Houston, Texas, two grandchildren, Amy Talbert, and husband Tony, of Bella Vista, Arkansas and Russell Price, and wife Meredith, of Bentonville, Arkansas and two great grandchildren, Leighann Talbert and Jackson Price. Private Graveside services were held at Shiloh Cemetery in Buckner with Bro. Helm officiating. Burial is under the direction of A.O. Smith Funeral Home.
Memorials can be made to Corinth Missionary Baptist Church, Shannon Milam, 3875 Hwy 57, Stephens, Arkansas 71764.
ROBERT COOPER
Robert Eugene Cooper, on March 10, 1953 in Emerson, Arkansas, died May 29, 2020. Mr. Cooper was interred in Pine Hill Cemetery in Emerson, following a private service, on Thursday, June 4, 2020, under the direction of Henderson Funeral Service of Magnolia.
LINDA MCBRIDE
Linda McBride, 53 of Magnolia, passed Monday, June 8, at her residence. Graveside Celebration of Life will be Sunday, June 14, at Seminary Cemetery in Stephens, Arkansas at 2:00 p.m., under the direction of R.L. Reed Funeral Home.
Sponsor Content