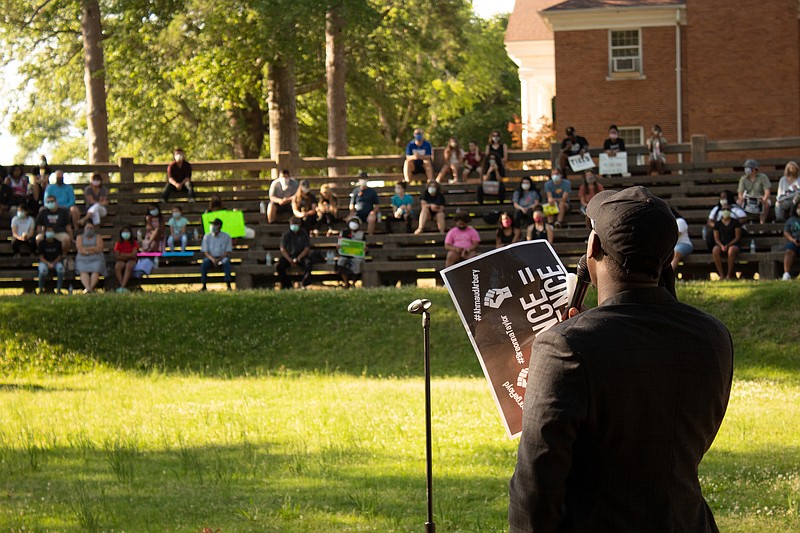 Joe Beasley of Magnolia sings "Glory" to the crowd during a Black Lives Matter vigil held at the Greek Theatre on the SAU campus Sunday evening. (Rhett Gentry/Banner-News)
Residents of Magnolia attended a candlelight vigil in light of the Black Lives Matter movement on Sunday, June 7 at Southern Arkansas University's Greek Theater.
The event was sponsored by the SAU Mu Eta chapter of Sigma Gamma Rho, Black Hoodie Productionz and Olivia Reeves. Organizaers said it was held in response to the death of George Floyd, who was killed by police officers in Minneapolis, Minnesota on May 25.
The vigil opened in prayer by the Rev. Donnell Ford, followed by the 'Negro National Anthem", also called "Lift E'ery Voice and Sing", performed by Amani Amos. Ford came back to the mic for the word of encouragement and stated that, "If we are going to cure this thing, the only thing possible is love."
Ford talked about the demonstrations being held across the country against police brutality and systemic racism. He urged the community to respond with love instead of lashing out.
A moment of silence was held next, which lasted for a total of nine minutes — the amount of time Minneapolis Police Officer Derek Chauvin knelt on George Floyd's neck on Memorial Day, May 25. During the moment of silence, community members lit candles together as speeches from Martin Luther King, Jr. played from the speakers. This was followed by Joe Beasley performing a portion of the song, "Glory", which led to the community open mic.
Some came to the mic to air their concerns. They spoke about the adversity the generation before them faced, who were young men, women and children during Civil Rights movement. They spoke about the fear of becoming the next victim to police brutality because of their race. They spoke about aggravating moments where they were judged by the color of their skin. While community members spoke of their problems, they also offered encouragement and solutions.
One resident stated, "Magnolia is only a piece of our country, but we must do something to stop what's going on and that the community must be on the right side of history."
"History can be made right here at this Greek Theatre tonight," said Mayor Parnell Van. He reassured those in attendance that in his 57 years living in Magnolia, he did not know of any city employee that has taken a human life. "We work as a unit to make this city better."
Olivia Reeves closed the event, informing the public that there are many ways to voice their concerns. She spoke about the importance of voting, stating that the simplest way to create change is through conversation. Reeves encouraged the community to explore peaceful options of community engagement and for all races to work towards creating change.
Sponsor Content