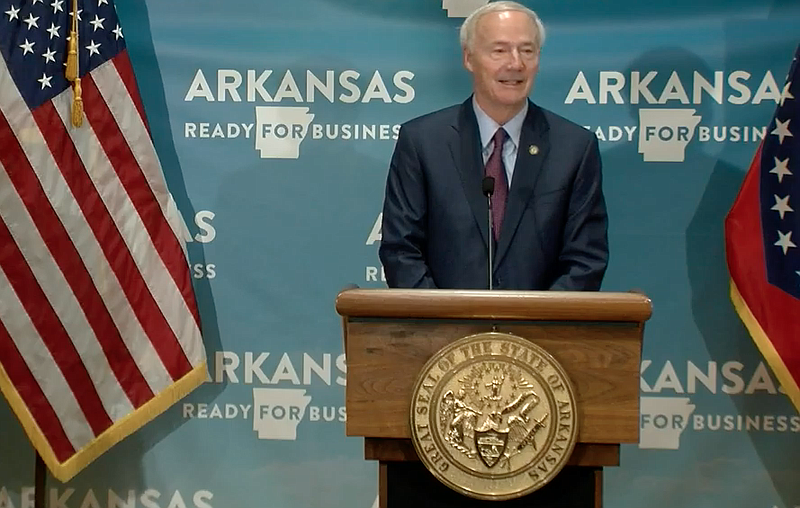 Arkansas Gov. Asa Hutchinson speaks to reporters at the state Capitol in Little Rock on Thursday in this still of video provided by the governor's office.
Governor Asa Hutchinson announced Thursday during a COVID 19 update that he would sign an executive order mandating the use of face coverings in indoor and outdoor settings where social distancing is not possible.
"I have listened to doctors and nurses who are on the frontline in this fight against COVID 19," said Hutchinson, "and they ask the public to do more." This was one of Hutchinsons four listed reasons as to why he is issuing a statewide mandate for face coverings. He stated that the number of cases, hospitalizations and deaths indicate that we need to do more and that many of the legislators he spoke to agreed that something needed to change. Hutchinson's last reason he listed to be very significant; that children going back to school would be required in most instances to wear face coverings.
"If you are going to ask the children in the school setting to wear face coverings for everyone's health and safety, then the adults must help them to be ready and to set the right example for them," stated Hutchinson.
The mandate will require that all Arkansans wear face masks in indoor and outdoor settings where social distancing of at least six feet between oneself and non-household members is not feasible or possible. It will go into effect on Monday, July 20.
Exemptions have been made for those under 10 years old, those with a medical condition or disability that prevents wearing a face covering, and those who are performing job duties where a face covering inhibits the ability to safely and effectively perform the job duty.
Other exemptions include when consuming food or drink, when driving alone or with passengers from one's household, where visibility of one's face is needed for security reasons, when one is giving a speech or performing before an audience yet also maintaining social distancing and in counties where the Arkansas Department of Health has certified that the risk of transmission of COVID 19 is low.
The mandate will also include exemptions for those participating in religious services and those who are voting, assisting voters, serving as poll watchers or actively performing election administration duties, though Hutchinson noted that the use of face covering is strongly recommended in those settings.
The mandate will have the force and effect of law, Hutchinson said, and those who violate it could be subject to misdemeanor charges and a fine of between $100 and $500.
The first time someone is caught violating the order, they will be subject to a verbal or written warning; the same goes for minors caught in violation of the order. The order does not allow for the detainment, arrest or jailing of anyone caught in violation of the order, though law enforcement will still be able to enforce trespassing laws or other laws applicable to remove violators at the request of businesses or property owners, Hutchinson said.
The order will automatically expire upon the termination of a State of Emergency that is declared in Arkansas regarding the ongoing COVID-19 pandemic.
"This is a mandate; it does carry consequences; it is enforceable; but its being implemented in a way that allows for normal activities," said Hutchinson, "This is something that is necessary in the current environment."
Sponsor Content