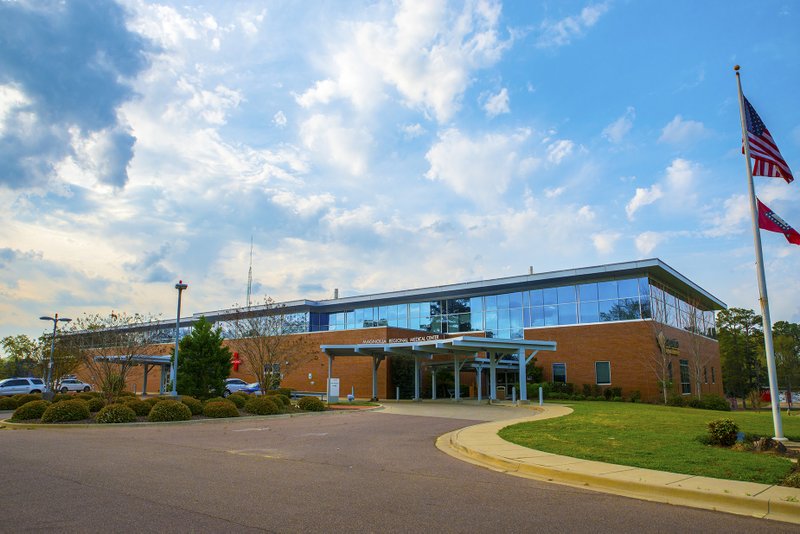 Magnolia Regional Medical Center in Magnolia. - Photo by J.D. Bailey
A reception for Magnolia's newest General Surgeon, Dr. Anselm Tintinu, is scheduled for Wednesday, July 15.
It will be held from 2-3:30 p.m. insided the Magnolia Surgical Clinic at 104 East Columbia St.
Due to COVID-19 guidelines, masks are required during attendance.
Last month, Magnolia Regional Medical Center announced the addition of Dr. Tintinu to its medical team. He started seeing patients in the Magnolia Surgical Clinic on July 1.
"We are excited to have Dr. Tintinu and his family in Magnolia. The MRMC Board was very selective in its choice for a General Surgeon, and we believe we found the perfect fit to continue our surgical services," states Rex Jones, CEO.
"Everyone who met Dr. Tintinu and his wife during their visit quickly felt they would be a great fit for our community. Dr. Tintinu brings an excellent set of skills and training, and will be able to perform some expanded procedures for our facility, especially expanding our endoscopy and laparoscopic program. I could not be happier to have him here."
Dr. Tintinu relocated to Magnolia from Ohio after five years of general surgery practice. He completed his medical training at the University of Maryland School of Medicine, and received general surgery training at the University of Maryland Medical Center and the Akron General Medical Center. Dr. Tintinu is board-certified by the American Board of Surgery.
"When my wife and I decided to move my surgical career, we knew we wanted a small town where our children could thrive. We wanted opportunities for good schools, and extracurricular activities. We also wanted a community that was safe, friendly, and accepting of newcomers," said Dr. Tintinu.
"Personally I was looking for a hospital that was equipped to allow me to put my diverse surgical skills to use to help the community. We believe we have found all these things in Magnolia and Magnolia Regional Medical Center. We are looking forward to being a part of the community"
Dr. Tintinu and his wife, Fiona, have three children.
The Magnolia Surgical Clinic is located at 104 E Columbia, and is open Monday-Thursday, 8:00 am – 5:00 pm, and Fridays from 8:00 am – noon. Dr. Tintinu and his team will accept referrals from any primary care provider, as well as by appointment. Appointments can be made by calling (870) 235-3600.
Sponsor Content