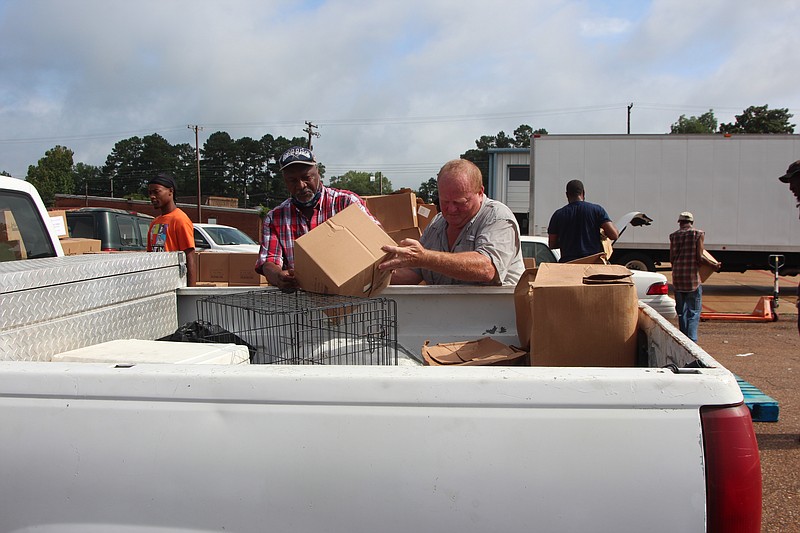 Waldo Mayor Kenneth Haupt (right) and another volunteer load boxes into a pickup truck during a Harvest Food Center distribution last week. The mayor said residents started lining up four hours before the giveaway. - Photo by Chris Gilliam
Though distribution wasn't expected to start until 10 a.m., some Waldo and Columbia County residents were in line several hours in advance to receive free boxes of food distributed by Harvest Food Bank of Texarkana.
"Some got here as early as 6 o'clock," said Waldo Mayor Kenneth Haupt. "During this time we are in with this pandemic, it's a great thing to be able to help anyone in need."
The Waldo mayor, police chief, fire chief, and several other volunteers showed up early last Wednesday morning to unload two huge Harvest Food Bank trucks and served the residents lined up for approximately a half mile beginning at the Waldo Fire Station.
"This is something we do about every three months or so, but we are trying to establish a way to possibly do it every month. Harvest Food is doing this and all anyone has to do is show their identifications which indicate they are a resident of Columbia County."
According to the mayor, individuals will received several pounds of meat, vegetables and containers of milk.
"They get quite a bit of stuff," he said.
The mayor indicated that normally Waldo receives enough food for about 120 people and he was confident that Wednesday's load would be enough for residents who showed up.
"In the past, there have been times people got turned away because we ran out, but not very often," said Haupt. "We also grab a few boxes and put them aside, so we can deliver them to some elderly residents who simply didn't have a way here."
Once everything was set up, actual distribution begin approximately 15 minutes before 10 a.m.
With two lanes set up, Fire Chief Kenneth Young said the process flows pretty easy and takes less than an hour to complete.
The mayor said Waldo had a special food drive back when Waldo experienced a six-day power outage because of storms.
"Harvest Food came out with a drive just for the citizens of Waldo. We appreciate them very much for what they did then and what they are doing today," stated Haupt.
He was also appreciative of all the volunteers who showed up.
"Every time we have something like this, Magnolia Councilman James Jefferson and his group (50 Brothers Deep) come out and help. Words can't express what he and the other men mean to this community," added the mayor.
"Overall, we had about 20 volunteers who came out to give us a hand," he said.
With CDC precautions and recommendations against the coronavirus in place, Harvest Food and the city of Waldo took every measure to ensure the safety of its staff, volunteers and recipients. Recipients were not allowed to exit their vehicles or park to pick up food.
The "drive-thru" distribution involved food boxes loaded directly into vehicles by volunteers. Distribution was limited to one box per household and two households per vehicle.
Camille Coker Wrinkle, Executive Director of Harvest Regional Food Bank, recently said "We have several communities in our rural service area that are not fully served by local partner agencies. To be sure that the residents in these areas are served, we are providing direct service where needed."
Last year, Harvest Food Center distributed 3.2 million meals and served over 60,000 individuals in Southwest Arkansas and Northeast Texas. Both states consistently rank in the top 10 for the highest incidents of hunger. Nearly 20 percent of local residents miss meals due to food insecurity, including 1 in 4 children.
Harvest Food Center has helped feed Northeast Texas and Southwest Arkansas families for over 25 years. It accepts and distributes food that is served at local food pantries, soup kitchens, shelters, schools and other agencies that provide hunger relief.
Sponsor Content