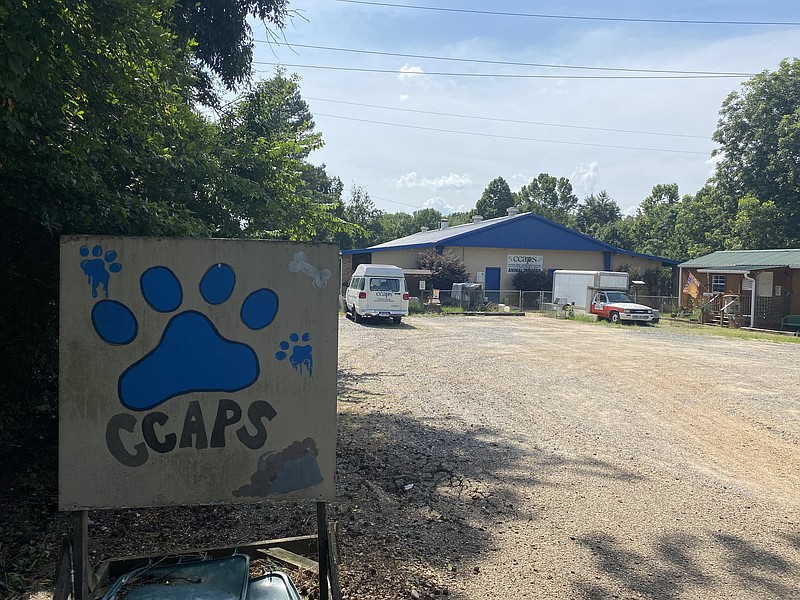 The Columbia County Animal Protection Society is located at 506 West Columbia, Magnolia, AR. Their website is ccapspaws.com. - Photo by Rhett Gentry
"Honestly, it (the COVID-19 crisis) has helped us," said manager of the Columbia County Animal Protection Society (CCAPS) Jamie Baker during an interview earlier this week.
CCAPS is a nonprofit organization that benefits abandoned or abused animals in Columbia County. The shelter houses over 100 different dogs & cats and takes in over 1,000 unwanted animals each year.
Baker said CCAPS is one of the few shelters in the south that has not only survived but performed well during the COVID-19 crisis.
"A majority of the shelters down south have closed because of the COVID," Baker explained, "The shelters that stayed open up north have no dogs because they don't have strays up there." She stated that the laws in many northern states are much more strict against strays.
Baker said that because the shelters in the northern states have no dogs to adopt out, CCAPS has been able to send over 200 dogs and puppies to these shelters and rescues in the last five months.
Despite more pets leaving the shelter, the number of surrenders has not gone up. Baker mentioned that some families had come in and attempted to surrender their pets because they could no longer afford to keep them.
"We've donated food and whatever else they needed to keep their animals," said Baker.
As for volunteers, CCAPS is limiting the number of volunteers because of the COVID-19 crisis, but what they do need is donations.
Baker explained that the donations have been almost non-existent. Right now, the most important way to help the shelter is by donating dry puppy and kitten food. She stated that any puppy or kitten food will work, but Purina seemed to be the easiest on their stomachs.
CCAPS solely relies on donations from the community and proceeds from the Second Chance Thrift Store. They do not receive any city, county, state or federal funding. Donations can be submitted by going online to ccapspaws.com and through their Facebook page by clicking the Learn More button.
Sponsor Content