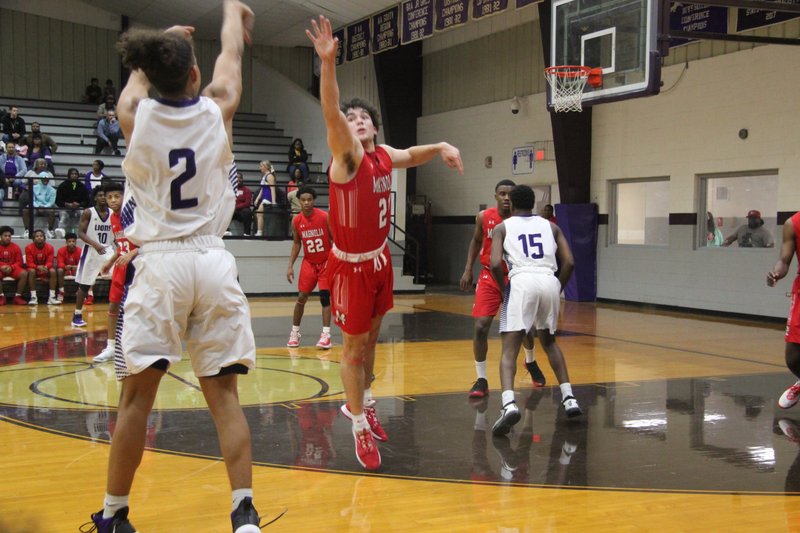 - Photo by Chris Gilliam
Top-ranked Magnolia (14-0, 5-0) continues to pound 4A-8 Conference opponents, winning by an average of 32.0 points per game.
Ben Lindsey's Panthers will host the Warren Lumberjacks Tuesday night, before starting the second half of the conference season on the road at Crossett next week.
The Magnolia coach said Friday's game at Hamburg was interesting for a while.
"We got off to a slow start and they were hitting everything they threw up," Lindsey said following the 80-47 win over the Lions. "I felt like we were a little flat. When Hamburg started hitting all those shots, our body language wasn't that good and it took us a moment to respond to what they were doing," said the coach.
The battle was tight during the first eight minutes, with the game tied twice. After an l8-18 deadlock late in the quarter, the Panthers led 21-18 at the buzzer.
Magnolia open an early 10-point, 32-22, lead in the second period and was up 44-29 at intermission.
A 10-0 run to start the third period allowed the Panthers to go up 62-33 following a steal and slam dunk by Derrian Ford. The Panthers outscored the Lions 26-8 in the quarter and led 70-37.
The mercy rule was again in effect during the final eight minutes as Devonte Walker had a breakaway slam. The Panthers went on to win by 33.
Colby Garland led with 26 points and Ford followed with 24. Braelyn Beasley finished with 13 points.
"Colby gets out in transition very, very well and he's gotten good at that. With Hamburg playing us man-to-man, Ford was able to get loose in the half court," explained Lindsey.
The coach said Walker, who missed five games earlier in the season, is getting better.
"He's a sophomore and I know we play a lot of them, but Devante doesn't have quite as much experience as the others. He's working his way back. Every minute he's on the floor, the more comfortable he's getting," said Lindsey.
Lady Panthers 54, Lady Lions 36
Donnell Ford's Lady Panthers will also return home Tuesday to face Warren, but the coach said he's kind of enjoying the road trips.
The Lady Panthers have claimed back-to-back road victories and nearly upset top-ranked Star City on its home court.
"We played hard, but not at the level we played at Star City or the final quarter at Camden," Ford said following his team's 54-36 win at Hamburg Friday. Magnolia (9-5, 3-2) is in a tie for third place with Crossett and a game behind second place Warren.
The Lady Panthers and Lady Lumberjacks will meet at Panther Arena Tuesday, beginning at 5:30 p.m.
Against Hamburg, Magnolia led 12-6 after one quarter and led 30-15 at halftime. Kelcy Lamkin had three 3-pointers during the quarter to spark the Lady Panthers. After three quarter, the Lady Panthers led 48-28.
"I thought we played well, but have to play harder if we're looking to claim second or third in this conference," said Ford.
Keshunti Brantley led Magnolia in scoring with 16 points and Lamkin finished with 13. Jadda Purifoy had nine and Ashunti Humbert added eight.
Hamburg's Khya Robinson led all scores with 20.
With Warren coming up, Ford said the Lady Panthers are right where they need to be at this point of the season.
"We have a lot to play for, but the Lady Lumberjacks are very talented. We have to have another good game," he said.
Sponsor Content