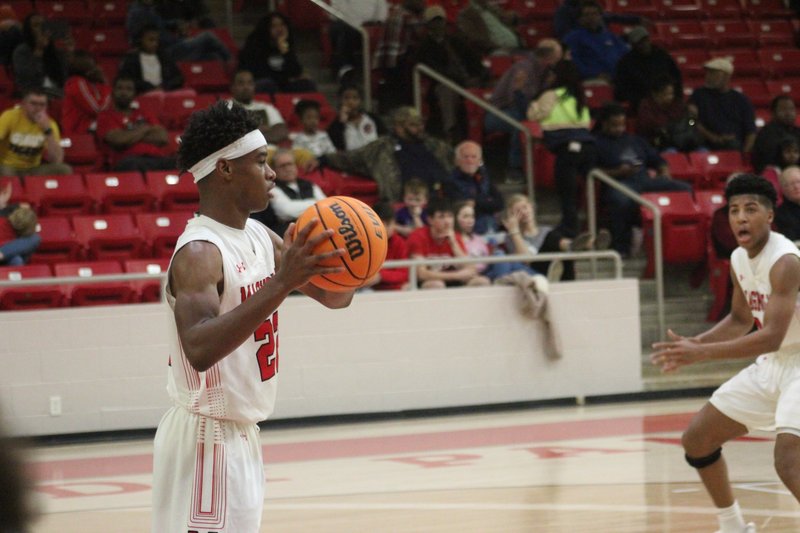 Braelyn Beasley (22) looks for a pass during a game against Smackover earlier this season. The Panthers will head to Hamburg Friday. - Photo by Chris Gilliam
The No. 1-ranked Magnolia Panthers, after making road trips to Star City and Camden Fairview, will have to gas up the bus again Friday night when they head Hamburg to face the Lions.
Following this third 4A-Region 8 Conference road trip, Magnolia will finally return to Panther Arena on Jan. 28 when they host the Warren Lumberjacks.
It will be the final game in the first half of the conference season before schools began to play each other for a for the second time.
So far, the Panthers have dominated in league play and will look to keep the momentum going in the second half.
Following the final regular season game Feb. 21 at Warren, Class 4A South Region Tournament action will be held Feb. 24-29 at Crossett. The top four teams out of region will advance to the Class 4A State Basketball Tournament (March 2-7) at Farmington High School, which is located approximately five hours away near Fayetteville.
The Panthers are hoping to defend their Class 4A state title from a year ago.
In some recent action, Magnolia head coach Ben Lindsey has applauded his defense and the work ethics of his Panthers on the floor.
"I thought our defense and rebounding were very exceptional," he said following a big win over Monticello. "They were the major things that led to the scoreboard being the way it was."
According to Lindsey, most teams in the conference have at least one talented player and all are tough to beat on their home court.
"Playing at another team's place is never easy," he said, adding he will never be disappointed with a one-point win in double overtime on the road."
2020 Basketball Tournament Sites
State (March 3-7)
Class 6A Bryant
Class 5A Russellville
Class 4A Farmington
Class 3A Charleston
Class 2A Quitman
Class 1A Kirby (Lake Hamilton)
Regionals (Feb. 26-29)
Class 4A
East Region Valley View
North Region Berryville
South Region Crossett
Class 3A
Region 1 Waldron
Region 2 Jessieville
Region 3 Harding Academy
Region 4 Drew Central
Class 2A
North Region Clarendon
Central Region Pangburn
West Region Eureka Springs
South Region Fordyce
Class 1A
Region 1 Alpena
Region 2 Hillcrest
Region 3 Bradford
Region 4 Caddo Hills
Against the Billies, four Magnolia players scored in double figures. Sophomores Colby Garland and Derrian Ford led with 22 apiece, while senior Braelyn Beasley had 19 and Drevonte Dismuke added 10.
Sparked by Garland, the Panthers led 7-0 after the first two minutes and were up 18-8 midway through the quarter. A 9-0 run late in the period made it 24-8 and Magnolia led 27-14 after the first break. Monticello never threatened as the Panthers led 48-32 at the half and 70-43 following three quarters.
Lindsey said the Panthers were able to get a lot of layups, but noted his team also shot the ball well from the perimeter.
In Friday's action at Star City, the Panthers won 65-31 with Beasley leading with 17 points. Garland finished with 11 and Kyle Carver had 10. Drevonte Dismuke added nine and Devonte Walker had nine.
The Panthers led 17-7 after one quarter, 38-12 at halftime and 58-25 following three quarters.
"The crowd was right on us tonight and it was a different atmosphere for us," said Lindsey.
Regarding Ford getting only five points, the coach said he would like for him to score more but added he expected Star City to try and shut him down.
"They were going to deny him and Colby the ball, and make the others beat them. Other guys did step up," said Lindsey, adding Carver showed he could shoot the ball from the outside.
"I thought Star City had a good game plan of slowing it down, and I would've done the same thing if I was playing us. Good job to them for trying, but the ball bounced our way," he said.
LADY PANTHERS
Donnell Ford's Lady Panthers had an easy time rolling over Monticello 70-18 and gave No. 1-ranked Star City a scare last week.
Prior to playing Star City, head coach Donnell Ford said, "One thing for certain is we have to shoot the ball really, really well to have a shot. It's going to be a hard task for us, but we have to take it one step at a time. If we can have good possessions, I think we will be okay. We can't afford the turnovers. Win or lose, a big key will be taking care of the basketball."
At Star City Friday, the Lady Panthers lost 42-33, but were down by only two points in the third period and trailed by single digit most of the fourth quarter.
Kiara Frazier and Ashanti Humbert had eight point apiece, while Ti'Alone Banks led with nine.
"This was probably the best loss I've ever had," said Ford. "We were suppose to lose by 20 or more, but I told the girls to let's go out, lay everything on the line and see what happens."
The Lady Panthers trailed by 12 in the second period, but managed to cut the deficit to six by halftime.
"Our defense played well and we were able to force a lot of turnovers. Unfortunately on the other end, we turned it over a lot," explained Ford. "Every time we got close or about to pull even, we turned it over."
Ford said Magnolia had too many unforced turnovers and the outcome may have been different if they were able to hang onto the ball.
"I look forward to playing them again," said the coach.
Two days earlier against Monticello, the Lady Panthers were able to capitalize off the other team's turnovers.
Five different Lady Panthers scored in the first few minutes as Magnolia opened a 14-0 advantage. They led by 16 several times in the first period and were up by the same margin, 24-5, when the buzzer sounded. They limited the Lady Billies to only nine points in the second period and held a 50-14 advantage at halftime.
With the mercy rule in effect, Magnolia led 60-15 after three quarters. The Lady Billies managed only one point in the third quarter and two during the final period.
Frazier paced the Lady Panthers with 14 points, followed by 10 from Banks. Humbert and Alexis Martin had eight apiece, while Jadda Purifoy finished with seven and Kelcy Lamkin added six. Janayi Baker and Satiya Rone had five apiece, while Nakieva Moddies had three.
Sponsor Content