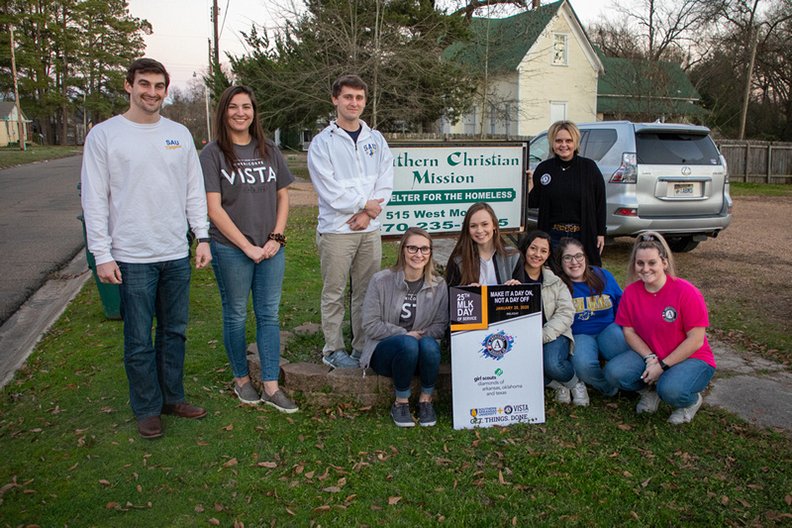 Left to right: Kyle Plunk, Johanna Baker, Jeremy Hunter, Allysia Hurt, Macye Plunk, Karaline McCracken, Katherine Berry, Director SAU+VISTA, Leanna Allen, and Jenna Carter participated in a Day of Service at Southern Christian Mission, a homeless shelter in Magnolia, in honor of MLK Day. - Photo by Southern Arkansas University
On Jan. 20 in celebration of Martin Luther King Jr. Day, volunteers aided with time at the Southern Christian Mission by a partnership between Southern Arkansas University's SAU+VISTA AmeriCorps program and the Girl Scouts Diamonds of Arkansas, Oklahoma and Texas' AmeriCorps program. This national day of service was funded by EngageAR.
The day's service members included two current SAU students who serve the Magnolia Boys and Girls Club on a weekly basis, and eight SAU+VISTA fellows, who are committed to a year of full-time service to SAU. The team was led by Dr. Katherine Berry, director of SAU+VISTA.
Southern Christian Mission is the only homeless shelter in Columbia County. Southern Christian Mission offers three meals a day as well as beds for men, women and children.
About the MLK Day of Service, Berry said, "Today, we pause from our daily service at SAU to look outward. We wanted our reach to stretch a bit farther and for the SAU culture of caring to be shared with the Southern Christian Mission community. It is an honor to serve here today."
A healthy meal was generously provided by Aramark food service. Grant funding provided for the purchase of household goods including towels, sheets, laundry supplies, cleaning supplies, and healthy snack items to stock the pantry. Time was spent with clients providing computer assistance, engagement with children who are currently in residence, preparing an area to be painted, and cleaning the kitchen and serving areas. Additional private funding also provided a new TV for community living.
The day's activities were funded by EngageAR, a unit of the Arkansas Department of Education, and under the Governor's Advisory Commission on National Service and Volunteerism, a bi-partisan commission made up of commissioners who believe that volunteers are vital to creating strong, vibrant communities.
Sponsor Content