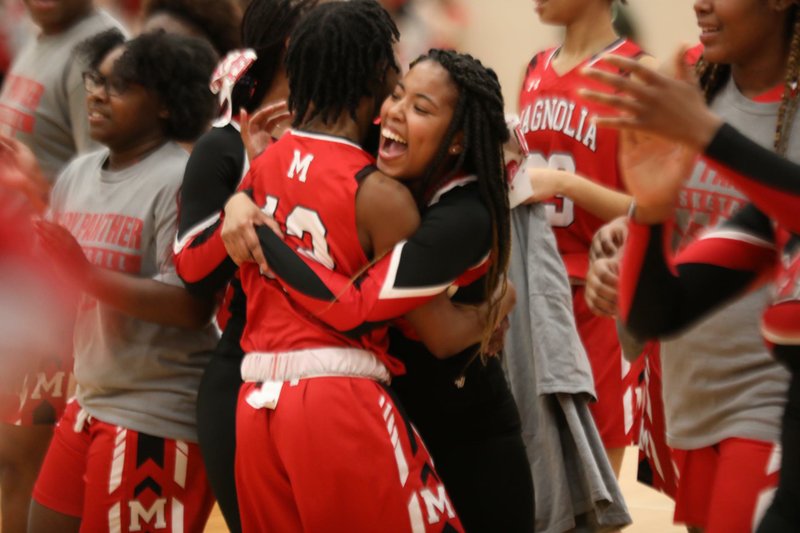 The Lady Panthers celebrate after a 13-point deficit is erased during their comeback win Tuesday in Camden. - Photo by Magnolia Schools
Trailing by 13 points with just over six minutes to play, the Lady Panthers rallied to beat Camden Fairview 55-53 on a layup by Janayi Baker with 21 seconds remaining.
"This game became a pride thing. I told the girls let's go one possession at a time, defense first and let's see if we can run with them. There was not time to set up offensive plays," said Lady Panthers head coach Donnell Ford. His team moved to 8-5 overall and 2-2 in conference, two games behind unbeaten Star City.
Ford said he should have applied some full-court pressure earlier, but he knew the Lady Cardinals were prepared for it. But noted there wasn't any other choice when his team fell way behind.
It was a tight battle most of the night, with six lead changes in the first quarter alone. Kelcy Lamkin had a pair of 3-pointers in the first period. Camden Fairview held a five-point advantage twice in the second quarter and led 28-21 at the half.
In the third, Magnolia fell behind by 10, 32-22, early and was behind 43-32 late. Back-to-back buckets by Kiara Frazier and Baker made it 43-36 at the buzzer.
With 6:40 to play in the game and down 50-37, Jadda Purifoy help lead the Panthers back with nine fourth-quarter points. She tied the game at 53-53 with a bucket and Baker scored the winning points 21 seconds remaining.
"Defense won this game. Jadda came out and played the type of game I know she can play," said Ford.
Purifoy led all scores with 19 points, while Lamkin finished with 13 (four 3-pointers). Frazier added 10.
After a trip to Hamburg Friday, Magnolia will host Warren on Tuesday.
Sponsor Content