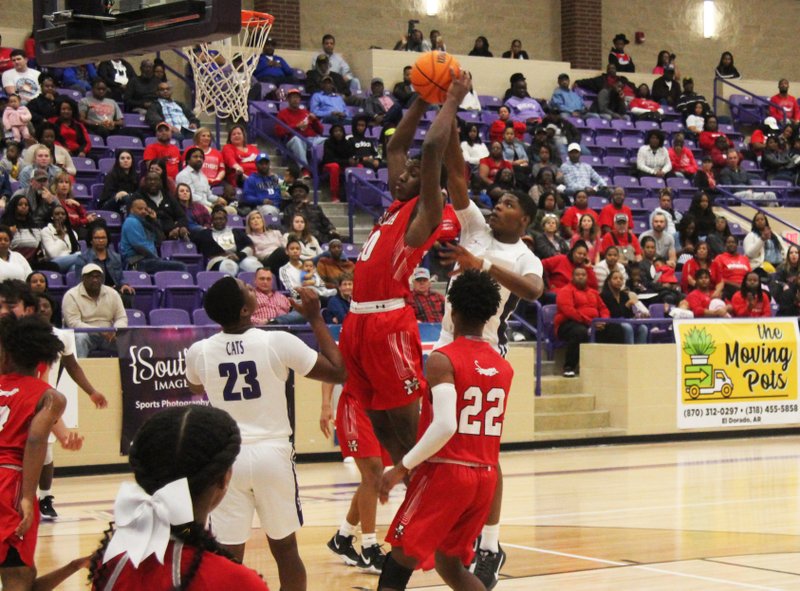 A Banner-News file photo shows Magnolia's Derrian Ford (20) going up for a dunk against El Dorado during the 2020 season. - Photo by Chris Gilliam
There's no question that Magnolia is talented this basketball season, but first-year head coach Ben Lindsey said he's equally impressed with the work ethic of his Panthers.
"On both sides the ball, these guys play extremely hard. Not just the starters, but even those who come off the bench," said Lindsey.
With the 4A-Region Conference season in full swing, Lindsey's Panthers will take their first league road trip Friday night when they visit Star City to face the Bulldogs.
Tip-off will follow a girls' game between the Lady Panthers and the league-leading No. 3-ranked Lady Bulldogs.
Reflecting back to a 30-point performance by Colby Garland and 31-point output by Derrian Ford last week, Lindsey said both are extremely talented athletes.
"As for Colby, when he sees his shot go in one time, that pretty much all that's needed to get him started and he's liable to hit a bunch," said the coach.
He mentioned that Ford is so tough underneath the basket and both his sophomores are excellent at drawing fouls and getting to the line.
"When Derrian don't score a lot, he still manages to get double-digit points. Because of his defense, he also draws opponents' best offensive player," explained Lindsey.
The coach said the 13 points against Crossett last week wasn't one of Ford's best offensive efforts, "but he did a super job defensively."
"As good as he (Ford) is, he is not perfect and he is not superhuman," said Lindsey, but reaffirmed, "He is good."
The coach called senior Braelyn Beasley a chameleon, who can do so many things.
"From a fan standpoint, he may be considered second fiddle to scoring, but our guys don't look at him that way. Braelyn is so comfortable in his own skin and steps up whether we need scoring, defense or whatever," explained Lindsey. "He has had a couple of big games for us on the scoreboard, but he doesn't have to that to feel good about himself."
The coach also said senior Kyle Carver is another important piece to the Panther puzzle and does things the average person doesn't see.
"I will tell anyone that these two seniors are the backbones to this team. They are warriors and do whatever need to be done," added the coach.
When sophomore starting guard Adrien Walker missed a game last week because of illness, Lindsey said junior Drevonte Dismuke did a good job of running things on the floor.
"Pound for pound, this guy is something else. Defense and rebounding are never issues for him. He rebounds well. He's starting to come around offensively and letting the game come to him," said the coach.
Lindsey also said sophomore Devonte Walker is going to be a good one.
He showed his athleticism against Crossett, by rebounding, hit a pair of 3-pointers, drawing fouls and making a behind-the-back pass that brought fans to their feet.
"Devonte have had to miss several games for various reasons, but nothing to do with disciplinary or doing something wrong. He really hasn't been able to get his feet wet, but he's gaining more confidence every night," said Lindsey.
According to the coach, a team has a weapon when a 6-foot-4 athlete can come off the bench and do the things Walker can do.
He summed up this year's Panthers as being talented, but overall young and mixed with some solid upperclassmen.
Ford, Garland, Adrien Walker and Devonte Walker are all sophomores, along with Deraylen Williams who have also comes off the bench.
"Though we are young, the good thing is we should be getting better as the season goes. I'll admit there's a bright future for Magnolia basketball as well as a bright present," said the coach.
After a trip to Star City Friday, the Panthers will travel to Camden Fairview Tuesday to battle the Cardinals in league action.
The next home game is Jan. 28 against Warren.
Sponsor Content