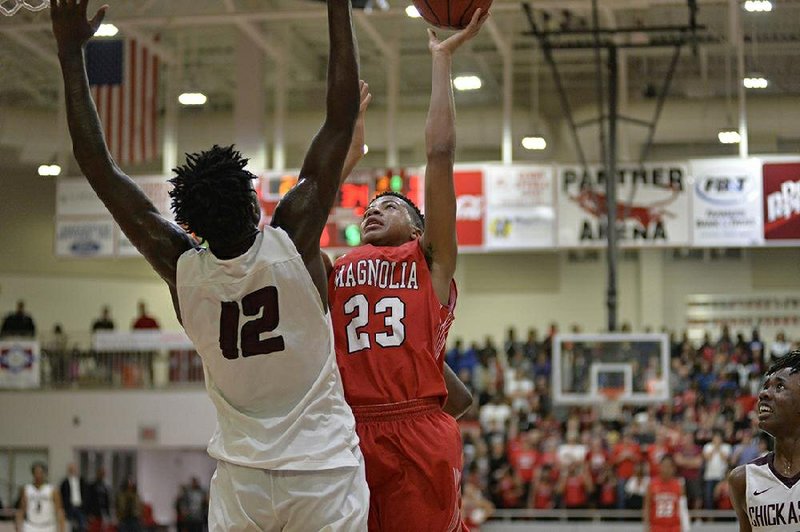 a Banner-News file photos shows Colby Garland (23) as he goes up for a contested shot against a Morrilton defender in the 2019 Arkansas Class 4A Class Basketball Tournament that was held in Panther Arena. This year's tournament site will be held in either northeast or northwest Arkansas in 2020. The site will be announced Thursday. - Photo by J.D. Bailey
The Arkansas Activities Association (AAA) Site Selection Committee will meet Thursday afternoon to decide on which school districts will host spring regional and state sporting events. The meeting will be held at the Holiday Inn Airport in Little Rock.
If the Magnolia Panthers reach the Class 4A State Tournament this season, they will begin defense of their title four or five hours away from home in either northwest or northeast Arkansas. The only two school districts to bid for the Class 4A State Tournament were Farmington and Valley View.
Farmington is approximately five hours to the northwest and has an arena that seats about 2,200 fans. Valley View is four hours to the northeast near Jonesboro and has an arena that holds 2,400 fans.
Crossett, which opened a new 1,920-seat arena last year, was the only bidder for the Class 4A South Region Tournament. Top four teams in each district qualify for region and must win their first game to advance to the state tournament.
Magnolia's Panther Arena was the site of the 2019 Class 4A State Tournament and the South Region was played at Mena.
In Class 1A, Kirby is the only bidder and should host the state tournament at Lake Hamilton.
As for the Class 1A Region 4 Basketball Tournament, Emerson, Caddo Hills and Kirby have all submitted bids. Class 1A state was held at Izard County last season and Bradley hosted the regional tournament.
In baseball, Nashville (only bidder) is expected to host the Class 4A South Region Tournament, while the state tournament will be played at either Nashville, Harrison, Morrilton, Robinson or Valley View.
In Class 4A softball, one of the same four school districts will received the state tournament bid and Nashville also submitted the only bid to host the regional tournament.
For Class 1A, Izard County, Omaha or Ouachita will host the state and regional softball tournaments. Both events were held at Taylor last season.
The Class 4A State Track & Field Championships are expected to be held at either Nashville, Batesville or Lake Hamilton, while Valley View should be awarded the Class 4A State Volleyball Tournament.
Sponsor Content