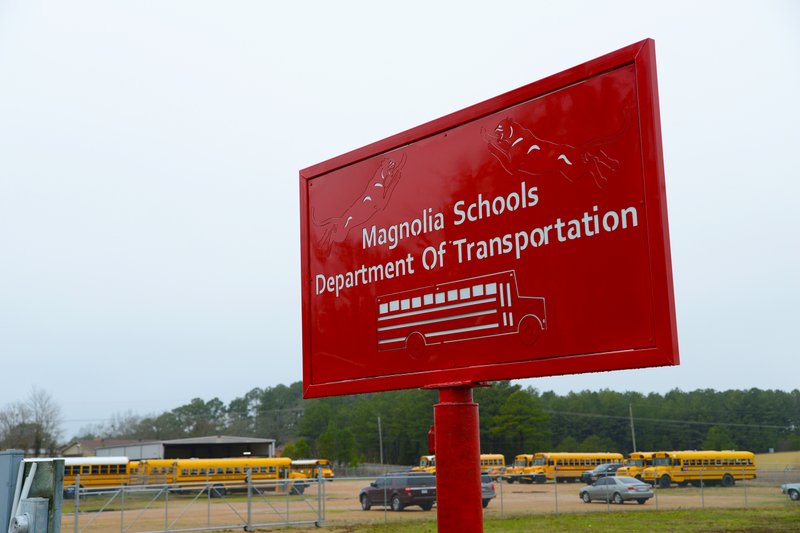 The Magnolia Public School District Bus yard on N. Vine Street in Magnolia. - Photo by J.D. Bailey
The Magnolia School District may have to accelerate on a deal to buy additional school buses due to existing performance of some buses in the fleet.
In discussions at Monday's monthly meeting, Chris Hurley, director of support services, told board members that he proposed they look at a five-year lease agreement for 15 new buses. He said after the five-year period, the district would own the buses and this would help get older buses off the road.
He said the district is buying two new buses per year but that some of the district's buses are 1996 models.
"We are trying to keep the heat running and the lights working," Hurley said of some of the older models in the fleet.
The board didn't make any decisions Monday night, but Hurley presented them with spreadsheets outlining his ideas.
The district spends an average of $3,500 to $4,000 apiece to send the buses to a shop to be maintained.
Another possibility the district may have to look at is decreasing the number of routes buses take to transport students. Magnolia now has 35 bus routes while Camden and El Dorado run 26 or 27 routes in their district.
"At one time there were more centralized pick-up spots before we took in McNeil," said school board President Mike Waters. "That might be something we want to look at."
Hurley said the district's school buses aren't just used for daily transport to and from school. For example, in October, the buses took 59 trips for sports and extracurricular events.
Superintendent John Ward said the conversation about leasing school buses is already happening at the Cabot Public School District.
A question also remains about what will be done with all the old buses if changes are made. For now, the old buses are serving a purpose.
"A few of the buses in the boneyard -- I'm scared to sell them because we might need it to fix a 2011 if it goes down on us," Hurley said.
In other business, Ward gave a report about progress being made on campus construction.
He said the heating, ventilation and air condition unit will soon be hooked up at the Freshman Academy and furniture is scheduled to arrive on Feb. 10.
A slab was poured at the Performing Arts project this past Thursday and structural steel components were worked on Monday. He estimated that, weather permitting, more work could be done on the project this week.
The board also recognized Keri Hamilton, an English teacher at MHS for becoming nationally board certified. Hamilton described the process of certification as having multiple teaching components, including items such as content knowledge.
Overall, she wrote and submitted 50 pages of commentary about various aspects of the program by July 2019 to earn the recognition. She worked through the Southwest Arkansas Education Cooperative in Hope to earn her certification.
"I highly recommend national board certification to learn to be a better teacher and to earn extra money and I look forward to paying it forward," Hamilton said.
Ward said Hamilton is the second teacher at the Magnolia School District to earn the certification.
Waters commended Hamilton for her certification as drawing positive recognition for the district.
Sponsor Content