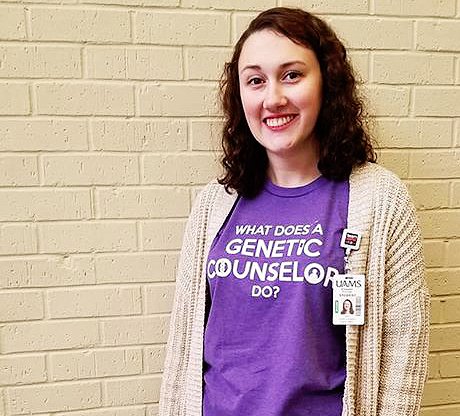 Bryce Fincher, a native of Hope and a 2018 graduate of Southern Arkansas University, successfully applied to the University of Arkansas for Medical Sciences (UAMS) where she is studying the challenging new field of Genetic Counseling.
Bryce Fincher, a 2018 alumnus of Southern Arkansas University, is pursuing her passion at the University of Arkansas for Medical Sciences (UAMS) in Little Rock, studying the growing field of Genetic Counseling. "I have had a great experience so far and cannot wait to continue my journey," said the Hope, Arkansas native.
Fincher credited her undergraduate experience at SAU with her successful application to UAMS. "Applying was one of the most stressful things I had ever done," she shared. "Before I started, I discussed the process with Dr. Abraham Tucker, and he pointed me in the right direction. I also was able to meet with the program director at UAMS, and she made sure I had all the credits I needed to apply." Dr. Tucker chairs the SAU Biology Department.
Her experiences with SAU began while she was still a student at Hope High School. As an FFA officer, Fincher had visited SAU many times. "I loved the campus and faculty," she enthused. "With my interest in biology, it appealed to everything I wanted. SAU was the perfect choice for my undergraduate degree."
She graduated Hope High School in the Top 10 percent of her 2015 class with completions in digital communications and agriculture. She participated in basketball, softball and archery, and was part of the STEM program in Hope. At SAU, science became her focus.
"I had the best professors," she said. "One of my favorite aspects of SAU is that it feels like a family. You walk with the same classmates for four years, and your professors want to see you succeed. My initial plan was to pursue physical therapy, which I followed until I took my first genetics class. I wanted to learn more. I heard about Genetic Counseling in my pre-health colloquium course and knew it was perfect for me."
In addition to Dr. Tucker, Fincher received invaluable assistance from other faculty, including Lindsay Givens, instructor of management, for whom Fincher worked as a Supplemental Instructor (SI) in the Business Department. In 2017, Fincher received the prestigious SI Scholarship.
Applying to UAMS meant gathering all the right documentation and submitting it in a timely fashion. Pre-health colloquium and genetics courses at SAU made the difference.
Fincher graduated from SAU in December 2018 and interviewed with UAMS last February. "I submitted my programs and tracks in the order I preferred to go," she explained. On "match day," applicants who interviewed were notified as to whether they matched up with a program. "Waiting for the results was so nerve-racking," Fincher said. "When I got the email, I was ecstatic."
Having just completed her first semester in the program at Little Rock, she will finish her second year at Louisville, Kentucky.
In addition to her 16 course hours, Fincher was chosen for a "special component" at UAMS. She was selected to become a LEND (Leadership Education in Neurodevelopmental and Related Disabilities) trainee, in which students attend clinics focusing on neurodevelopmental disabilities, complete a research project, and work with families affected by a development disability. "It has been amazing," Fincher said.
Genetic counselors train in both genetics and counseling to help patients make decisions. They interpret genetic testing results and explain that information to patients and their families. They also work with patients who have genetic conditions or predispositions, discussing management or treatment plans.
"Since the profession is still small, most genetic counselors around the U.S. work together," Fincher explained. "It's nice to know that once I begin my career I will know colleagues I can always call on for help."
Genetic counselors can specialize in such areas as prenatal care, cancer, cardiovascular, pediatric, etc. "They also work in research settings, which is great for anyone interested in genetics and lab work," Fincher noted.
Her job outlook is bright. "With the growing use of genetic information in medicine, genetic counselors are needed now more than ever," Fincher said. "There is a high demand."
Though she hasn't yet decided on her specialty, Fincher has more than enough to look forward to. She will be going to Honolulu, Hawaii, for five weeks out of a 10-week internship outside Arkansas. "I love that this is an opportunity we are given in this program," she said.
SAU's dedicated faculty and cutting-edge courses helped put Fincher on the path to success. "SAU helped tremendously to prepare me. I still use my notes from Dr. Tucker's classes," she enthused.
Sponsor Content