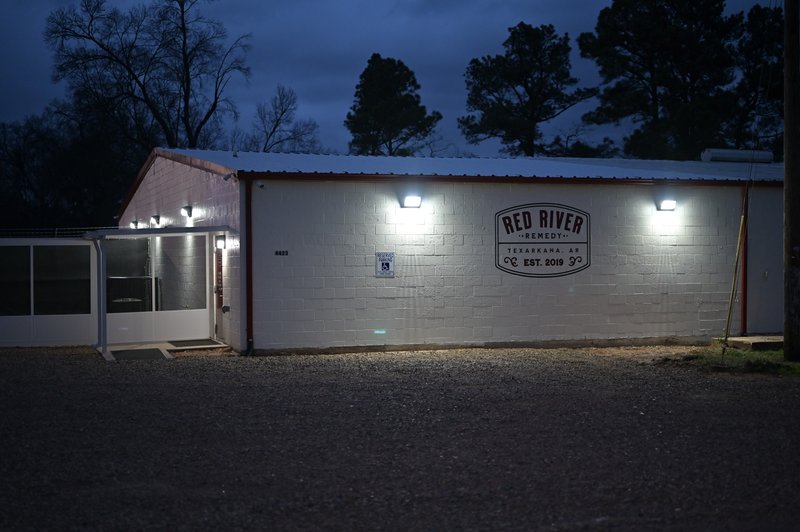 Red River Remedy in Texarkana opened Friday. - Photo by Texarkana-Gazette
Red River Remedy, a medical marijuana dispensary in Texarkana, Arkansas, officially opened Friday.
A soft opening was held over in the days prior.
"The overall feedback from patients in Arkansas has been wonderful. They are ecstatic there is access to medical marijuana," said Anders Peterson, the manager and co-owner of the dispensary. " We couldn't have asked for any more. We are excited to give patients access."
Red River Remedy is in the former Electric Cowboy club at 4423 E. Broad St.
Peterson said as long as a person is a valid Arkansas medical marijuana patient, they can purchase from Red River Remedy, regardless of where they live.
Each Arkansas medical marijuana patient has a limit of 2.5 ounces to purchase every 14 days.
"We track that very closely to make sure we are staying in compliance and we notify the customer when their card expires and how much is left in their 14-day allotment," said Peterson.
Red River Remedy also has a needs-based program, known as a Compassionate Care Program, which allows medical marijuana patients who are veterans, terminally ill, disabled or fall below a certain poverty line to have a reduction in prices on a case-by-case basis. Proof and documentation are required.
"It is not a deal, discount or promotion," Peterson said.
"We are looking to gauge the volume and we are not sure of the demand in Texarkana yet, and if we need to hire more, we will," said Peterson, who grew up in California and has a cellular molecular degree and describes himself as an entrepreneur who has operational experience. Peterson said he has started a number of companies in California.
"My goal in coming here is to share my knowledge with the community how medical marijuana can be used to help them," he said.
Red River Remedy has six employees with a few more in the process of hiring.
He said each Red River employee must go through a vetting process and a series of state and federal background checks.
"I've been extremely proud of my staff. They really stepped up to the plate. We are trying to create an atmosphere here at Red River Remedy that is welcoming and polite. We want you to feel like you are visiting family when you come here. We want to become integrated into this community We have joined the Chamber of Commerce and have been very adamant in communicating with the city," Peterson said.
Ross Mash, a consultant for the dispensary's Monticello, Arkansas-based parent company Rx Med Inc., said the soft opening has helped get staff trained and familiar with working with the patients and caregivers.
"We are excited. It's been a long time coming. We have had our soft opening over the last couple of days, and as of (Friday) will be officially open for all qualified patients and designated caregivers."
The company chose Texarkana as its location in large part because of the city government's "very welcoming" attitude, which was "a breath of fresh air" after trying to work with other cities, Mash said in a previous interview.
He said complying with all local and state regulations is the top priority.
"We take compliance very, very seriously," he said.
Red River Remedy will be known for customer service and product knowledge, as well as for being a local Arkansas business, Mash said. All employees live in Texarkana, with some having recently moved here, and any future hires will be local, too.
The other Texarkana dispensary, Bloom Medicinals, is part of a multi-state chain based in Florida. The Medical Marijuana Commission recently approved its opening, though when that will happen is unclear.
The Medical Marijuana Commission divided Arkansas into eight geographical zones and licensed up to four dispensaries in each. Miller County is in Zone 8, a region of Southwest Arkansas that also includes Calhoun, Clark, Columbia, Dallas, Hempstead, Howard, Lafayette, Little River, Nevada, Ouachita, Pike, Sevier and Union counties.
Sponsor Content