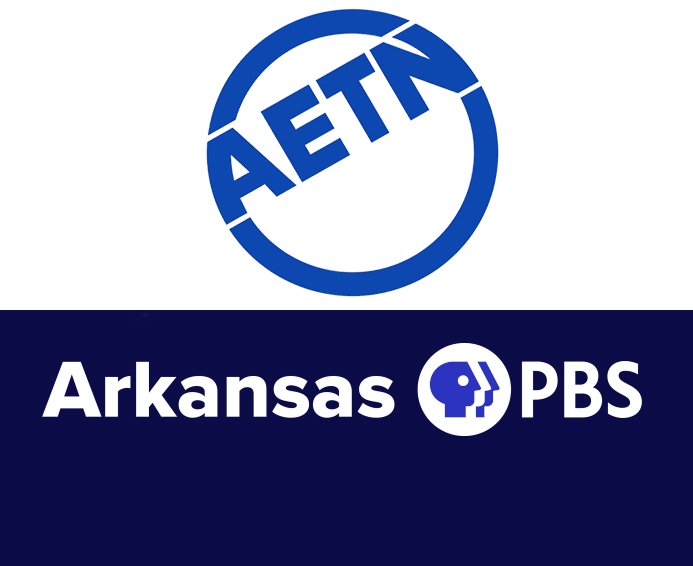 The old AETN logo sits atop the new Arkansas PBS logo that takes effect Feb. 28.
After 50 years under the AETN (Arkansas Educational Television Network) moniker, the Arkansas public media network is changing its name it names to Arkansas PBS. The change comes as the television network attempts to place a greater emphasis on the state's name and its stories, according to AETN Executive Director and CEO Courtney Pledger.
"We hope our new name encompasses everything you've come to love about your statewide public media station while allowing audiences to more easily identify and connect with us on all the platforms where our content can be found," Pledger said. "We will continue to be a daily and essential source of education, community connection and entertainment for Arkansans of all ages.
The change takes effect Feb. 28.
The new name will be adopted across all of the network's channels – AR PBS Create, AR PBS KIDS and AR PBS WORLD – and digital platforms like Arkansas PBS Passport and Arkansas PBS LearningMedia.
Pledger also assures viewers that while AETN will be changing its name to Arkansas PBS, they will still be able to find their favorite programs wherever they have become accustomed to watching them.
"Our commitment remains to Arkansans in Arkansas," Pledger said. "That will never change."
The Arkansas network has been a PBS member station since the service was created in 1970 and the PBS logo has frequently been shown alongside AETN's.
The move comes as PBS attempts to updates its national brand with hopes of a more "consistent viewer experience," according to a Friday AETN news released. The new Arkansas PBS will feature a redesigned logo, bolder color palette and a modern, custom typeface designed to better speak to Arkansans across platforms, from televisions to mobile devices, the public tv company said.
In conjunction with the name change, the AETN Foundation will become Arkansas PBS Foundation.
Arkansas PBS is Arkansas's only statewide public media network.
Arkansas PBS contains daily, local productions and classic PBS programs aimed at sharing Arkansas and the world with viewers through multiple digital platforms, including on-demand services and YouTube TV, and the distinct channels Arkansas PBS, Arkansas PBS Create, Arkansas PBS KIDS, Arkansas PBS WORLD and Arkansas PBS AIRS on SAP. Members with Arkansas PBS Passport have extended on-demand access to a rich library of public television programming.
Additional information on the network is available at myarkansaspbs.org. Arkansas PBS is broadcast on KETS (Little Rock), KEMV (Mountain View), KETG (Arkadelphia), KAFT (Fayetteville), KTEJ (Jonesboro) and KETZ (El Dorado).
Sponsor Content