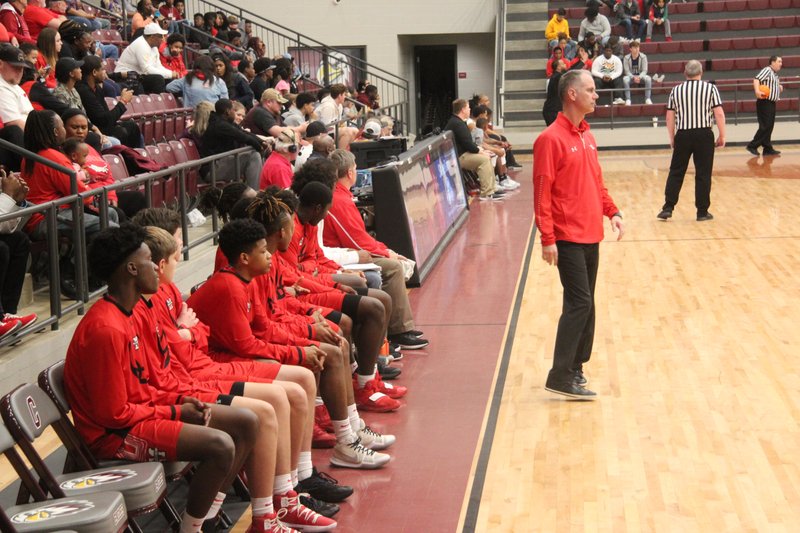 MHS Head Basketball Coach Ben Lindsey watches a game from the sidelines in a Banner-News file photo. - Photo by Chris Gilliam
Some teams facing the top-ranked Magnolia Panthers are opting for a slower pace instead of an up tempo game.
"We are seeing more teams willing to slow it down a bit and we're handling it better than the first time out," said Magnolia head coach Ben Lindsey. His Lindsey are 18-0 on the season, 9-0 in 4A-Region 8 Conference play, No. 1 in Class 4A and No. 3 overall.
Camden Fairview was the latest team to slow the pace, but not as much as Warren did two weeks ago. At home against the Lumberjacks, the Panthers managed to pull out a 24-16 victory and eventually pulled away from Camden Faiview in the second half, winning 53-34.
"The Cardinals did what you normally see teams do in football, which it take the play clock down to one or two seconds before snapping the ball. There's no shot clock in basketball, but they moved the ball around a lot before taking the shot," said Lindsey. "As time went on, we pressured the ball more and forced some issues."
The Panthers raced out to a 9-2 in the first few minutes, but only led 14-8 after the first buzzer. They managed to get a double-digit advantage late in the second period, but were up 25-16 at halftime.
Derrian Ford led Magnolia in scoring with 21 points, while Colby Garland added 13. Devonte Walker added seven and Kyle Carver finished with six.
Magnolia will host Star City Friday night, entertain Hamburg Tuesday and play their regular-season finale a week from Friday at Warren. The Class 4A South Region Tournament will be Feb. 26-29 at Crossett.
In the conference standings, the Panthers (9-0) have a two-game lead over second-place Warren (8-2) and Monticello (7-2). Camden Fairview (3-6) and Star City (3-6) are in a battle for the fourth and final slot in the region tournament.
Lady Panthers 62, Lady Cardinals 37
In the girl's standings, the Lady Panthers (6-3) got a tighter grip on third place following a dominating 62-37 win over Camden Fairview Tuesday night. With three games remaining, they will have a shot at sharing the conference title and earning the No. 1 or No. 2-seed.
Unbeaten Star City (9-0) has the lead, followed by Warren (8-2).
Against Camden Fairview Tuesday, head coach Donnell Ford said it was the best game his Lady Panthers played all season.
"Our goal before the game was to play four good quarters of basketball. We had been play sporadic, playing good quarters here and there. The girls wanted to put four together and that's what they did," he said.
Utilizing full-court pressure from start to finish, Magnolia had a series of runs throughout the game.
A 9-0 spurt late in the first quarter helped them lead 23-11 at the buzzer. They outscored the Lady Cardinals 16-2 in the second period and carried a 39-13 advantage into the locker room at the half.
Magnolia continued to dominate in the second half, lead by 31 early in the fourth quarter.
Jadda Purifoy paced the Lady Panthers with 17 points, while Kiara Frazier had 13. Keshunti Brantley had nine and Kelcy Lamkin added eight.
"This was a big win for us. We made them turn the ball over a lot, which was huge for us," said Ford.
The coach said his Lady Panthers have won three consecutive games and playing their best basketball right. He's hoping they will be big factor going into Tuesday's game with unbeaten Star City.
"We played them tough at their place and we really don't have anything to lose. We just want to go out and give our best effort," he said.
Sponsor Content